Mobile Technology dynamics and industry economics
| | |
| --- | --- |
| | Some experts predict that mobile operators will lose business to mobile platforms in their bid to establish the supremacy of software on hardware interface with the end user. |
Ali Sarwar

School of Surveying and Spatial information Systems,

University of New South Wales, Australia
Is it inevitable for the global mobile communications economy fl ow to shift beyond conventionally what can be called geographical and technical boundaries? Yes, carriers may only be restrained to the metaphor of transmission carriage pipes. To avoid that fate both T2 and T1 mobile carriers will need to establish their own software consortium to standardize their soft-phone digital media platforms and drive the war back to core development companies in order to not only strengthen but keep their vested interests. A classic comparison can be referred to as Mobile phone vs Skype phone which has a potential to be much more widespread than just a conventional voice connecting media. This potential technology evolution is eminent but uncertain in depth and dimension. Having said the uncertain, not tough but interesting times lay ahead for separate groups of creative and consistent mindsets working for the cause. Industry, public and private investment has remained outside the arena just playing spectators in some cases in terms of investment spending, however this need to change in the not so distant future. This account discusses the mobile phone technology evolution and market dynamics driving it towards a much signifi cant future which is vague in terms of direction and attracting investment.
Technology
Predominantly, two references bind the subscriber to the carrier for identifi cation, authentication and authorization i.e. Subscriber Identity Module (SIM) card and billing number. Near future could see mobile stores selling mobile phones without SIM cards. Inbuilt system-on-chip may require the subscriber to sign-in using their apple or Google accounts to access email, Skype and so forth. Inherent hardware capabilities of WiFi, WiMax and Assisted GNSS may choose the costeffective and speed-effi cient mobile or satellite network automatically without the consumer having to care about manually choosing a carrier which will be automatically selected according to customized user preferences based on cost-effi ciency, coverage footprint and Quality of Service (QoS).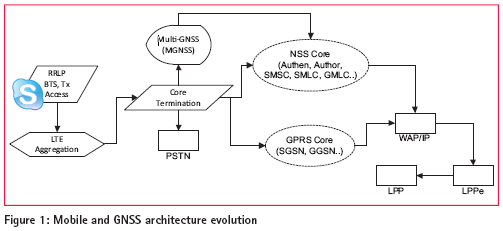 Figure 1 proposes the architecture of an evolved mobile phone technology of the future. Voice and video calls will evidently be the primary services facing merger with intelligent location based technologies e.g. LTE positioning protocol extension (LPPe) may be augmented in the mobile platform end-server to render service equivalent location based processing and acquisition assistance (Sarwar et al. 2012). This may be achieved through introduction of external open source GNSS IP servers or a new hybrid network integrated with Serving Mobile Location Centre (SMLC) and Gateway Mobile Location Centre (GMLC).
Such integration may not happen overnight rather progressively over the next few years. It will obviously be not something carriers would welcome as it may limit their operations to just a backhaul pipe and not the prime revenue makers more so which they'll try to resist. However if one carrier starts the process willingly or unwillingly by falling prey, for the rest will just be either be an arbitrary or cascaded demolition e.g. how iPhone took the smartphone and digital market over. The benefi ts of a non-carrier provided service set for the subscriber are obviously compelling as to ease of keeping multiple numbers, inexpensive video calls and wider coverage.
Market Economics
As the market economics and dynamics grow and change for both software platform owners and mobile operators may see their profi ts shifting with change in investment strategies in network modernization. Platform owners on the contrary might gain enough revenues to support their investment in the network upgrade sector and thus support their new business model of end-end service ownership e.g. from Skype to a user handset.
Some experts predict that mobile operators will lose business to mobile platforms in their bid to establish the supremacy of software on hardware interface with the end user (Ilja Laurs, 2011). To some this may well be a medicine dispensing opportunity snatched away from traditionally expert doctors and handed to online nurses to change the mobile communications and services game for time to come.
To make space for possibly the inevitable, companies like SingTel Optus (Australia's T2) is taking steps to restructure its business (A. Colley, 2012) and take the war back to players like Google and Facebook to tap into their world of mobile communications and digital advertising market share. As an example here Telstra (Australia's T1) has decided to work with Australia Post to establish and market a digital mailbox based on its e-cloud with bank level security. This may not only be used for communication but also for bill payments and other miscellaneous postal services which have experiences a decline in last generation.
Not that they haven't been trying to achieve so for the last few years but obviously with the fate much eminent, efforts have been sped with much seriousness. This saw the company laying off 1000 people in FY12 alone (costing $37m) to save OPEX ($100m) and share network infrastructure development costs ($400m) sharing BTS with T3 carrier VHA (Joint Venture of Vodafone and Hutchison which took place in 2010 in Australia which downsized the competition base from 4 to 3 Carriers).
A question might arise as to what has been the historical growth trend and how we envisage it to grow in the future in the mobile market. Today we have more mobiles in a household (6.6 billion) generating $1.5 trillion in revenues last year alone as opposed to toothbrushes (4 billion) (M. Bingemann, 2012). This entails the importance of mobile communications business for telecommunications companies who don't generate much revenue anymore from the decaying business portfolio of hard copper lines potentially to be swapped with high speed fiber.
While there are indications following the economic downturn, second dip recession and emergence of multispeed economies in the traditionally prosperous West, to some there's an increased need to spend more CAPEX on IT&T today than ever before due to glooming returns from mining, building and construction sectors due to higher taxes, rentals, leasing and lower gross gains despite high spending (Figure 2).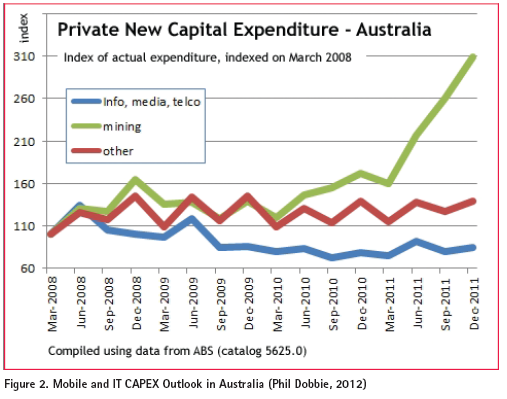 Even though the IT&T spending has risen between March-Dec2011, it's actually fallen 16% since March 2008 impeding the growth in the sector. Simultaneously, lack of public se ctor interest due to resources export being the prime focus for the moment has worsened the growth prospects. A future which is eminently both dynamic and arbitrary, a sense of direction needs to be devised and standardized by public and private sector.
| | | |
| --- | --- | --- |
| | | |
| | My Coordinates | |
| | Mark your calendar | |
| | His Coordinates | |
| | News | |