Revolutionizing the surveying and mapping industry
| | |
| --- | --- |
| | An interview with Fries Porteman, marketing communications manager at Gatewing, a Trimble company, about Gatewing's Unmanned Aerial Systems |
When and how was Gatewing started? How does name of your company go along with its activities?
The idea for designing unmanned aerial systems (UAS) for rapid mapping originated from a doctoral dissertation in aerodynamics by Peter Cosyn, one of the three founders and now Director of R&D at Gatewing. Maarten Van Speybroeck, Director of Operations and Finance, was involved with this idea as subject for a thesis. Working on the design of a lightweight UAS, Peter Cosyn soon discovered the great potential in making a fully automatic UAS for civil use. Later Peter Cosyn met Maarten Vandenbroucke, President of Gatewing, who also strongly believed in the huge potential of UAS for mapping. In the summer of 2008 they decided to start Gatewing. The name Gatewing consists of 'gate' and 'wing' whereby we refer to 'a gateway to aerial information' obtained by a fixed 'wing' system.
'Gatewing revolutionizes the surveying and mapping industry'. Please explain.
With the Gatewing X100, surveyors can now remotely and safely measure large, difficult-to-reach or dangerous areas and for photogrammetrists, smaller projects now become highly cost-effective where previously the smaller projects were simply too expensive to map with the traditional photogrammetry methods, meaning the X100 fills more or less the gap between traditional terrestrial surveying and conventional photogrammetry.
How safe and cost-effective is mapping by X100?
The X100 has been designed with the focus on safety. This results in a system with a weight of only 2kg (similar weight of a seagull) which is in a lot of countries seen as a safety critical limit. The structure of the X100 is shockabsorbing and powered by electric propulsion.
Furthermore the X100 also operates at low altitude (between 150 and 750 meter) and to avoid human errors during the flight, the mission is pre-programmed and the flight.
How easy is it to operate the flight? What are the factors that influence a successful flight?
As our main users are surveyors who have no or very little knowledge of how to control UAS, our intent was to design an UAS that is very easy-to-use and intuitive to work with. To meet these requirements we designed a highly automatic UAS whereby the user only has to prepare his mission in advance by selecting the area that needs to be covered, the overlap of images needed, the flying altitude, etc. using a straightforward software wizard. Once on site the operator simply indicates a proper take-off and landing location which is stored in the autopilot of is automated from take-off to landing. Although the flight is fully automated from take-off to landing, the user is still able to manually intervene using the ground control station thanks to the built-in fail-safe procedures. For instance when a helicopter approaches the X100 flight path, the operator can override the flight path and let the X100 circle at a certain location or give a command to land the X100 immediately. Compared to the X100. The X100 is launched with a catapult launch, flies fully autonomous while taking pictures of the area and lands on the indicated landing spot. After the flight you can immediately start using the images for creating the end products.
For a successful flight it is important to follow a checklist that makes sure you don't overlook steps and that all parameters are set properly. However the X100 is designed to fly in very hard weather conditions such as light rain and strong wind (up to 6Bft) it is also important that there is enough light to take images. When flying in too dark conditions the shutter speed of the camera will be too slow resulting in blurry images. traditional surveying, the operation is also much safer as the survey crew stays safely on the ground and no longer has to clamber over stockpiles or around high walls.
How do you see the future of UAS based survey and mapping?
UAS based surveying and mapping offers high-growth opportunities. From a system sales perspective it may well grow to a market that has the same order of magnitude as the current market of high-end GNSS stations. A key enabler for adoption of the technology by the mainstream surveyor are internationally harmonized regulations, which are still on the drawing boards of the Civil Aviation Authorities. Currently, it is a market of first-movers in countries that already have a framework to get flight permission.
Tell us something about Gatewing's Stretchout™ desktop software.
The X100 mapping kit comes with Stretchout™ which allows X100 users to create a rapid orthophoto from their X100 imagery in less than 10 minutes on a regular laptop. The rapid orthophoto is only of the actual resolution and makes it possible to do a quick quality check of your flight to be sure you've covered the complete area. Stretchout™ also converts the X100 image data into the right file format for import in third party image processing software.
For X100 users needing extremely accurate results we also offer Stretchout™ Pro which we've challenged the accepted way of traditional photogrammetry by introducing highly advanced vision technology coupled with close range photogrammetric techniques that changes the way you process your images. The point cloud density and accuracy that can be obtained is comparable to LiDAR results and the orthophotos processed with Stretchout™ Pro can have a pixel resolution of 3.3 cm GSD when flying at an altitude of 100m. The software also supports the import of Ground Control Points (GCPs) which results in even higher accuracies. Using an optimized hardware setup, it takes a couple of hours to a day depending on the requested density of the grid to process a typical X100 flight. Compared to some of the other image processing software, Stretchout™ Pro is very easy to use as there is very little manual intervention needed because the software runs highly automatic.
Do you extend any support of recent technologies like cloud?
For X100 users who don't want to invest in a desktop solution we also have a cloud solution called Gatewing Cloud. It allows X100 users to upload their image data to our cloud server and after a couple of hours they can simply download their high quality orthophoto and DSM. The Gatewing Cloud has pricing based on project size and requirements. An important feature of Gatewing Cloud is that a quality report of your project can be requested before ordering the data products.
What are the different applications Gatewing X100 suitable for?
Our solution has already been deployed for more than 15 different applications so far. As we strongly focus on the surveying market, our main customer base are professional surveyors who use this tool for example in mining where it proves to be a very valuable tool because of the fast and accurate results that are obtained in a safe way. Beside volume calculation it can also be used in mining for internal progress reporting and planning. The X100 is the must have system for topographic surveying in locations that are often remote, difficult or dangerous to access. In today's ever-changing landscape, on demand rapid mapping services (orthophotos) have become an extremely valuable tool for construction partnerships, modeling and planning. Road works, bridges, ramps, canals and flooding areas can now be easily inspected from the air. Large overviews allow engineers to take the necessary precautions when building infrastructures.
Another very nice application for the X100 is vegetation monitoring. By combining visual and near infrared images you get highly accurate information, such as stress of crops due to drought or disease. This information can be used for fertilization management or targeted harvesting. Other applications are for example waste management, disaster management, asset management, safety assessment, forest monitoring, erosion monitoring, research (geology, archaeology) and many more.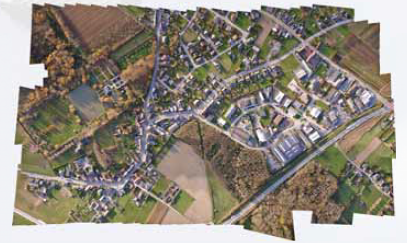 What is the market expansion plan of Gatewing products and solutions?
Gatewing will serve the surveying market better by improving our product offering, mainly focusing on greater flexibility, quality and easeof- use. At the same time we will offer in the future application specific solutions for market niches such as precision agriculture. It means that we also move to new payloads, such as hyperspectral camera's.
How do you see the potential to market Gatewing products and solutions in different parts of the world? What are the key emerging markets?
Gatewing is active worldwide but the key emerging markets are countries where the rules allow commercial operation (which excludes the US currently) and where the added value of the product is big because of lack of competitive photogrammetric services (typically big countries with low population density but important surveying projects) and/or industrial projects with a changing environment that needs continuous surveying. So, we are mainly talking about countries with big mining activities (Canada, Australia, South Africa, etc.) and construction activities (the BRIC countries and oil states in the Middle East).
Gatewing has recently been acquired by Trimble. What is the significance of this acquisition?
The acquisition is very significant for Gatewing. Trimble is a leader in high-end surveying products. Our product fits in their offering. It allows product integration that will lead to even better solutions. It also means that our products will be sold and served on the market by Trimble's large dealer network. Being part of Trimble increases our sustainability, credibility and reach.