Emerging technologies: The driving force behind new approaches and applications
| | |
| --- | --- |
| | INTERGEO 2011, September 26 – 29, 2011, Germany |
After the three-day INTERGEO event in Nuremberg, one thing was clear: "INTERGEO is a platform for dialogue between technology users from a variety of sectors – dialogue that gives rise to new approaches and applications. The resultant scope of possible new uses is considerable," stated Olaf Freier, Managing Director of HINTE GmbH and INTERGEO organiser. "There is quite simply no better specialist platform for suppliers and users to network than this leading international trade fair," said Professor Karl-Friedrich Thöne, President of INTERGEO patron DVW e.V. – the German Society for Geodesy, Geoinformation and Land Management.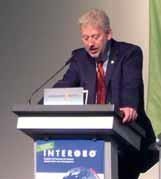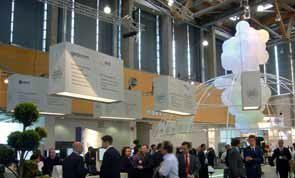 A representative survey of exhibitors highlighted the optimistic mood at INTERGEO. Just under 70 percent of exhibitors felt the innovation rate in the industry was higher, while 21 percent expected an equally strong impetus from innovations.
Some 16,000 trade visitors from 80 different countries attended the 17th INTERGEO to find out about new developments. The event was more international than ever, with more than one in four visitors travelling from abroad. Attracting 1,500 participants, the conference included 140 lectures and provided an opportunity for intensive interdisciplinary discussions on around 40 topics.
Collaboration with the SatNav Forum proved highly successful. For the first time, the BMVBS (German Federal Ministry of Transport, Building and Urban Development) and BITKOM (Federal Association for Information, Technology, Telecommunications and New Media) held the annual navigation conference in parallel with INTERGEO. "Never has there been such intensive dialogue between politicians and representatives from geoinformation technologies as at this year's INTERGEO. This provides clear proof of geoinformation's current and future significance in everyday life," said DVW President Thöne. Discussions on further intensifying and continuing collaboration have already been agreed. On a tour of the three trade fair halls with a total exhibition area of 28,000 square metres, BMVBS State Secretary Rainer Bomba was impressed by the numerous solutions on offer from industry and service providers.
Exhibitors provided impressive confirmation of the event's success. Some 92 percent of participating companies, institutions and associations indicated that they had achieved their trade fair targets. Their top priorities were cultivating new and existing contacts and presenting innovations. More than 85 percent of exhibitors gave one of the top 3 ratings when evaluating the overall impression of INTERGEO. A high proportion of just under 89 percent indicated that they would be returning to the trade fair. And 16 percent of these companies spontaneously indicated that they would be increasing their level of participation. Exhibitors were united in their praise for the high quality of contacts they made.
Trade visitors – 98.7 percent according to the representative visitor survey – were happy to travel some way to the event. Thanks to intensive media networking worldwide and a high level of acceptance for INTERGEO's mobile concept, more than 53 percent travelled to Nuremberg from a distance of more than 300 kilometres. This is 13 percent higher than the figure for the previous year. The long journey proved worthwhile for first-time visitors, too. They accounted for 35 percent of total visitor numbers. Some 95 percent of visitors participating in the survey rated the range of products and services on offer positively. Their top priority was to find out about innovations, obtain a general overview of what was on offer, establish and cultivate contacts, and take a closer look at specific products.
"INTERGEO is one of Trimble's most important events," said Chris Gibson, Vice President of the conference sponsor. One key factor that made INTERGEO so important for companies was the high proportion – a total of 75 percent – of people making or involved in making decisions among the trade public. Just under a third of visitors reported that they had placed orders at INTERGEO or had indicated at the fair that they would be doing so. Nearly 70 percent of the high proportion of decisionmakers attending the event wait for INTERGEO before placing their orders.
The focus in 2011 was on geodata infrastructure, sensors and 3D mapping. Olaf Freier expects these topics to be joined by smartphones at INTERGEO 2012 in Hanover.
| | | |
| --- | --- | --- |
| | | |
| | My Coordinates | |
| | His Coordinates | |
| | Conference | |
| | Mark your calendar | |
| | News | |