Our focus has always been on building products that can stand up to the most demanding environmental conditions
Phil Gabriel

Vice President and General Manager,

Precision Products, Hemisphere GPS
What are the key applications Hemisphere GPS precision products focus on?
Hemisphere GPS is focused on building rugged GNSS products for a variety of industries including surveying, marine and original equipment manufacturing (OEM). In the surveying industry, we manufacture a wide range of products from high-accuracy GNSS receivers to geodetic grade antennas. In addition, we offer an exclusive line of Vector GNSS Compass products for professionals heading and positioning. Our customers use these unique all-in-one compasses for everything from hydrographic surveying to yachting and dredging to autonomous machine control. On the OEM side of our business, we supply system integrators with our proprietary Hemisphere GPS technology for them to integrate into their own finished products. In fact, nearly every Hemisphere GPS finished product is broken down to its core board level and offered to original equipment manufactures for integration into their custom applications.
Please highlight a key feature of Hemisphere GPS' S320 GNSS Receiver?

Our S320 GNSS Receiver offers a lot of very unique and exclusive features. In fact, Hemisphere GPS S320 is the only survey receiver on the market with SMS communication capabilities. Meaning you can remotely command your S320 by sending text messages from your cell phone. Surveyors are using this feature to power their receivers' on/ off, monitor the location of their receivers and get real-time status updates such as battery life. The SMS communication feature can also be used to automatically setup baserover pairing, self-synchronize GPRS data calls and initiate a built-in-test to help diagnose customer support issues. Our SMS Communication feature has got a great response from surveyors in the field and is a unique feature that no other receiver offers.
What are the advantages of Hemisphere GPS' SureTrack™ intelligence?
SureTrack intelligence in a series of Hemisphere GPS algorithms designed to help deliver superior RTK performance where others cannot. SureTrack allows rover receivers to deliver complete GNSS performance even when the broadcasting base station is only receiving GPS data. This means the RTK rover is able to use every satellite possible – even satellites not tracked by the base. For surveyors, this translates into longer RTK baselines as well as more reliable RTK in congested environments. With Hemisphere GPS' exclusive SureTrack intelligence there is no longer the concern of mixing GNSS data from various manufacturers. There is an emphasis on the 'high quality' of Hemisphere GPS' S320 GNSS receiver. Please explain its edge over other existing receivers in the market. Hemisphere GPS is a Canadian company that has been manufacturing rugged and reliable GNSS products for more than 20 years. Our focus is, and always has been, on building products that can standup to the most demanding environmental conditions. S320 is a great example of this. The extremely tough Lexan plastic used to build the S320 is the same material used in the manufacturing of hockey helmets. We understand that test environments and reallife conditions are not always the same. That's why we built it to your specifications – Surveyor Tough.
How are the issues related to data storage and battery backups addressed in S320?
With the SD/SDHC card slot secured behind the battery door, users can safely log large amounts of monitoring data, static observations data and extended survey projects onto the factory included 2GB memory card. The SD card can also be used for much more including upgrading firmware and loading configuration files such as NTRIP. If you prefer to leave the SD card in the unit, you can wirelessly download the data by streaming it through one of the two Bluetooth ports provided. As for battery life, Hemisphere GPS' S320 comes standard with two long-life lithium ion batteries which will give more than 10 hours of operation. The batteries are hot swappable so you can change either one without powering off the unit. Also, the batteries used by S320 are in industry standard, so you can easily buy extras at any supply store.
What makes the S320 antenna design unique?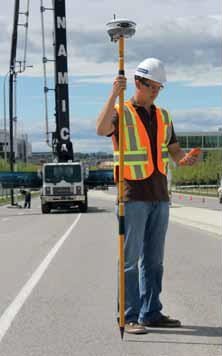 Our proprietary "Cross Dipole" antenna design used in the new S320 is a very efficient, wideband solution with excellent phase center stability and polarization. It is specifically engineered to receive all current GNSS signals as well as all planned GNSS signals around the world. The advantage of this tall cross dipole design is its ability to maximize signal gain all the way down to the horizon, which allows it to receive weak satellite signals very low in the sky – while rejecting reflected multipath signals that can reduce receiver accuracy. The height also permits retention of right hand circular polarization for additional multipath rejection when capturing the desired low angle signals. This is an important feature in order for the antenna to function effectively in very tough environments.