Articles tagged with: Yong Li
Guidance and steering control systems that are now in widespread use by farmers for ploughing and cultivating the land with unprecedented accuracy, require centimetre-level position as well as attitude information accurate to a few degrees. Additionally, position and attitude update rate of no less than 10Hz is required for successful guidance in agricultural environments. Guidance and steering control systems rely particularly on heading and roll measurements to steer the tractor on parallel straight lines or curves known as plough lines.

In a modern mobile mapping system, the navigation component usually consists of a GPS receiver and an inertial navigation system (INS), which can provide accurate geo-referencing to the imaging sensors [1][2]. To achieve centimetre-level positioning accuracy, RTK-GPS is a natural choice. However, RTK-GPS in urban areas suffers from frequent outages due to blockages of either the GPS signals or the reference station radio links. In addition, multipath from buildings, trees and heavy vehicles could degrade the accuracy of the GPS when the vehicle is near them.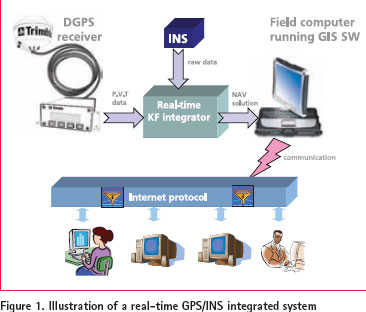 Although Global Navigation Satellite Systems (GNSS) technology is developing rapidly, the major disadvantage of GNSS will still exist even when the European Galileo system is fully operational, that is, signal blockage due to obstructions and the low power of the signals. The combination of GNSS with a self-contained inertial navigation system (INS) provides an ideal solution, which can not only address the weakness of GNSS and but also bound…