Esri India User Conference
Jan 2012 |
Comments Off

on Esri India User Conference
| | |
| --- | --- |
| | 7 – 8 December 2011, Noida, India |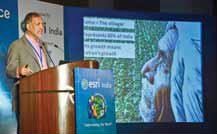 Mr Rajendra S Pawar addressing the conference
The 12th Annual Esri India User Conference was a big hit with Users and Partners from across all spectrums of GIS Users. Held at the Radisson Blu MBD Hotel at Noida on Dec. 7th & 8th, 2011. It was a resounding success for the organizers, NIIT GIS Limited (Esri India), with more than 1000 delegates (around 70% higher than the previous edition) attending the conference over the two days. The delegates were extremely happy with the content of the Conference and the associated Exhibition where not only solutions from Esri India were exhibited but also Partner solutions like from IBM. Trimble, GeoEye and Hemisphere GPS were shown along with that of Institutions providing GIS courses like NIIT University and Symbiosis Institute of Geoinformatics. Prominent Users like RGI and NATMO too had showcased the work they had done using GIS.
The Theme of the Conference this year was 'Understanding our World'. At the Inaugural Session, Mr S Sridhar, President & COO, NIIT GIS Limited, spoke on how Esri India has grown in the last 15 years and showcased some of the work done by their Users in the recent past. Mr Rajendra S Pawar, Chairman, NIIT Group, spoke on the theme of the Conference, highlighting the need for using GIS in reaching the benefi ts of large government aided programs and policies to the grass roots of society and the need for capacity building. Mr Jim Higgins, Regional Manager, Esri Inc., spoke on the Vision of Esri and how geospatial technology is now reaching out to every nook and comer of society. During the Technology Exposition the delegates were shown by the Technology & Solutions Team of Esri India the latest products and updates from Esri, Exelis VIS and Telvent, with a talk by Ms Victoria Kouyoumjian, IT Strategies Architect, Esri, on ArcGIS Online, Esri's cloudbased geospatial content management system for storing and managing maps, data, and other geospatial information.
The Panel Discussion held on the evening of the second day on the theme of the Conference 'Understanding our World' was well attended and the points made by the distinguished Panel consisting of Dr Shailesh Nayak, Secretary, MoES, Mr. S Subba Rao, Surveyor General of India, SOI, Dr Vandana Sharma, Dy Director General, NIC, Dr Devendra Pandey, Former DG, FSI and Mr Rajesh C Mathur, Vice Chairman, Esri India, were well received. The interaction with the audience during the Open House was also of a very high quality.
| | | |
| --- | --- | --- |
| | | |
| | My Coordinates | |
| | His Coordinates | |
| | Conference | |
| | Mark your calendar | |
| | News | |