Un-Earthly Coordinates
Aug 2009 |
Comments Off

on Un-Earthly Coordinates
When GPS helped Explorer Avery to the GEODETIC North Pole!

Muneendra Kumar

PhD, Chief Geodesist (Retired), US National Geospatial-

Intelligence Agency,

munismk@yahoo.com
Of course, it would be extremely rare, when any GPS surveying and/ or "navigating" to the North Pole is undertaken. One such opportunity occurred In April 2005. British explorer Tom Avery in his effort(s) to recreate Adm. Robert Peary's epic journey of April 1909 to North Pole took GPS to navigate himself.
During his journey, Avery's team observed the GPS surveyed positions from the starting point, enroute, near the extreme vicinity, and at the North Pole (Note: Unfortunately, no repeat and along the return tracking observations were made). These geodetic positions have allowed examining GPS surveying performance near and at the North Pole. As the GPS positions appear at two places in Avery's book ("To the End of the Earth", St. Martin's Press, NY, 2009), 8 positions (near and at the Pole) have been copied (Barclay Capital's Log and Page 271) into one table to "produce" a continuous sequence.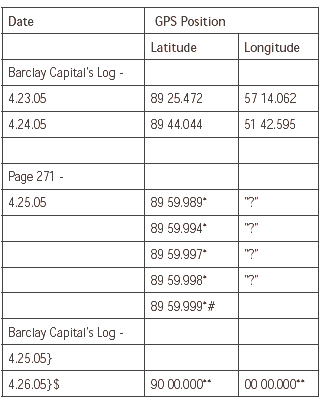 * These 5 positions are NOT in Barclay Capital's Log.
# The most northerly coordinate a GPS can register (As per comment on Page 271). $ It is not clear "How 1 position is attributed 2 days".
** In view of the remark (#) vide Page 271, from whom Barclay Capital logged this latitude and longitude coordinates for the North Pole.
Un-Earthly Coordinates – Did GPS survey the "ZERO" longitude, which does NOT exists on the Earth, at the North Pole?
| | | |
| --- | --- | --- |
| | | |
| | My coordinates | |
| | His Coordinates | |
| | CEO Speaks | |
| | News | |
| | Mark your calendar | |