Articles tagged with: DR A P J ABDUL KALAM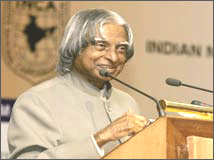 I am delighted to participate in the 26th Congress of the Indian National Cartographic Association (INCA). My greetings to the organizers, delegates of the Conference, cartographers, scientists and technologists, users of cartographic products and distinguished guests.
India has a vision of transforming itself into a developed nation before 2020. There are number of missions which need inputs from cartography technologies that will certainly accelerate the process of development. The programme such as Bharat Nirman Programme including PURA (Providing Urban Amenities in Rural Areas), networking of rivers, infrastructure development in 63 cities through Jawaharlal Nehru Urban Renewable Mission, mapping of earthquake prone areas and recurring floods in north Bihar and Assam require vital inputs at the stage of planning and implementation level. The mission of INCA should be to assist the implementation of developed India vision using their core competence in cartography in partnership with ISRO, NRSA, Survey of India, State Remote Sensing centers, Thematic map making organizations, Indian Remote Sensing Industries, Academia, Research Institutions and other IT organizations. Hence, I would like to talk to you on the topic "Cartographers: Partners in National Development". Let us now look at some typical requirements of rural and urban development programmes of the nation, where cartographers are major partners.