Our accurate compact modules will allow innovators to develop applications not yet on the drawing board
Ed Norse

GNSS Portfolio Manager, Integrated Technologies,

Trimble Navigation Ltd
How is Trimble getting ready with the multi-GNSS systems scenario?
Trimble understands that our customers want to purchase receivers today that will benefit from the GNSS signals planned for the future. To keep up with these ongoing changes Trimble's integrated circuit design team is constantly developing custom chips to be used in our receivers. With many divisions of Trimble utilizing this same core technology the economics of creating a new chip at frequent intervals makes more sense. The latest generation of receiver technology tracks the current Compass navigation demonstration system open service signals and Galileo open service under a license of the European Union and the European Space Agency.
Would you like to highlight some of the key features of Trimble BD910 and Trimble BD920
Unlike any other OEM RTK receiver on the market the BD910 and BD920 are enclosed in a fully shielded metal enclosure. This design ensures the high quality GNSS signals are protected from the sources of EMI on the host platform. It also significantly radiated emissions which speeds compliance certification and time to market. The RTK receivers are also extremely small allowing them to be integrated into mobile devices such field controllers and tablets.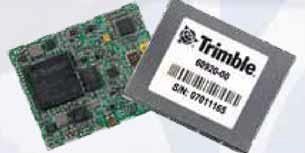 The Trimble BD910 and BD920 were designed for easy integration and rugged dependability. Customers benefit from the Ethernet connectivity available on the board, allowing high speed data transfer and configuration via standard browsers. USB and RS-232 are also supported. Just like other Trimble embedded technologies, easy to use software commands simplify integration and reduce development times.
How important is the power backups in portable solutions and how is it being addressed in your products?
Power consumption is a critical factor for portable solutions. The lower the power consumption the longer the device will operate on its battery supply. Changing batteries reduces productivity. The Trimble BD910 and BD920 have chosen lower power components including the main processor to minimize power consumption. Channels not in use are switched off. Lower gain antennas with lower power consumption are supported. Firmware is optimized to reduce power where possible.
What is the USP of Trimble BD982?
The BD982 is a very powerful RTK receiver for professional applications. The receiver contains two independent antenna ports. This allows RTK baselines to be computed at a 50Hz rate between the two antennas and to a remote base station. The receiver supports GPS L1/L2/ L5, GLONASS L1/L2 and Galileo L1/E5 in addition to OmniSTAR VBS, XP, G2 and HP services. Single antenna GNSS systems have difficulty determining where the antenna is positioned relative to the vehicle and object of interest, especially when dynamics are low. External sensors can be used to augment this however these tend to drift when static. Heading derived from dualantenna GNSS measurements overcomes these issues.
How competitive are the pricing of these products?
All our OEM products are available in a variety of configurations to suit the requirements of our customers. Pricing is dependent on the options selected and the volume of units purchased. We believe our pricing is very competitive.
What are the applications these modules best suited for?
The modules are suited for a variety of applications where compact size is critical. Mobile devices such field controllers and tablets benefit from the size and full metal jacket design. Aerial and ground unmanned vehicles are shrinking in size requiring smaller navigation payloads. Just as low accuracy GPS chipsets have opened up an increasing number of new applications we predict that these centimeter accurate compact modules will allow innovators to develop applications not yet on the drawing board.
How are system integrators going to be benefitted from these new releases?
System integrators will benefit from all the features of these new products. The smaller our products are then the smaller our customers can make their products. The Trimble BD910 and 920 are solder down modules. This means integrators can design their printed circuit boards with our modules treated like other components on the board. No longer is additional standoff mounting hardware required which increases cost and size and reduces ruggedness. Communication to the board can be via Ethernet, USB or serial. The onboard web server makes evaluation and remote diagnostics significantly easier. The BD910 and 920 share a common connector and overlapping footprint which allows an integrator to design their product to handle either receiver dependent on the application.
With Brazil, Russia, India and China being seen as the fastest growing economies, how does Trimble plan to leverage on it?
Trimble views the BRIC nations (Brazil, Russia, India and Chi na) as critical markets that we need to be focused on serving. We believe that products like the BD910 and the BD920 will meet the needs of these markets by delivering the performance that the world has come to expect from Trimble GNSS receivers. By utilizing constellations such as GLONASS, Compass (Beidou-2), and Galileo which these nations have a financial, technical, and political stake in; and to allow customers in these countries to meet bid specification that require usage of these constellations. By utilizing the SBAS systems such as GAGAN, MSAS, QZSS, along with EGNOS and WA`AS which these countries are invested in or serviced by. And, by delivering these products at a price point that we believe will be very competitive in these markets.