GNSS
Stanford aero/astro professor Per Enge, expert in GPS, dies at 64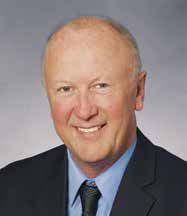 Per K. Enge, the Vance D. and Arlene C. Coffman Professor in the School of Engineering and one of the world's foremost experts in global positioning system (GPS) technologies, died April 22 at his home in Mountain View, California. He was 64.
Enge, a professor of aeronautics and astronautics, was best known for his work on GPS. He led deployment of two navigation systems in use today. The first began operation in 1995 and had over 1.5 million marine and land users as of 2014. The second system launched in 2003 and was, at last count, in use in over 100,000 aircraft and by more than 1 million land users. In another notable example, Enge led the team that designed a system that allowed planes to land themselves entirely unaided by human hands, even on the pitching decks of aircraft carriers at sea – in the dark. https://news.stanford.edu
EU should keep Britain in Galileo space project despite Brexit
The chief executive of aerospace firm Airbus said Britain should not be frozen out of the European Union's Galileo space programme after Brexit, calling on both sides to find a long-term solution in the interest of security. "The UK's continued participation in the EU Galileo programme will ensure security and defence ties are strengthened for the benefit of Europe as a whole, during a period of increasing threats to our security and geopolitical instability," Tom Enders, Airbus CEO said in a statement.
A spokesman for British Prime Minister Theresa May said that the UK wanted "complete involvement" in Galileo.
Graham Peters, chairman of trade association UKspace, said Britain was already losing work on Galileo as European consortia forming to bid for new contracts were choosing not to include UK companies. Peters said one contract currently up for grabs was the Galileo Ground Control Segment – potentially worth 200 million euros where the prime role may be shifted out of Britain to a site in another EU country.
Among the companies that work on Galileo through UK units are Airbus, which is Britain's biggest space company and the majority owner of SSTL, a Surrey, England-based company which makes satellites for the Galileo project, as well as CGI CGI.N and QinetiQ (QQ.L).
Brexit is already inflicting damage on Britain's space industry as EU officials said in January that a security centre for Galileo satellites would be moved from Britain to Spain as a result.
Asked by Reuters whether it had a plan to set up European subsidiaries to ensure its continued involvement in Galileo, Airbus unit SSTL said: "Due to the enhanced sensitivities and political complexities around the Galileo projects and services at the moment, we are unable to provide input or comment to media at this time on our involvement." Airbus's Enders said in his statement that there was also a need for clarity on Britain's participation in the EU Earth observation programme Copernicus. https://uk.reuters.com
Galileo: UK plan to launch rival to EU sat-nav system
The UK is considering plans to launch a satellite-navigation system as a rival to the EU's Galileo project. The move comes after the UK was told it would be shut out of key elements of the programme after Brexit. The UK has spent 1.4bn euros (£1.2bn) on Galileo.
Business Secretary Greg Clark is taking legal advice on whether the UK can reclaim the cash, according to the Financial Times. He told BBC News: "The UK's preference is to remain in Galileo as part of a strong security partnership with Europe.
"If Galileo no longer meets our security requirements and UK industry cannot compete on a fair basis, it is logical to look at alternatives." The row centres around whether the UK can continue to be trusted with the EU's most sensitive security information after Brexit.
Graham Turnock, chief executive of the UK Space Agency, said early feasibility work was under way into a UK system, which he said would cost a "lot less" than Galileo, thanks to work already done and "British know-how and ingenuity". He said the UK had "a lot of the capability that would be needed for a sat-nav system because we developed them as part of our role in Galileo". "We cannot launch yet, although obviously we are trying to address that, but this is something we think is in the realm of the credible," he added.
While Airbus will be able to continue working on Galileo at its continental centres whatever the outcome of the present row, the company said its UK wing stood ready to assist in building a British sat-nav system if asked. "If the UK opts for its own satellitenavigation system then Airbus's space operations in the UK has the skills and expertise to lead the development of it," Andrew Stroomer, a senior British executive in Airbus, told the BBC.
Greg Clark warned that the European Commission's actions could threaten defence and security cooperation with Britain after it has left the EU. www.bbc.com
GLONASS becomes financially self-sufficient
The Russian government stopped funding the state-owned operator of the GLONASS satellite navigation system this year as it has become financially self-sufficient, Russian Deputy Prime Minister Dmitry Rogozin said. "This is very important as it demonstrates the success of the decision to commercialize the products created by Russian orbital systems," Rogozin told Russian President Vladimir Putin in a meeting, according to the Kremlin. He said that so far GLONASS equipment has been installed on 107 airfields, 76 ports, 8,791 vessels, 670 aircraft, and more than 1.8 million vehicles. www.xinhuanet.com
Glitch in the system correction of the glonass signal
GLONASS is temporarily not providing corrective information via a satellite link. This statement appeared on the virtual online slot – monitoring systems that complement the GLONASS.
The cause of the failure is called failure, which led to the fact that the current has ceased to flow at the point of placing the complex control. Sdcm consists of three satellites of the system "Beam" and stations for data reception and transmission located on Land. These objects receive the signals coming from Russia and other countries. The system constantly monitors the GLONASS satellites and reports malfunctions, and, if necessary, produces the desired correction. According to experts, without the use of sdcm accuracy of GLONASS is equal to 3.1 meters, and when using it it is much improved.
The staff of "Roscosmos" has not yet commented on the situation. Netizens are convinced that accurate adjustment is not interesting to ordinary citizens, so to speak about serious crashing does not make sense. GLONASS is used by the military to locate enemy headquarters. Peaceful this system is used in a variety of areas, ranging from control of movement of vehicles to monitoring of infrastructure. https:// sivtelegram.media/discovered-aglitch- in-the-system-correctionof- the-glonass-signal/5468/
DT Research's new militarygrade tablet has RTK GNSS
DT Research has released the DT301T rugged RTK tablet (DT301T-RTK), a lightweight military-grade tablet purposebuilt for GIS mapping applications. It features real-time kinematic (RTK) satellite navigation to enhance the precision of GNSS position data. The tablet enables 3D point cloud creation with centimeter-level accuracy, meeting the high standards required for scientific-grade evidence in court.
IRNSS-1I up in space
Navigation satellite IRNSS-1I was put in orbit by the Indian Space Research Organisation's (ISRO) PSLV-C41 rocket. Eighth in the series, the 1425- kg satellite completes the first phase of the Indian regional navigation constellation, ISRO Chairman K. Sivan said.
The PSLV-C41 lifted off at 4.04 a.m. on 12th April 2018, as planned, from the First Launch Pad of the Satish Dhawan Space Centre at Sriharikota in coastal Andhra Pradesh, and after a flight lasting about 19 minutes, the satellite separated from it.
The navigation satellites, dubbed India's own GPS (Global Positioning System), are meant for giving precise information of position, navigation and time of objects or people. They were built by a consortium of six Indian companies led by Alpha Design Technologies Ltd., Bengaluru.
They have a civilian and a restricted military/security application.
Built for a 10-year job in space, 1I is expected to be ready for work in about a month after routine orbit manoeuvres and tests.
Although 1I is the ninth to be launched in the NavIC navigation fleet, it counts as the eighth, as the previous one, 1H, was lost in a faulty launch last August.
They were planned as backups but became necessary after the three imported rubidium atomic clocks on 1A failed while in orbit. Both 1I and 1H extensively involved the consortium in the assembly, integration and testing in Bengaluru — an exercise that ISRO would replicate in coming missions, Dr. Sivan said. www.thehindu.com
ISRO's clock to prop up India's own GPS
Time is running out for the seven-satellite Indian Regional Navigation Satellite System (IRNSS), also known as NavIC (Navigation in Indian Constellation). NavIC, whose seventh satellite was launched in April 2016, was expected to provide India a satellite-based navigation system independent of the US GPS. But India's own 'regional GPS' is yet to become officially operational owing to repeated failures of the atomic clocks on the satellites.
In view of the cascade of failing imported atomic clocks – nine out of the 21 clocks in the fleet have failed – ISRO has decided to add buffers to the NavIC by adding four more satellites. It hopes to have an indigenous atomic clock in each of them. "We are in the process of getting approval [from the government] for at least another four IRNSS satellites," according to ISRO Chairman K.Sivan, confirming the failure of clocks.
"However, they will have some advanced technology, apart from the atomic clocks developed by ISRO." NavIC is meant to give Indian civil and military users reliable location and time information, for which the performance of the atomic clocks is critical. The indigenous atomic clock is being developed by the Space Applications Centre, Ahmedabad, Mr. Sivan said, adding that once it passes qualification tests, "We will first demonstrate the indigenous clock in an upcoming navigation satellite, along with the imported ones. Work on them is going on in full steam." www.thehindu.com
Beidou system helps with spring plowing
Thanks to the new Beidou Navigation Satellite System, Chinese farmers are having an easier time with spring plowing.
In Tawan village in northwest China's Ningxia Hui Autonomous Region, a tractor installed with a vegetable transplanter was slowly moving ahead in the field, while several farmers nearby filled the transplanter with seedlings. The tractor's cab was empty, however, and an antenna and receiver sat atop the machine. "The antenna serves as the eye of this unmanned machine," said Ma Haitao, the original driver of the tractor.
Once a plowing path has been entered, the machine will follow the route precisely, deviating less than three centimeters per kilometer. The unmanned tractor belongs to Yihe Agricultural Machinery Operation Service Co. Ltd. in Wuzhong city of Ningxia. The company's owner, Tan Zhenlong, purchased seven Beidou Satellite Navigation System sets for its agricultural machinery in two years.
Beidou Satellite Navigation System enables the tractor to plow with great accuracy, preventing misseeding and reseeding. It not only cuts farmers' workload by nearly half, but greatly improves land use and production output, according to Tan.
The development of China's modern agriculture is gaining speed thanks to technology like the Beidou Satellite Navigation System. www.xinhuanet.com
New DARPA challenge seeks flexible and responsive launch solutions
DARPA has announced the DARPA Launch Challenge, designed to promote rapid access to space within days, not years. Our nation's space architecture is currently built around a limited number of exquisite systems with development times of up to 10 years. With the launch challenge, DARPA plans to accelerate capabilities and further incentivize industry to deliver launch solutions that are both flexible and responsive.
The commercial small-launch (10kg- 1000kg) industry has embraced advances in manufacturing, microtechnologies, and autonomous launch/ range infrastructure. DARPA seeks to leverage this expertise to transform space system development for the nation's defense. Frequent, flexible, and responsive launch is key to this transformation. www.darpalaunchchallenge.org.
BeiDou navigation satellite system centre in Tunisia
The China-Arab States BDS/GNSS Center, the first overseas center for China's indigenous BeiDou Navigation Satellite System (BDS), was officially inaugurated in Tunisia.
The center is established as a pilot project between China and the Tunisia-based Arab Information and Communication Technology Organization (AICTO), an Arab governmental organization under the Arab League, to promote the global application of the BDS, said Ran Chengqi, director of China Satellite Navigation Office. www.xinhuanet.com