GNSS
NASA advancing GNSS capabilities
NASA is developing capabilities that will allow missions at high altitudes to take advantage of signals from Global Navigation Satellite System (GNSS) constellations — like GPS commonly used in the U.S. These signals — used on Earth for navigation and critical timing applications — could provide NASA's Artemis missions to the Moon with reliable timing and navigation data. NASA's Space Communications and Navigation (SCaN) program is developing the technologies that will support this goal.
Interoperability of the GNSS constellations will be key to realizing this ambition. There are six GNSS constellations that provide Position, Navigation, and Timing (PNT) services, each hailing from different countries worldwide. Four constellations, those operated by the U.S., the European Union, Russia, and China, provide global coverage. The other two, operated by India and Japan, provide regional coverage.
Using multiple constellations at once offers more signal availability, which can mean improved accuracy in navigation and timing for satellites. This could be especially helpful for spacecraft at higher altitudes where GNSS signals are less plentiful overall.
However, each constellation has unique designs. This poses a challenge to engineers hoping to develop multi-GNSS systems that take advantage of multiple constellations.
Bobcat-1
SCaN is supporting a number of flight experiments that will help develop multi-GNSS capabilities for spacecraft. Bobcat-1, developed by NASA's Glenn Research Center in Cleveland and Ohio University, is one such example.
Bobcat-1 was selected by the CubeSat Launch Initiative in 2018 to study GNSS signals from 250 miles overhead. The small satellite launched to the International Space Station aboard a Northrop Grumman Cygnus spacecraft on Oct. 2, 2020.
On Nov. 5, the space station released the CubeSat to begin its mission. The spacecraft will orbit for about nine months, measuring signals from different GNSS constellations. Engineers will use these measurements to better understand GNSS performance, specifically focusing on timekeeping variations between the constellations.
The SCaN Testbed

Bobcat-1 builds on the legacy of the SCaN Testbed, which demonstrated multi-GNSS capabilities on the space station from 2012 to 2019. The GPS and Galileo Receiver for the International Space Station (GARISS) — an instrument developed in collaboration between NASA and ESA (European Space Agency) — received signals from both GPS and Galileo, the GNSS constellation operated by the European Union.
The SCaN TestBed also laid the foundation for the Lunar GNSS Receiver Experiment (LuGRE), a Commercial Lunar Payload Services payload being developed in partnership with the Italian Space Agency. The payload will receive signals from both GPS and Galileo and is expected to obtain the first-ever GNSS fix on the lunar surface.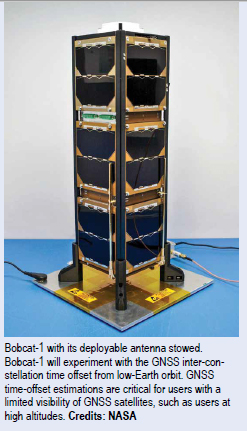 GNSS PNT policy and advocacy
While NASA engineers develop the technologies necessary for multi-GNSS navigation at ever-higher altitudes, the SCaN team works with stakeholders in the U.S. government and internationally to advance GNSS interoperability in the policy sphere. They consult on the United Nations International Committee on GNSS, helping develop additional capabilities in the Space Service Volume and beyond.
NASA recently worked to publish GPS antenna patterns from GPS satellites that launched between 1997 and 2000, collaborating with the U.S. Space Force, the U.S. Coast Guard, and Lockheed Martin, who built the satellites. The PNT team is also working to facilitate publication of antenna patterns for more recent GPS satellites. With this data, mission planners can better assess the performance of GNSS in high-Earth orbit and lunar space. This forthrightness also encourages other GNSS providers to be similarly transparent.
By Danny Baird, NASA 
China releases 4 new BDS technical standards
China has newly released four national technical standards for the BeiDou Navigation Satellite System (BDS), according to the China Satellite Navigation Office. The four newlyreleased technical standards are for fields of the data format, map application, ground-based augmentation system and atomic clock of the BDS. These new technical standards have been released by the Standardization Administration.
China officially commissioned BDS on July 31, 2020, opening the new BDS-3 system to global users.
Along with positioning, navigation and timing services, the BDS-3 system can provide a variety of value-added
services like global search and rescue assistance, short message communication, ground-based and satellite-based augmentation, as well as precise point positioning. www.xinhuanet.com
Galileo Open Service Navigation Message Authentication
Galileo has started testing Open Service Navigation Message Authentication (OSNMA) in the signal-in-space, allowing the first-ever OSNMA-protected position fix to be successfully computed. Testing will continue over the next months, ahead of a so-called "public observation" phase. This is the first-ever transmission of authentication features in open GNSS signals of a global navigation system.
The Galileo OSNMA is an authentication mechanism that allows GNSS receivers to verify the authenticity of GNSS information, making sure that the data they receive are indeed from Galileo and have not been modified in any way. On November 18th 2020, 15:28 UTC, Galileo satellites started the transmission of authentication data for testing purposes. As part of the tests, OSNMA receivers successfully calculated a messageauthenticated position for the first time.
Testing Activities
OSNMA test signals are being broadcast by the Galileo constellation using the spare bits from the current navigation message, therefore not impacting the legacy OS receivers implementing the current OS Signal-In-Space Interface Control Document (OS SIS ICD). The first tests used eight Galileo satellites for around two hours on November 18th.
Next steps
Upon successful completion of the internal testing phase, a public observation phase will begin, in which the OSNMA signal will be publicly accessible. In preparation of this phase, the OSNMA SIS ICD, receiver implementation guidelines, and the necessary cryptographic materials will be published. This will allow receiver manufacturers and application developers to test and prepare their products. https://ec.europa.eu
Establishing the framework for developing the Galileo PRS military user segment
A crucial and decisive step towards the development of the Galileo Public Regulated Service (PRS) military User Segment has been taken recently with the kick off meeting of the GEODE (GalilEO for EU DEfence) project. This project managed under the aegis of the Belgian, French, German, Italian and Spanish Ministries of Defence is one of the most ambitious Defence cooperation projects launched under the umbrella of the European Defence Industrial Development Programme (EDIDP) of the European Commission. GEODE is also the biggest Galileo application development project ever launched. Sponsored by Belgium, Germany, Italy, France and Spain which contributions should exceed 82.7 million Euros, it is supported by the EU with a grant of about 44 million Euros.
GEODE is establishing the framework for developing the Galileo PRS user segment for Defence applications. The setting up of this framework starts already with the involvement of 30 companies and organisations from 14 EU Member States: Belgium, Czech Republic, Estonia, Finland, France, Germany, Greece, Italy, the Netherlands, Poland, Portugal, Spain, Sweden and Romania.
National Defence organisations have thoroughly elaborated in close cooperation with Industry the complete roadmap for the Galileo PRS military user segment development. Starting from a significant specification and standardisation phase, GEODE will prototype, test and qualify 7 PRS Security Modules developed from various technologies, 9 PRS receivers (including 2 server-based variants), 4 GPS/ Galileo PRS compatible anti-jamming Controlled Radiation Pattern Antennas. In addition, a common and standardized test environment will be developed as well as a PRS infrastructure to ensure the availability of the security assets for operational testing. To complete this picture, military operational field testing will be organised on military platforms (naval, land and Drones) and timing and synchronisation system in (at least) Belgium, Czech Republic, France, Germany, Greece and Romania. A PRS solution for spacecraft will also be designed and prototyped.
Beyond paving the way for the equipment of EU Member States Defence forces with Galileo PRS, this military user segment developed, tested and certified in the frame of GEODE aims to be available for export towards third countries (which have the necessary PRS security agreements with the EU).
The GEODE project will be completed in 2026. www.fdc.fr
Next-gen European navigation overlay service
The European GNSS Agency, GSA, has awarded a €100 million ($121 million) contract to Eutelsat Communications to develop and operate the agency's next-generation EGNOS satellite navigation overlay service.
The European Geostationary Navigation Overlay Service (EGNOS) is used to improve the performance and accuracy of U.S. GPS signals. These signals can then be utilized for safety critical applications for aviation, maritime and land-based customers like railway and road management agencies.
With the Feb. 9 contract signing, the GSA has entrusted Paris-based Eutelsat with the development and operation of the agency's next-generation EGNOS GEO-4 service. Also referred to as EGNOS Version 3, the new service will make several improvements on its predecessor including integrating signals from Galileo, Europe's own navigation system. GEO-4 payload is the second EGNOS payload to be hosted aboard a Eutelsat satellite. The first, GEO- 3, was launched aboard Eutelsat 5 West B in October 2019. www.eutelsat.com
EU court suspends Galileo signing with Thales and Airbus
The European Court of Justice in Luxembourg suspended the signing of the €1.47 billion Galileo contracts with Thales Alenia Space and Airbus Defence and Space, Space Intel Report found out.
The scheduled signing for a dozen of second-generation Galileo satellites "has been suspended by order of the European Court of Justice (ECJ) following a protest filed by OHB SE, which was the losing bidder," Space Intel Report's Peter de Selding wrote.
The European Commission had awarded contracts for 12 new Galileo satellites (six each) for a total of €1.47 billion to Thales Alenia Space in Italy and Airbus Defence & Space in Germany in January. OHB, the manufacturer of the first Galileo generation of more than two dozen satellites, lost the bid for the next generation. https://spacewatch.global
Passenger buses in Turkmenistan with GPS/GLONASS system
President of Turkmenistan Gurbanguly Berdimuhamedov held a digital video In order to increase passenger traffic and improve the quality of services, the President of Turkmenistan has instructed transport department to purchase medium and small buses installed with cashless payment systems and GPS/GLONASS system, just like in passenger taxis and trucks, to widely introduce internet services and the sale of travel cards. In order to provide high-quality services to passengers of city and suburban buses, President Gurbanguly Berdimuhamedov demanded to ensure timely commissioning of modern bus stations that are under construction in Balkan, Dashoguz, Lebap and Mary velayats. https://business. com.tm/post/6643/turkmenistanintends- to-purchase-passengerbuses- with-gpsglonass-system