Engaging young minds in designing future cities
| | |
| --- | --- |
| | "Que Sera Sera, whatever will be, will be; the future's not ours to see, Que Sera Sera". That was the song we learned in school years ago. But, this is not a song that would make sense to a several school children today, who do have an inkling of the 'future' as they participate in a competition that encourages them to imagine how our cities should be in the future. |
| | |
An 'idea' is born
The competition started nearly two decades ago in the United States as the National Engineers Week Future City Competition with the aim to provide fun and exciting educational engineering programs for school students by combining stimulating engineering challenges with 'hand-on' application to enable them to present their vision of a city of the future.
Bentley Systems, with their comprehensive portfolio for the building, plant, civil, and geospatial verticals spanning architecture, engineering, construction and operations; conceptualised the competition, and have been the driving force behind it by giving the required support in terms of training the participating teams, providing the software and sponsoring the prizes.
The 'Future' comes to India
In October of 2005, Greg Bentley CEO of Bentley Systems met with the Union Minister for Science & Technology and Earth Science, Mr. Kapil Sibal to discuss replicating the competition in India. "Mr. Sibal was very excited about the possibilities and gave us the vision and support to move forward" said Mr. Bentley after the meeting. In the year 2006, Bentley Systems was thus able to bring this innovative program to India as the Future Cities India 2020 Competition with active sponsorship from the Department of Science and Technology. Scott Lofgren, global director of Bentley Systems, Inc.'s BE Careers Network, speaking on how the Future Cities India 2020 program will help to introduce India's youth to the engineering profession, said, "The infrastructure demands on cities in India are staggering, and few world examples exist to show us how to meet them. Compounding the challenge of the demand for more and better performing infrastructure is the shortfall in the number of new infrastructure engineers, architects and planners who will be needed to design, build and operate this infrastructure in the future. We believe it is essential to encourage the next generation to get involved and understand the career opportunities that the infrastructure professions present.
The Indian challenge – learn and compete
Given that school curriculum in India is quite structured and exam oriented it was a challenge to incorporate a competition that would require the students to break free from their books and theory and step into the realm of the 'real world'. Understanding that the students will need help and support, the Future Cities India 2020 Competition, is first a learning exercise and then a competition. A teacher and guide, Apeejay School, Noida, says, "It is altogether a different kind of exposure which students get through this project. Other competitions are based on what they have learned as part of their curriculum and Future Cities project takes them to the future actually." The Future Cities India 2020 Competition is a national level competition that focuses on the use of science and technology development process to solve real world challenges, incorporating real world data and using globally recognised professional software. With the help of teachers as counsellors and technical professionals as mentors, the students are guided to provide realistic, innovative solutions while learning a marketable skill.
The competition also encourages the students to develop, design and integrate the functionality of their ideas while fostering an interest in maths, science, engineering, architecture and facility planning through a hands-on, real-world application. "India has earned a reputation for developing a highly skilled workforce to support its technical outsourcing industry. It is now time for us to direct our many talents inward, and address projects at home that will help secure India's future. The Future Cities India 2020 program will engage some of India's finest young minds in designing world-class infrastructure for economic growth and improved quality of life in our cities" said Mr. Kapil Sibal.
The future unveils in Delhi
Given that in its inaugural year the competition was open to schools based in Delhi, the next challenge for the competition organisers was to pick a theme or 'real world problem' in D e l h i . Something, the students w o u l d u n d e r s t a n d and identify with before giving wings to their 'imagination'. The 2010 Commonwealth games coming up in Delhi proved to be the ideal backdrop for this 'flight of imagination' not just in the first year of the competition, but also in the second. In 2006-07, 15 teams from eight schools in Delhi competed to design 'a roadway between Lakhsmi Nagar and Noida Turning railway stations capable of accommodating the increased traffic expected during the Commonwealth Games 2010'. The project design from Team 1 at the Apeejay School, Sheikh Sarai, Delhi was judged the best by a panel of distinguished experts from the infrastructure community. Dr R Siva Kumar, Head, Natural Resources Data Management Systems (NRDMS), a Division of DST, which was the sponsor of the programme, said, "We have asked the students to 'imagine'- and sometimes children can come up with very different and new ideas. We are not expecting them to come up with 'suitable'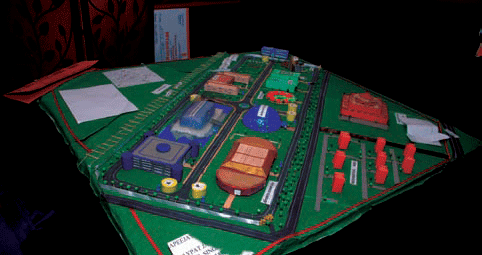 designs – we want them to just think about these real world problems and come with ideas. And at times, so they do come up with something very innovative. The idea behind such competitions is not to seek the solutions of real word problems but it intends to sensi- tise students with real world issues and make them aware of the role of technology in addressing them." In 2007-08 with the theme "Site Development of proposed Commonwealth Games Village, Delhi after 2010", 14 teams from ten high schools in the National Capital Region competed to develop conceptual solutions for the redevelopment of the Commonwealth Games 2010 international zone, where temporary structures –everything from media centers, entertainment facilities, and practice grounds to a commercial center and transportation system – will be dismantled at the conclusion of the Games. Using Bentley software, students designed innovative functional uses for the site, while keeping in mind the concerns of the neighbouring residential community and all environmental issues. Distinguished experts from the infrastructure community judged the project presentations based on five criteria: project design solution report, computer model, expenditure summary report, physical model, and team presentation. The winners, Team 1 from Apeejay School, Noida were awarded scholarships and trophies, and the teachers and technical professionals who served as counsellors and mentors also received awards and recognition. Members of the winning team included Ajaypat Jain, Anshul Singh, E R Subramanian, and Gagan Anand, and said, "We were honoured to be a part of this competition. We worked hard and gave our best and were amazed to get the final output of our research and case study. We had been appreciated by judges and audiences from various organisations for our best solution of the problem statement. It was a wonderful journey throughout." Second place honours went to Team 1, DAV Public School, Gurgaon.
The 'idea' becomes a reality
The programs vision to, "Create a geospatial literate community focusing on Science and Technology that contributes to the betterment of the urban/rural infrastructure of India while integrating Science & Technology with the development process", is now well and truly on its way to be realised as the competition grows with each passing year. "It is a good initiative. It will help to create awareness – among the students, their teachers and parents. Today the competition has 16 schools with teams of 4 members each – so the numbers are growing. With a competition like this the children get excited and get encouragement. Once you approach students with initiatives like this, it has a great multiplying effect. They discuss about technology among themselves, with their peers and parents also" says Dr Siva Kumar.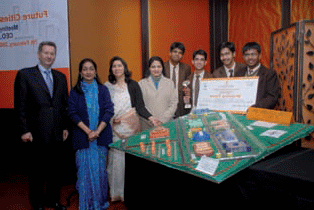 Now in its third year, the competition's outreach may well be beyond just the students in its fold, as this year's competition challenge focuses on Indian Railways' plans to redevelop 22 of its centuries-old railway stations into world-class facilities. Students must create a conceptual design plan to upgrade the New Delhi Railway station, the first facility on Indian Railways' redevelopment schedule. Additional co-sponsors this year include McGraw-Hill Education and The American Centre. 15 teams are now in the race to design and present a conceptual solution to the 'redevelopment of New Delhi railway station', focussing on three main requirements: use the existing land and infrastructure to the best advantage; accom- modate internal access zones, with separate parking zones at Paharganj and Ajmeri Gate terminals; and use environmentally responsible materials.
The winning team will be announced and honoured in an awards ceremony in January 2009. Bhupinder Singh, Senior Vice President, Bentley Software, said, "We are excited to be a part of this in the competition. Future Cities India 2020 is a tribute wonderful program, and appreciate the incredible maturity, talent, and vision the students have displayed to all the creative minds that have developed innovative design solutions to help address India's real-world infrastructure needs." Added Scott Lofgren, "Future Cities India 2020 is the catalyst we can use to inspire young minds to consider the profession. Of course, not all of the participants in our program enter the engineering ranks, but some will, and they will help India and the world be better prepared to meet the growing demand for new and improved infrastructure."
The 'idea' takes root
The truth of Mr. Lofgren's ideas is echoed in the words of a winning team member from Apeejay, Noida, when asked whether this exposure would guide his choice of a career in the future, "Absolutely this competition gave me a direction and exposure to the practical aspects related to engineering and architectural phenomenon and did help us to correlate our daily practices in engineering point of view. Now, we feel attached with the engineering world ahead. " If the competition's vision "Reach out & involve Every School in the Country" is ultimately realised, our students will definitely be better prepared as 'our future citizens'. To conclude golden words from a student of the Apeejay Noida wining team, "We would only say- have the vision, follow the dream and put it into action!"
The Future Cities India 2020 Awards
For the winning team and first runner-up:
Scholarship, trophy and certificate
Special Awards:
Special Awards for Best Team – Physical Model
Special Awards for Best Team – Computer Model
Special Awards for Best Team – Environmental Solutions
Participation Prize:
All student participants of the national finals get certificates
Teachers/ Engineer Mentors get awards and recognition. Free 1 year subscription of Bentley Professional Software to the participating Schools of National Finals.
www.futurecitiesindia2020.co.in
Pages: 1 2