"Our technology is a great fit for aftermarket product realizations"
Jun 2009 |
Comments Off

on "Our technology is a great fit for aftermarket product realizations"
| | |
| --- | --- |
| | Steven Koles, President & Chief Executive Officer Hemisphere GPS on product, technology and market scenario |
| | |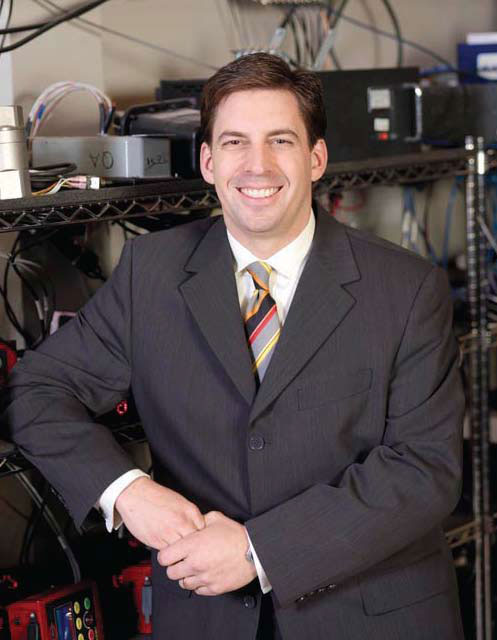 What does the achieving of the ISO 9001:2008 certification by Hemisphere GPS mean for its customers?
In its interest to continually improve and certify its quality management system, Hemisphere GPS underwent an intensive process and audits, and raised the standards of its organizational discipline to qualify for the international recognition.
The certification reinforces Hemisphere GPS' commitment to customer satisfaction through high-quality design, development, assembly, testing, delivery, and technical support.
Hemisphere GPS has a total of 50 issued or pending patents, which of these would you say were 'landmarks' in the company's growth?
Our patent portfolio is quite focused on both our core technology and the market segments that we serve. We carefully select our patent topics and we have been successful in securing patents that directly contribute to the strength of our intellectual property and technology portfolio for our business today and for future growth.
"OEM partnerships are key to our success." Could you please elaborate?
Our technology is a great fit for after market product realizations as well as highly integrated systems. Our technology is advanced enough to easily and meaningfully integrate into advanced equipment in various applications including agriculture, marine and others. We have been successful in working with Original Equipment Manufacturers (OEM) in various markets. Such OEM relationships provide for committed long term technology and product growth plans that secure the growth of the business and reduce the seasonality in the revenue stream. While aftermarket technology will continue to be in demand, factory-installed technology is a trend that we want and can embrace.
Could you tell us how 'e-Dif' software enables standard GPS receivers to achieve 1 meter accuracy without any help from differential correction signals?
The Hemisphere GPS e-Dif technology allows a receiver to create its own local corrections upon initialization, then allows the receiver to apply those same corrections to its own position for a period of time. To do this, COAST technology is used to minimize degradation of the corrections over time, with typically less than 0.5 m drift in 40 minutes. Overall, e-Dif provides positions that drift significantly less than autonomous positioning, resulting in relative position accuracies that are sub meter.
To begin, the receiver is turned on and the user stays stationary for approximately 10 minutes while the receiver obtains a good position fix and begins the e-Dif algorithms. The user sends a command to indicate they are ready to move and the e-Dif algorithms begin correcting the positions. The e-Dif algorithm continues to monitor the satellite signals and after approximately 40 minutes it will begin to continually re-model the corrections. In this way e-Dif continues ceo speaKs "Our technology is a great fit for aftermarket product realizations" Steven Koles, President & Chief Executive Officer Hemisphere GPS on product, technology and market scenario June 2009 | 13 to minimize the position drift. Alternately the user can come to a stop and perform another stationary initialization. This will ensure the lowest possible drift, but can introduce a more pronounced shift in
position at the time the initialization is performed. Sometimes this is not desirable, such as in precision agriculture where they are looking to minimize drift from pass to pass, and they are not as concerned about the longer term effects of absolute position drift.
Please tell us more about your recently introduced A21 GPS Antenna.
The A21 antenna is a robust, single frequency, DGPS antenna that works with SBAS (WAAS) and OmniSTAR differential sources. The A21 was built to withstand RF and electrical interference and is an improvement over existing antenna products.
Agriculture is a thrust sector for Hemisphere GPS and 'slower farm spending' has reduced revenues for the company in the first quarter of 2009. How do you see the rest of the year panning out vis-à-vis this sector?
Similar to many companies with exposure to Agriculture, we have seen recent caution in terms of farmer spending. This is a result of recessionary economic conditions, financial media headlines, international currency volatility, and weaker commodity prices. We are encouraged to see some confidence returning to the Agriculture market as prices for commodities such as corn and soybeans are now reaching new highs not seen since the fall of 2008. While we expect short term caution will continue, with the increasing confidence levels we expect our results to improve on a relative basis throughout the fiscal year. Over the medium to long term, we remain very optimistic about our opportunities with new products, new customers, and new markets.
The US, Europe and Australia has been key markets for your products. What is your view about other emerging markets the world over?
We have a great interest in emerging markets. As a matter of fact, we have just announced our newest addition to our agriculture product line;the S-Lite in the Simple Chinese language. This is a case where we recognized a specific emerging market need and catered our existing products to meet the demand. Over the past few years, the Chinese government has put great efforts into supporting agriculture and offering subsidies to farmers towards the purchase of agricultural equipment and we see that as a great catalyst to our opportunity in that market. We are also looking at other emerging markets around the world including for agriculture and other precision GPS positioning and navigation opportunities. These new markets include India, Russia and South America.
Despite a reduction in revenues, the research and development expenses have seen an increase from $1.8 to $2.1 million at Hemisphere GPS. Please elaborate.
The long term fundamentals of our business are strong and we continue to pursue great opportunities for our future growth and scalability. While the market conditions have proven to be volatile at this time, our technology continues to be the cornerstone of our growth and we need to continue to invest in it without reacting to what we believe is temporary market conditions.
In a global economic situation where many companies were cutting back, Hemisphere GPS saw 35% increase in 2008 revenues. How was it made possible?
2008 growth was driven by our focused execution of our business plan through new product releases and effective sales strategies. This was coupled by favourable market conditions in agriculture. Strong grain commodity prices lead to record net farm income in the United States in 2007, and similarly in other countries, which in turn drove stronger sales of agricultural products. As to our non-agriculture business through the Precision Products segment – including sales to marine, GIS and original equipment manufacture ("OEM") customers, the strength in 2008 sales was a result of many factors including a focused global sales channel initiative which has resulted in increased demand for GPS receivers and board level GPS equipment from OEMs and custom integrators.