Application of GIS and remote sensing in urban planning
| | |
| --- | --- |
| | Initiatives of Ministry of Housing and Urban Affairs, Government of India |
Mohd.Monis Khan

Town & Country Planner, Head, Urban and Regional Information System (URIS) Division, Town & Country Planning Organisation, Ministry of Housing and Urban Affairs Govt. of India, New Delhi, India
The Ministry of Housing and Urban Affairs (MoHUA) is engaged in the development and promotion of State-of- Art Technologies such as Geographic Informat ion System and Remote Sensing, Aerial Photography etc. since 1990's. The Ministry has handled several projects and schemes such as Urban Mapping Scheme, National Urban Information System, Sub- Scheme of formulation of GIS based Master Plan for 500 AMRUT cities.
Urban Mapping Scheme
The Ministry has launched a pilot scheme for preparing large-scale urban maps using aerial photography for 53 towns in order to meet the requirement of base maps for towns and cities, was taken up during the Eighth Five Year Plan. The budget allocation for the Scheme was 20.39 Crores. The project envisaged development of technical capabilities of the town planning organisations at Central and State level so as to enable updating of the maps in a revision cycle.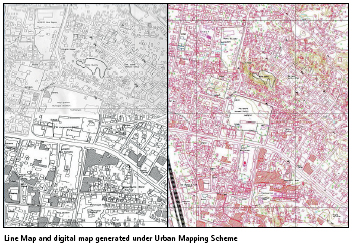 In the first phase, 25 towns from six States were selected on priority basis for coverage under this scheme and in the Second phase 28 towns from 19 State were taken. The work of aerial photography and mapping was assigned to NRSC for all 53 towns. All the maps generated under the Scheme have been sent to respective State Town Planning Departments for their use.
National Urban Information System
The Ministry has launched National Urban Information System (NUIS) Scheme in March, 2006 to develop GIS databases for 152 towns/ cities in two scales i.e., 1:10,000 and 1:2000. Apart from spatial data, the Scheme had other components i.e. National Urban Data Bank and Indicators (NUDBI), Capacity Building, HW/SW and Application Development. The total outlay of the scheme was Rs. 66.28 Crores of which 75% was borne by the Central Govt. and the remaining 25% by the State. The work of spatial data was undertaken by the Survey of India, Dehradun. The spatial and attribute databases thus generated were used for preparation of Master/ Development plans, town planning schemes etc. serves as decision support for e-governance purposes. The scheme is has been successfully completed in 31st March, 2018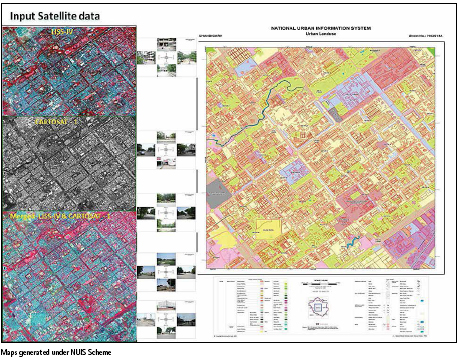 Sub-Scheme on formulation of GIS-based Master Plans for AMRUT Cities
Formulation of GIS-based Master Plans for 500 AMRUT Cities is one of the important reforms under the AMRUT Mission. It has three major components i.e. Geo-database Creation, GIS based Master Plan Formulation and Capacity Building. As on date 34.
States/UT with 456 towns are covered under the Sub-Scheme. The total budget allocation for the Sub-Scheme is Rs.515 Crores and sum of Rs. 97.31 Crores has been released to States.
An MoU has been signed between National Remote Sensing Centre (NRSC), Department of Space and Ministry for Geo-database creation, but State Governments can opt NRSC or private consultancies for Geo-database creation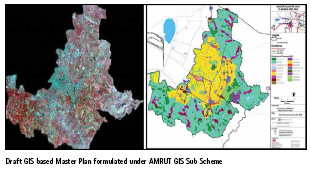 Accordingly, 21 States/UTs (242 towns/ Cities) are with NRSC and 13 States/ UTs are creating Geo-database with State Resources/ consultants. NRSC has established well equipped GIS Lab facility with 150 systems at their Jeedimetla Campus in Hyderabad and about 300 man hour works is being done daily to accomplish the task of Geo-database creation under the Sub-Scheme.
Under the Sub-Scheme, as on date 226 cities have prepared the Draft base Maps, 24 cities have prepared and submitted the Draft Master Plans and 1297 officials from various State Governments have been trained in 43 training programmes under Capacity Building.