We offer a consistent, refined, and optimized user experience
| | |
| --- | --- |
| | Qinertia, SBG Systems' in-house INS/GNSS post-processing software now offers a GNSS license allowing surveyors to post-process both static and kinematic GNSS data. In an interview with Coordinates magazine, Raphaël Siryani, Chief Software Architect and co-founder of SBG Systems talks more about the software |
Raphaël Siryani

Chief Software Architect and cofounder of SBG Systems
Qinertia supports all major GNSS receivers and is now open to thirdparty IMUs', could you please elaborate this.
Qinertia has been designed from the beginning to support any GNSS or IMU and offer a unified solution for all post processing needs. However, we wanted to do it step by step and first focus on our own INS solutions to refine the user experience and be very responsive to users' feedbacks.
Since Qinertia was announced in 2018, we have seen a lot of requests to allow processing of third party IMU/INS. The main reason is that our users love Qinertia and some have different INS or GNSS hardware. They just don't want to spend money and time being trained on several INS/ GNSS post processing software.
For us, post processing should be an easy and straightforward task. The main complexity with post processing is the diversity of data, files, settings and hardware. Most post processing software relies on the user to handle all this complexity by only supporting RINEX file format.
With Qinertia, we have decided to support natively as many GNSS manufacturers binary protocols as possible. In other words, the user just has to drag and drop the files produced by the GNSS receiver to process them. Qinertia will handle all the import process automatically to ensure data integrity and consistency and deliver data you can rely on.
Up to now, Qinertia support natively Ublox, Septentrio, Novatel and Trimble GNSS receivers. For other GNSS manufacturers, Qinertia can still use RINEX files directly.
Third party IMUs are supported the same way as GNSS data with two levels of integration. For some IMU/ INS manufacturers such as Septentrio, we have a tight integration. Qinertia will read all data and settings automatically and handle any frame rotations to ensure a straightforward process. For all other IMU/INS, Qinertia accepts simple CSV text or binary file containing the IMU data, the settings, the true heading information and so on.
Finally, the software is packaged with several IMU error models ranging from entry level MEMS INS to very highend FOG units so any type of IMU can be processed with Qinertia.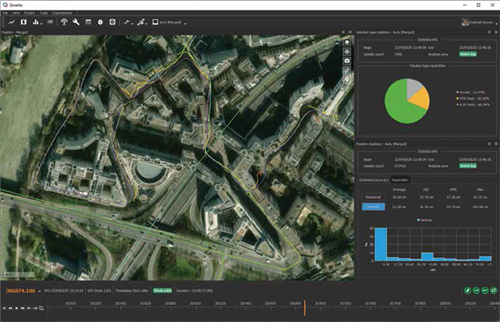 How Qinertia is unique compared to other similar softwares available in the market.
Qinertia offers a very unique user experience and makes kinematic post processing easy and accessible to everyone. We have seen a lot of customers that can save both money and time with post processing but don't want to use post processing as they believe it's complex and time consuming.
Qinertia has been designed with this idea in mind: make GNSS and INS post processing accessible to everyone while delivering very high quality data. The way Qinertia handles and displays data such as trajectory is unique and quite similar to what you can find in video editing software with a timeline. In just a few clicks you can compare data, navigate through time, understand exactly what is going on and assess the data quality with bar charts, pie charts, etc.
Qinertia also offers a very efficient interface to access worldwide GNSS base station databases. The user can view automatically surrounding base stations in a nice looking satellite maps view. Qinertia downloads, checks, and process all data automatically. It's the same for INS project settings such as lever arm. We have tried to ease this process as much as possible with built-in automatic lever arm and alignment estimation tools.
Finally, exporting data out of Qinertia is very easy with our nice looking ASCII file format generator tool. Just drag and drop the fields you would like to export and that's it. Now Qinertia is open to thirdparty IMU and offers both GNSS and full INS computations. It's a unique software combining both ease of use, high quality results, and openness to all IMU and GNSS.
How does Qinertia prove advantageous to surveyors, GIS professionals or photogrammetrist ?
SBG Systems is the only company to handle the whole navigation and geo-referencing solution from the Inertial Measurement Unit manufacturing (selection, assembly, test and calibration of accelerometers, gyroscopes, magnetometers, and GNSS) to tightly coupled GNSS/INS algorithms packaged in an easy-to-use post processing software. This allows us to get the most out of an IMU so we can offer a hardware and software solution that is smaller, lighter, and cost effective.
This is especially interesting for UAV-based jobs where the payload size and weight directly impact your mission time. Because we know exactly how the IMU behaves, and we handle the GNSS algorithms ourselves, we are able to finely compensate for IMU sensor delays within Qinertia and guarantee perfect synchronization between a Lidar and the INS data.
Qinertia is also easy to use and requires very few knowledge to successfully process GNSS/INS data which improves productivity. The quality assessment tools packaged with Qinertia are also very important to help surveyors guarantee the delivered data accuracy.
Qinertia is able to support any GNSS or IMU as well as export to any third party software, so users can safely invest time and money knowing that all missions can be done with the same software. Finally, new features planned later for this year will even make surveyors life easier such as Virtual Base Station, corridor processing and improved photogrammetry tools.
What kind of R&D went into the development of Qinertia?
Software development has always been a very important part for SBG Systems and Qinertia is the result of intensive work and efforts done for the past 5 years. When we have first think about Qinertia, we wanted something new compared to established post processing software with a much more interactive, user friendly and graphical user interface.
For instance, Qinertia is the only software on the market able to display graphically all epochs (200 per seconds) and let the user freely navigate, zoom or even playback the mission.
You can even do all these stuffs while Qinertia is processing the data with no freeze or hangs! To better visualize the amount of data we are talking about, for a 24-hours log, Qinertia is able to display and manage in real time more than 17 millions entries.
To do so, we have used the exact same technologies as the ones you could find in 3D game engines and we take advantage of modern GPU/CPU with a massively multithreaded 64-bit architecture.
All the algorithms used in Qinertia are designed in close relationship between the software team and the algorithm team. As a result, we can offer a consistent, refined, and optimized user experience with very fast processing times, extensive quality indicators, and unrivalled accuracy.