The way we walk
| | |
| --- | --- |
| | Classifying pedestrian behaviour for customised mobile information services. |
| | |
Mobile tools for wayfinding combined with Location Based Services (LBS) can provide pedestrians with practical information concerning optimal routes and useful facilities in their vicinity. However, what is considered as "optimal" and "useful" largely varies between different kinds of individuals. Inappropriate information may hinder effective information extraction for a person seeking specific navigational and environmental information; a successful mobile spatial information service should therefore be based on a profound understanding of pedestrian spatio-temporal behaviour. A current study applies an "across-method" triangulation approach for studying human spatial behaviour, combining localisation and tracking techniques as well as inquiries concerning intentions, lifestyle attributes and socio-demographic characteristics in order to define a pedestrian typology of mobility styles.
Introduction
The rapid development in the field of mobile information and communication technologies as well as the increasing amount of ubiquitously available information offer a wide range of possibilities to supply mobile users with location based information. In recent years, ubiquitous computing technologies have made it possible for individuals to gain ubiquitous access to information services. Facilitated access to online resources and increasing availability of location related information now give fresh impetus to the development of mobile navigation tools for pedestrians. However, the increasing availability of various kinds of information also leads to a higher risk of information overload. A successful mobile spatial information service for pedestrians must therefore be able to provide useful instructions with respect to the individual's requirements and the specific context, and avoid redundant information.
A currently ongoing project examines the basic requirements for the development of mobile wayfinding tools based upon ubiquitous cartography. The aim is to provide pedestrians with efficient and practical information using a combination of active and passive systems in a smart environment. The wayfinding process is to be enhanced with additional, location based information and various representation forms. We aim at the description of specific types of pedestrian route choice behaviour and interest foci, based on observed motion behaviour as well as lifestyle related attributes. Results are not only crucial for personalising navigational and environmental information, but can also be used for determining motion parameters in pedestrian simulation models. This article outlines the applied methodology for monitoring and classifying pedestrian spatio-temporal behaviour as well as initial results from the first of two consecutive empirical phases (for a more detailed description of this work see [1]).
Investigating Pedestrian Spatio-temporal Behaviour
Several studies prove that there are differences in the way pedestrians choose a path to a particular desired destination: Pedestrians often prefer routes offering different qualities than simple shortness, e.g. the "most beautiful", the "most convenient" or the "safest" [2-4]. Golledge [5] found that "fewest turns" (simplest path) appeared to be one of the most relevant factors influencing route planning strategies. Other factors mentioned in his results are e.g. "least time", "most scenic/aesthetic", or "different from previous (novelty)". All these findings support the assumption that the choice of a specific route and the actual walking behaviour depend on a variety of influence factors, like the task a person wants to perform, the availability of facilities in the environment, or individual preferences based on personal attitudes and lifestyles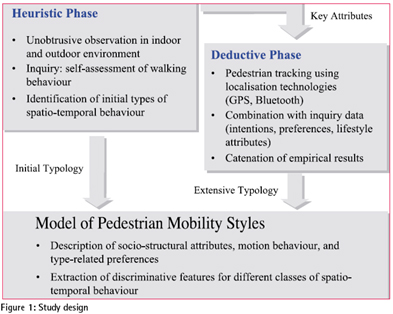 «Previous 1 2 3View All| Next»