Pampering pedestrians

Kuala Lumpur is a not a new city to me. I had been there several times in last ten years. However, every visit adds new images and new perspectives and leaves me with a feel that too much is yet to be explored. When this time I visited Kuala Lumpur to attend UNRCC – PCGIAP International Symposium on Spatially Enabled Government and Society organized by Department of Surveying and Mapping Malaysia, I decided to stay at a famous street Bukit Bintang that is very popular among tourists as I understood that the place is near to Kuala Lumpur Convention Center (KLCC), the venue of the conference.
In the morning, when I had to go to KLCC, I decided to use the technology and available tools to find out how to reach KLCC from Bukit Bintang. I utilized Google maps and followed the route suggested by them (see the map). It took longer than what I had anticipated. Somehow, I had the feel that there could be some better or alternative ways to reach KLCC. In the evening, while returning, to find an alternative way I thought why not to apply Indian formula. Being an Indian, I have never shied away using this formula as it works so well.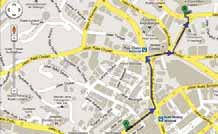 And the formula is, forget maps; just ask someone around. I asked a security personal at the Convention Center how to reach Bukit Bintang. He paused for a while and suggested me to go outside and take the foot over bridge. I did that, and what I experienced, was simply great.
In fact, it was not simply a foot over bridge to cross the road. Instead, it was a fully air-conditioned walkway that connects two most happening and popular locations of the city – the Kuala Lumpur City Center and Bukit Bintang. As I kept walking into this 5 meter wide elevated walkway, I was getting more and more impressed as I realized the length of the walkway should be more than 500 meters with several exits and entry points.
Too impressed, I tried to find out more information about that. I went through the report at http://thestar.com.my/news/story.asp?file=/2012/2/20/%20nation/10737764&sec=nation which mentioned that it was inaugurated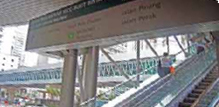 in January 2012 only by the Prime Minister of Malaysia Datuk Seri Najib Tun Razak. It also mentioned that the walkway was a RM100 million project financed by Petronas as part of its social contribution programme. It was a part of the Comprehensive Pedestrian Network joint initiative between the Economic Transformation Programme's (ETP) Greater Kuala Lumpur National Key Economic Area (NKEA) and the  Government Transformation Programme (GTP)'s Urban Public Transport which aims to improve the experience of commuting by providing better connectivity between the various public transport services.
In the conference during the day, in the presentation by Ahmad Fauzi bin Nordin, Deputy Director General of Survey and Mapping, Malaysia, there was a mention of Government Transformation Programme where six National Key Results Areas (NKRAs) were identified. One of the focuses highlighted was Improving Urban Public Transport. The other areas were education, rural basic infrastructure, lowincome households, crime and corruption. That moment, I did not realise that the programme had components that also keep pedestrians in mind in such a manner.
Next day, when I was going to KLCC, I was approached by a taxi driver, if I needed a taxi. I saw the crawling taxis at Bukit Bintang street and looked the other way. The way which was more tempting and pampering. It was Bukit Bintang KLCC walkway.
– Bal Krishna
bal@mycoordinates.org