"Our mission is to turn the latest scientific achievements in the field of Geomatics into hi-tech products and services"
Matteo Sgrenzaroli

co-founder and the person responsible for research and development at Gexcel srl.
Gexcel started with the mission to turn the latest scientific achievements in the field of geomatics into hitech products and services for wide areas of application. How far have you been able to achieve your mission?
We can say that we achieved our mission to create the route to move scientific achievements in the real world. Of course, it is a never ending task; the market is asking for more and more solutions and Gexcel is always more involved in hi tech R&D projects with key partners and scientific institutions, and working to introduce these achievements to the real world applications.
Gexcel began this mission 12 years ago by focusing on software applications to manage 3D point clouds and creating powerful tools for scans automatic alignment, meshing, texture mapping, and change detection that are merged into the well-known Reconstructor software.
Reconstructor engine is now adopted by several important Lidar manufacturers enabling their customers to achieve maximum results from their surveying systems. Building on this soft ware skill, around 4 years ago we started to develop vertical solution as strong combination of hardware and soft ware. We started with the Open Pit Mine Monitoring (OPMMS) solution for continues change detection with long range Lidar in dangerous areas, and we are going to launch a complete new version, very soon. Last but not the least, Gexcel HERON back pack for indoor mapping, positioning and real time change detection, is the last SLAM based solution that combines Lidar and 360° imagery, and is appreciated in the several applications field; construction, BIM, underground mining, industry, safety and security.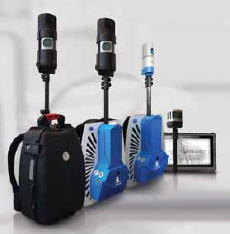 You call HERON solution 'More than a 3D mapping system'. Why? How this system has an edge over others and what applications is it best suited for?
The 3D mapping capabilities is just one of the functionality of HERON backpack. HERON was born as localization system and it provides the unique feature to automatically localize the user with respect to a previous acquired point cloud or CAD/BIM model. The user can then visualize in real time the diff erences between the reference model and the new acquisition.
Moreover during the post processing we introduced the possibilities to use portion of geo-referenced point cloud from different sensors as constrain in the SLAM process. HERON is having terrific feedback in the deep mining market and in the industrial fi eld. The recent agreement with ClearEdge3D makes HERON a perfect solution for advancement work monitoring in construction and infrastructure. In the forensic and industrial fi eld, the possibility to easily and automatically align outdoor MMS, hand held laser scanner, trypod scanner data, in the same platform is highly appreciated. The combination between HERON and the Gexcel's soft ware Reconstructor makes the Gexcel iMMS an unique advanced productive tool.

Could you please tell us about Gexcel Lidar data processing software, Reconstructor? How has it benifitted your customers?
First of all Reconstructor is appreciated as a professional soft ware platform independent from specific sensors but capable to manage in single platform raw data from multiple sensors including images. This benefit comes also from the strong Reconstructor capability of automatically aligning without target multiple point clouds.
In addition to that, our clients are choosing Reconstructor for vertical tools in the mining sector such as cut & fill volume calculation, DTM creation and crest&toe extraction.
In the construction and BIM sectors, Reconstructor is chosen for change detection, planarity and verticality tools, together with easy to use tools to create and share blueprints and orthophotos thanks to the new GoBlueprint free tool.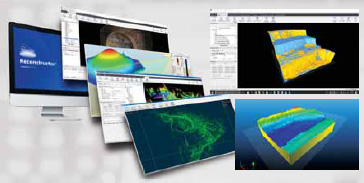 Could you tell our readers briefly about the presitigious collaboration between Gexcel and European Commission Joint Research Centre?
Gexcel was born as a Spin Off company of the University of Brescia and with a transfer technology agreement with the Joint Research Centre of the European Commission. The team that founded Gexcel is partially composed by researchers coming from the EU Commission Research labs.
Since its foundation Gexcel has defined a collaboration agreement with the JRC, having interesting and important technology benefits to Gexcel's products and solutions. It since 2008 that Gexcel has a transfer of technology and collaboration agreement with the European Commission, representing one of the best examples of how some technologies development in EU Research Labs can be transformed into excellent solutions for the real world applications.