IoT and Drones: A tale of two technologies
| | |
| --- | --- |
| | If we put IoT elements side-by-side with elements of the drone ecosystem, it becomes remarkably noticeable that the drone economy provides almost identical value proposition as the IoT |
Biren Gandhi

Distinguished Strategist, Cisco
IoT is powered by four foundational elements:
People
Although people are increasingly connecting together through smart devices and social media, IoT emergence is expected to fuel even more accelerated adoption of wearable gadgets, digestible sensor pills, custom body parts, connected apparel and similar technologies.
Process
Processes will play a pivotal role in how all the other IoT elements — people, data, and things —interact with one another to deliver societal benefi ts and economic value. End-to-end automation of technology, business, organizational and other processes delivering right information to right entities at the right time could trigger explosive growth for Internet of Everything.
Data
Data is considered new currency if leveraged appropriately in the form of information, knowledge and wisdom. It may not be surprising to see IoT data volumes surpass the traffic generated by today's most popular social media sites – combined.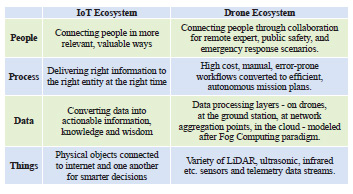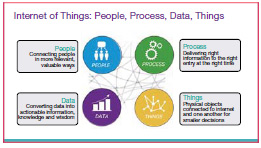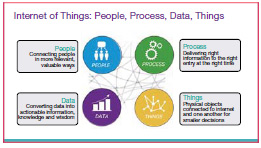 Things
Things represent the "T" in IoT — devices, sensors, actuators, meters — that connect to the network and to one another to enable smarter decision making at appropriate points in the network.
If we put (IoT) elements side-by-side with elements of the drone ecosystem, it becomes remarkably noticeable that the drone economy provides almost identical value proposition as the IoT. Inspired by these amazing parallels between IoT and drone eco systems, Cisco believes drones could be holding keys to unlocking hidden treasure of sensory automation, unmanned operations and end-to-end business intelligence.
The sky is quite literally the limit!