Industry
Javad has improved their GNSS protection filters to not only protect the L1 band against all interferences (including LightSquared 10L, 10H and 10R handset) but to protect against all other interferences which may come in any other GNSS band. This will be known as "J-Shield". This will help to make the bands near any GNSS band to be freed for other usages like broadband wireless which U.S. desperately needs to catch up with other nations (currently US is number 16 in the world) and to help to create competition to potentially reduce the wireband costs in US to 1/3 of what is today. The details will be presented at ION conference in Nashville. http://javad.com/jgnss/javad/news/pr20120816.html
Topcon HiPer SR
Topcon Positioning Systems (TPS) announces the new HiPer SR – a highly advanced GNSS RTK receiver with the most compact and lightweight design of any fully integrated precision receiver. With the HiPer SR, Topcon is expanding the delivery of highaccuracy RTK technology to a variety of users – surveyors, non-traditional users such as landscape architects, law enforcement or any others requiring high-accuracy 3D positioning. http://www.topconpositioning.com/
F4devices hardware solutions now available from esri
F4Devices is announcing a new partnership with Esri. The Flint rugged handheld is now available in three different offerings for US customers – Esri's ArcPad, ArcGIS for Windows Mobile for ArcGIS for Desktop, and ArcGIS for Windows Mobile for ArcGIS for Server.
Trimble AP20-C GNSS Inertial OEM Module
Trimble has introduced the AP20-C, the latest addition to its AP Series of embedded GNSS-Inertial OEM boards plus Inertial Measurement Unit (IMU). Using a compact, custombuilt IMU based on commercial Micro Electromechanical Machined (MEMS) inertial sensors, the AP20-C enables system integrators to achieve high-rate position and orientation measurements with exceptional accuracy. Featuring proven Applanix IN-Fusion™ GNSSInertial integration technology, the AP20-C is an embedded GNSS-Inertial OEM board set plus IMU designed for continuous mobile positioning in poor signal environments and high-accuracy direct georeferencing of imaging sensors. www.trimble.com/GNSS-Inertial
RTK technology solution for secure GPS receivers by Rockwell Collins
Rockwell Collins has launched the first operational Real Time Kinematic (RTK) Selective Availability Anti- Spoofing Module (SAASM) technology solution for secure GPS receivers.
Unmanned aircraft systems (UAS) can now achieve centimeter-level relative navigation accuracy for autonomous capture, landing, or other operations, while benefiting from the high-security features of the SAASM GPS receiver. The RTK SAASM solution also enables cost-effective solutions for many other applications including targeting and north-finding applications. www.rockwellcollins.com
MicroSurvey® releases MicroSurvey CAD 2013
MicroSurvey has released MicroSurvey CAD 2013. This latest version – built for surveyors, contractors and engineers – is based on the completely new and redesigned IntelliCAD 7.2 engine.
It has many new features and improvements, such as MrSID (.sid) file support, new entity snap modes, a dockable properties pane, faster display graphics, DGN import and non-rectangular viewports.
Bentley and CABRTech sign MOU
CABR Technology (CABRTech) Co., Ltd and Bentley Systems have signed a memorandum of understanding (MOU). The MOU establishes a long-term partnership between the two companies to advance building information modeling (BIM) software interoperability in China. CABRTech will facilitate data exchange between its PKPM structural design products and Bentley software. This initiative will provide increased information mobility among the users of PKPM software and all Bentley Integrated Structural Modeling (ISM)-enabled products. www.cabrtech.com, www.bentley.com
New Hemisphere GPS Partners in Brazil and China
Hemisphere GPS has announced distribution partnerships in Brazil and China for their flagship S320™ GNSS survey receiver. It has expanded the partnership with Brazilian-based SightGPS, which recently launched Hemisphere GPS' S320 in Brazil under the product name TechGEO GTRi and pre-purchased a significant initial quantity from Hemisphere GPS.
Hemisphere GPS is also announced a new partnership and the receipt of a significant volume commitment with Suzhou Phenix of Suzhou, China. www.hemispheregps.com.
NVS Technologies AG Selected by Advanced Navigation
Advanced Navigation has recently launched its Spatial product series, featuring NVS Technologies AG's NV08C-MCM high performance multiple GNSS-constellation receiver. The Spatial is a ruggedized miniature GNSS/INS & AHRS system that provides accurate position, velocity, acceleration and orientation under the most demanding conditions. It combines temperature calibrated accelerometers, gyroscopes, magnetometers and a pressure sensor with an advanced GNSS receiver. These are coupled in a sophisticated fusion algorithm to deliver accurate and reliable navigation and orientation. www.advancednavigation. com, www.nvs-gnss.com
Leica GNSS Spider v4.3 integrates Leica GM10 GNSS Monitoring Receiver
Leica Geosystems released new Leica GNSS Spider software version 4.3. The integration of the new Leica GM10 and many further enhancements respond to market demands and technology trends. With Leica Geosystems' Customer Care Program, GNSS network providers profit from an always state-of-the-art product at no additional investment.
GPS-GLONASS-GAGAN MODULE Developed by Accord for DRDO
M/s.Accord Software & Systems Pvt. Ltd, has developed a highly miniaturized Module with all the available Satellite Constellations of GPS, GLONASS and GAGAN called G3oM for Defence Research and Development Organisation and it was handed over to Dr V.K. Saraswat, Director General, DRDO recently.
G3oM a tiny module with a form factor of 40mmX40mmx6.8mm weighing just 17 grams can be used in variety of applications like Aircrafts, Helicopters, Mobile Vehicles, Boats, Ships and Survey applications. The Component has got tremendous Civilian use and can be produced in large numbers at a low cost. G3oM is a state-ofthe- art technology receiver which integrates both GPS and Indian SBAS GAGAN and GLONASS systems. The Algorithms designed to run on the modules are capable of providing superior time to fix, signal sensitivity, accuracy along with integrity monitoring and anti-spoofing. The navigation output comprises of GPS, GLONASS and GPS+GLONASS position, speed and time data. G3oM supports a scalable architecture designed to cater to future navigation systems like IRNSS, GALILEO etc.
Dr V.K. Saraswat, Scientific Advisor to the Defence Minister of India, said that this is an example where DRDO in collaboration with Private Industry has carried out Research in advanced areas and developed a product which finds its application extensively in Civilian Sectors. Sri J. M. Sundaresan, MD, M/s. Accord said that the company's in-house R&D initiatives over the past two decades have resulted in leadership in the area of GNSS technology. This has enabled Accord to participate and contribute in the indigenous development of state-of-the-art G3oM product in partnership with DRDO.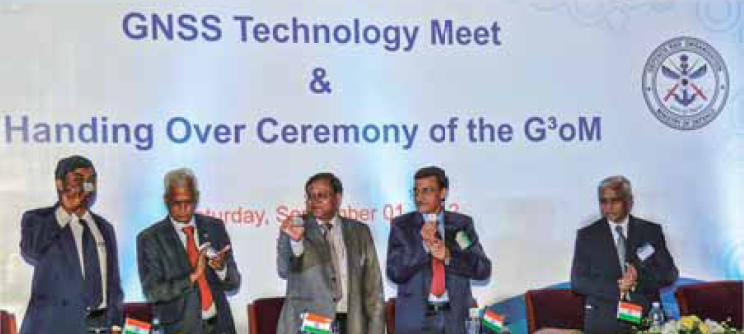 Chronos welcomes Ofcom licensing regime
Chronos Technology has welcomed the recent decision by the UK regulator Ofcom to implement a licensing regime for the use of GNSS repeaters in the UK. GNSS repeaters provide coverage for the use and testing of GNSS technology inside buildings where the GNSS signals do not normally reach. Until the recent decision by Ofcom, the use of this repeater technology in the UK was not permitted except in specialized (normally military) situations. The Ofcom consultation prior to this decision highlighted concerns about potential interference to applications by the use of GNSS repeaters, however the conclusion was that a properly installed repeater system, conforming to the ETSI harmonized Standard for GNSS repeaters should have no impact beyond 10 metres. www.chronos.co.uk
Palm-sized GPS/GLONASS RTK Receiver by Geneq
Geneq Inc. has announced the SXBlue III GNSS, a palm-sized GNSS RTK receiver that uses both GPS and GLONASS for real-time, centimeter accuracy. Via Bluetooth, it brings centimeter accuracy to any smartphone, handheld, tablet, or notebook computer that is Bluetooth-compliant. The SXBlue III GNSS uses new, patented technology that allows it to generate corrections for both GPS and GLONASS satellite data even if the user's reference station (or RTK Network) only supports GPS. This features opens up productivity benefits of GLONASS to all high-precision users around the world, and not just ones who have access to GLONASS-enabled reference stations. http://www.sxbluegps. com/sxblueIII-gnss.html