Industry
Oct 2010 |
Comments Off

on Industry
HP goes ahead in time with architects & designers
Hewlett-Packard India recently announced the winners for Skyline 2020 an online national design contest initiated by HP. The contestants submitted their designs online between April and August 2010 and were judged by an eminent jury of renowned architects. The team winning the national award comprises Anto Gloren and Sayali Athale of Marathwada Mitramandal's College of Architecture, Pune. Skyline 2010 created a gateway to open up infinite latent possibilities, which can transform our city and alter the way future generations experience the city through the lens of its skyline. The competition saw over 600 professionals and students participate with their outstanding perception on the skyline of the future from all across India. Present at the event were Guayente Sanmartin –  Director- Designjet Business, HP Asia Pacific & Japan, Puneet Chadha  – Director, Graphics Solutions, HP IPG India and as well as jury member and keynote speaker Sen Kapadia along with other players from architecture and design industry.
www8.hp.com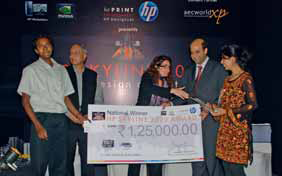 Bentley adds three product firsts to OpenPlant
Bentley Systems three new products in Bentley's OpenPlant software for plant creation are based on an open data model. It meets the primary goal of the iRING user community – that is, to enable real-time, seamless sharing and interoperability of data and information across different organizations and systems using an internationally recognized standard.
www.bentley.com
Technology alliance
Emergent Space Technologies and Loctronix Corporation to explore market opportunities for Loctronix's patented Spectral Compression Positioning™ (SCP) within the space and military industries.
www.emergentspace.com
NovAtel announces SMART-MR10™ GNSS Receiver/Antenna
NovAtel SMART-MR10 is the first in a new family of GPS+GLONASS L1+L2+L-band integrated receiver and antenna products. The SMART-MR family is designed specifically for on-machine Agriculture, Construction and Mining applications. It provides scalable positioning accuracies down to 2cm. It supports GL1DE® firmware, which uses the very accurate carrier phase measurements to provide ultra smooth positions and highly accurate pass-to-pass capabilities.
www.novatel.com
Intergraph® introduces 3D capabilities in Geospatial Software
Intergraph has introduced new 3D capabilities for its GeoMedia® product line, fully integrating advanced spatial analysis and data capture with the 3D 'virtual earth' style of presentation popular in today's mainstream mapping applications. The combination delivers more precise visualization of surface and environmental characteristics for increased insight, data accuracy and user productivity.
www.intergraph.com
SAIC awarded contract by the NGA
Science Applications International Corporation (SAIC) has been awarded the Total Application Services for Enterprise Requirements (TASER) contract by the National Geospatial-Intelligence Agency (NGA) to research and implement innovative solutions to emerging critical geospatial intelligence requirements. The multiple award, indefinite-deliver/indefinite-quantity contract has a five-year base period and a total value of $1 billion for all awardees.
www.saic.com
Trimble expands GPS Handheld Series with voice capability
Trimble® Juno™ SD handheld is an addition to the pocket-sized Juno series of field computing devices with integrated GPS technology. It builds on the core functionality of all Juno series models with the addition of integrated 3.5G High-Speed Downlink Packet Access (HSDPA) cellular SMS and voice capability. Using the data transmission capabilities of the Juno SD handheld, mobile workers can access information in the field such as work-orders, map data, reference files, emails, and Internet resources easily.
www.trimble.com
AEM announces Geospatial Industry Group establishment
The Association of Equipment Manufacturers (AEM) announced the formation of a new product group – the AEM Geospatial Industry Group – to serve manufacturers of various types of surveying/positioning systems such as GPS and GIS/LIS. Product groups in AEM provide a forum for manufacturers of similar equipment to discuss and take action on industry issues of mutual interest.
www.aem.org
Global Maritime SaComm market passes $1 billion
Euroconsult in a new report "Maritime Telecom Solutions by Satellite: Global Market Analysis & Forecasts" has forecast that the number of satellite communications terminals aboard commercial and private ships will more than double over the next decade as demand for bandwidth on the high seas continues to surge.
www.euroconsult-ec.com
u-blox introduces LEA-6R GPS module
u-blox LEA-6R is a next-generation GPS module based on the u-blox 6 platform. The surface-mount module comes with u-blox' proprietary "Sensor Fusion Dead-Reckoning" technology integrated. The module is designed for after-market devices requiring uninterrupted navigation even during poor GPS signal reception.
www.u-blox.com
Hemisphere GPS
New R131™ DGPS receiver
Hemisphere GPS R131 DGPS receiver is a rack-mountable addition to the R100™ Series of DGPS receivers. It allows for consistent sub-meter performance with standard SBAS differential and Hemisphere GPS' exclusive COAST™ technology which maintains accuracy during temporary loss of differential signal.
Multi-GNSS receiver technology
Hemisphere GPS next generation Eclipse II GNSS receiver technology and the Eclipse II OEM board – the first product incorporating these technological advancements. Eclipse II provides improved RTK performance, GPS, GLONASS, SBAS, and OmniSTAR® support, and reduced power consumption.
Earthworks X300
Integrating Hemisphere GPS' patented Crescent Vector GPS compass technology X300 measures and displays 3D excavator positioning to operators, improving excavation proficiency and accuracy and reducing rework.
www.hemispheregps.com
Leica Geosystems
Leica M-Com
Leica Geosystems GeoMoS v5.1 features the new Leica M-Com series, a compact plug & play solution for reliable and stable monitoring communication. It seamlessly integrates Total Stations, GNSS receivers and antennas, geotechnical sensors, software, and IT communication infrastructure. Leica GeoMoS v5.1 supports the latest Microsoft Windows 7 operating system.
Zeno series updates
Leica Zeno Office v1.1 and Zeno Field v1.1 software updates are for the Zeno series of GNSS/GIS products. It offers a multi-functional and easy-to-use GNSS/GIS solution with superior performance. It provides a unique one-click automated workflow between field and office to greatly enhance productivity and ease-of-use.
SP Technology
Leica Geosystems SP technology opens new opportunities for dozers, combining ease-of-use, flexibility, and precision at fast speeds. It provides improved hydraulic control that allows faster grading with outstanding smoothness and precision at high speeds.
www.leica-geosystems.com