IMAGING
RESOURCESAT-2A Remote Sensing Satellite launched
In its thirty eighth fl ight (PSLV-C36), ISRO's Polar Satellite Launch Vehicle successfully launched the 1235 kg RESOURCESAT- 2A Satellite today morning (December 07, 2016) from Satish Dhawan Space Centre SHAR, Sriharikota. This is the thirty seventh consecutively successful mission of PSLV.
After separation, the two solar arrays of RESOURCESAT-2A deployed automatically and ISRO's Telemetry, Tracking and Command Network (ISTRAC) at Bangalore took over the control of the satellite. In the coming days, the satellite will be brought to its final operational configuration following which it will begin to provide imagery from its three cameras. The data sent by RESOURCESAT-2A will be useful for agricultural applications like crop area and crop production estimation, drought monitoring, soil mapping, cropping system analysis and farm advisories generation.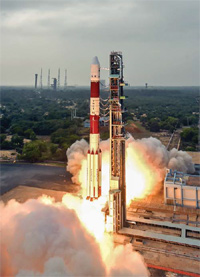 Like its predecessors RESOURCESAT-1 and 2, RESOURCESAT-2A has a unique 3-Tier imaging system with Advanced Wide Field Sensor (AWiFS), Linear Imaging Self Scanner-3 (LISS-3) and Linear Imaging Self Scanner-4 (LISS-4) cameras. The AWiFS provides images with a sampling of 56 metres, a swath of 740 km and a revisit of 5 days whereas the LISS-3 provides 23.5 metre sampled images with 141 km swath and a repitivity of 24 days. LISS-4 provides 5.8 metre sampled images with 70 km swath and a revisit of 5 days. http://www.isro.gov.in
SpaceX wins NASA contract to launch ocean-surveying satellite
SpaceX has won another contract from NASA to launch one of the agency's Earth science satellites in less than five years. The satellite in question is the Surface Water and Ocean Topography vehicle, or SWOT, and it's designed to scan the planet's oceans and provide the "firstever global survey of Earth's surface water." The satellite will ride to space on one of SpaceX's Falcon 9 rockets, with a target launch date of April 2021 from Vandenberg Air Force Base in California.
It marks yet another critical science mission that SpaceX will be launching for NASA. The company launched the Jason-3 ocean-monitoring satellite for the space agency in January, and in 2017 SpaceX is supposed to launch NASA's Transiting Exoplanet Survey Satellite, or TESS, designed to look for small planets around bright stars outside our Solar System. http://www.theverge.com
China made Pakistan's first remote sensing satellite launch in 2018
China will construct and launch two remote sensing satellites one each for Venezuela and Pakistan in the coming two years. China Great Wall Industry Corp, the nation's only authorized firm for international space collaboration, will launch Venezuela's second remote sensing satellite next year and Pakistan's first remote sensing satellite in 2018, said Fu Zhiheng, vice-president of Great Wall Industry, China Daily reported Saturday. http://www.brecorder.com
RS products market expected to reach $13.8 billion by 2021
A research study provides an overview of the remote sensing industry and 2016 to 2021 national-level forecasts for nine application-oriented markets.
The global market for remote sensing products reached $8.4 billion in 2015. This market should reach nearly $8.9 billion in 2016 and $13.8 billion by 2021, a compound annual growth rate (CAGR) of 9.3% over the five-year period from 2016 to 2021. Spacebased – conventional platforms as a segment should reach $3.3 billion in 2016 and $4.3 billion in 2021, a CAGR of 5.3% over the five-year period from 2016 to 2021. Airborne – unmanned platforms as a segment should reach $503.0 billion in 2016 and $2.3 billion in 2021, a CAGR of 36.1% over the five-year period from 2016 to 2021. http://www.prnewswire.com
Remote sensing to check illegal mining
As the Union ministry of mines in India looks to crack down on illegal mining in the country , major mines in Tamil Nadu have been mapped and digitised and included in the Centre's database. The process to integrate data from a TN-specific mining tenement registry is also underway. The Centre recently launched the Mining Surveillance System (MSS), a satellite-based monitoring system which seeks to curb instances of illegal mining activity through automatic remote sensing detection technology.
The system checks a region of 500 meters around the existing mining lease boundary for unusual activity, possibly an instance of illegal mining, and generates automatic triggers. Using a mobile app, which even citizens can use, officials can submit reports of their inspections.
A dashboard will help officials track the current status of mapping of the mining leases, reasons for triggers, the status of inspections, and penalties levied. However, the onus of taking the follow up steps and penalizing offenders rests with the state government. The process of integrating TN-specific data is also underway. The state is developing a Global Information System and satellite image enabled mining tenement registry, a comprehensive database of mining leases in various districts. http:// timesofindia.indiatimes.com