GNSS
India launches third navigation satellite
On 16th October 2014, India's Polar Satellite Launch Vehicle (PSLV-C26) had put the Indian navigation satellite, IRNSS- 1C into its perfect, pre-designated orbit. This was the 28th successful launch of the Indian Space Research Organisation. The IRNSS-1C, the third of the seven navigation satellites in the Indian Navigation Satellite System (IRNSS), has wide-ranging applications in terrestrial, aerial and marine navigation. From vehicle tracking to fleet management and from disaster management to mapping, the satellite extends services to its clients. The IRNSS-1C carried two types of payloads, one for transmitting navigation service signals to the users and another consisting of a C-band transponder to facilitate Cube Retro Reflectors for laser ranging. www.thehindu.com
JAVAD GNSS tracks IRNSS signal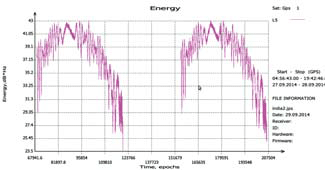 JAVAD GNSS has published a chart showing that it has tracked the IRNSS (Indian Regional Navigational Satellite System) L5 signal. Shortly after the Indian Space Research Organization (ISRO) released its IRNSS Signal in Space Interface Control Document (ICD), JAVAD GNSS was able to track the L5 BPSK signal from both 1A and 1B satellites. Ability to track IRNSS L5 will be added to all JAVAD L5-capable receivers in the near future, the company said.
Land stability service for the exploration industry wins copernicus masters
The first Earth observation service for extensive and uninterrupted coverage of land stability monitoring and mapping with millimetre-precision has been named the winner of this year's Copernicus Masters competition. This year's overall winners, Dr Andrew Sowter and Paul Bhatia from the University of Nottingham, have developed PUNNET, which facilitates large-scale coverage of land deformation that occurs due to mining, groundwater extraction, or drilling. This represents a major step forward for users such as the oil and gas industry, exploration companies, and the construction industry, as well as for public authorities and environmental protection organisations. www.esa.int/copernicus
GNSS based Road-Pricing System
The Land Transport Authority (LTA) of Singapore is developing Singapore's nextgeneration electronic road-pricing system, based on GNSS technology. The contract to design and develop the system is likely to be awarded in 2015. The GNSSbased system will implement distancebased pricing along certain congested roads, where motorists will be charged proportionate to the distance traveled. An interactive and intelligent on-board unit in motorists' vehicles will support additional services such as real-time traffic information and electronic payment for parking fees.
Airbus Defence & Space Innovation wins ESNC2014
The big winner of the European Satellite Navigation Competition (ESNC) 2014 was Airbus Defence & Space, which won over the jury of experts from around the world with its ground-breaking and costeffective receiver for the Galileo Public Regulated Service (PRS). The awardwinners Dr Wolfgang Kogler and Dr Jan Wendel from Airbus Defence & Space have taken a cutting-edge approach to designing a low-cost receiver that enables police departments, fire brigades, emergency medical services, and other public entities to make use of the Galileo PRS system. Its core innovation involves the development of a special network architecture that combines the receiver with an assistance server. The concept accounts for all the required security aspects and significantly reduces costs and the complexity of user receivers, thus facilitating broader use of PRS in the realm of public security. www.esnc.eu
NY Assembly members propose GPS tracking ban
Dozens of New York legislators have proposed outlawing placement of a GPS device on someone's car without their consent. The legislation, sponsored by the Assembly Rules Committee, would make it a misdemeanor and allow civil suits. There's an exception for parents when their children have the car. It follows reports that Republican operatives secretly put a GPS tracker on a Long Island Democrat's car to determine whether he lived in his district. It's already illegal to use a GPS to stalk someone in New York. http://wivb.com/
China's Beidou navigation satellite system poised to spread wings
China's Beidou navigation satellite system, whose positioning accuracy will reach 2.5 meters by 2020, will soon provide services to more countries. The National Administration of Surveying, Mapping and Geoinformation said China will cooperate with several countries, including Mexico, Israel and Sweden, to improve establishment of the Beidou system and geoinformation database.
Miao Qianjun, executive vice-president of the Global Navigation Satellite System and Location-Based Service Association of China, said the country will cooperate with Singapore, Malaysia and other Asian countries to promote the Beidou system. http://english.peopledaily.com.cn/
GeoScience Australia to upgrade GNSS tracking network
Geoscience Australia has called for tenders to update the receivers and antennae infrastructure used to track GNSS satellites. The tender issued is part of the government's planned initiative to upgrade Australia's global positioning technology and bring it in line with existing global systems. The infrastructure is expected to densify and improve the GNSS Network in Australia and be capable of observing signals from the range of new GNSS constellations including GPS and GLONASS, as well as the newer Quasi Zenith Satellite System, BeiDou and Galileo. www.spatialsource.com.au/
European Rail, Supported by European GNSS
As European satellites offer a possibility to improve the efficiency of train control systems, GNSS technology is starting to gain momentum in the rail sector. EGNOS can and, in the future, Galileo will provide continuous and highly reliable positioning service – helping increase the competitiveness of rail among other modes of transportation. Currently GNSS in European rail is primarily used within non- Safety of Life applications, including asset management and passenger information services. However, the latest technological developments show that augmented GNSS, together with specific sensors, can help satisfy the stringent CENELEC Safety and Integrity Level requirements.
GPS IIF-7 satellite begins providing navigational services
The GPS IIF-7 satellite has completed the checkout phase on orbit and has entered into service with the rest of the Block IIF spacecraft already in orbit. GPS IIF- 7 was launched on Aug. 1, 2014 atop a United Launch Alliance (ULA ) Atlas V 401 rocket from Cape Canaveral Air Force Station's Space Launch Complex 41 (SLC-41 ) in Florida. As noted by the "7" in its name, this is the seventh of the Block IIF satellites to have reached orbit. Twelve total are planned for the fleet. The official designation by the U.S. Air Force, whose 50th Space Wing in Schriever Air Force Base, Colorado is tapped with managing the GPS IIF constellation, is Space Vehicle Number-68 (SVN-68). www.spaceflightinsider.com
Frozen fuel caused Galileo orbit error
The problem was caused by a problem with pipes Fuel that froze on the Russian Soyuz rocket is what caused two satellites from Europe's troubled Galileo navigation system to be sent into the wrong orbit in August, an investigation revealed recently. The freeze was caused by a problem in fuel feeding pipes on the rocket's fourth, Fregat, stage "a design flaw" that can be easily fixed, launch firm Arianespace's chief executive officer Stephane Israel said.
Hydrazine propellant froze, which starved the altitude control thrusters of fuel, causing a loss of power and a misorientation of the Fregat upper stage. http://www.rte.ie/news/
Geomagnetic navigation technology alternative to GPS, GLONASS
Saratov scientists have developed the first domestic geomagnetic field navigation technology system that may become an alternative to the currently existing satellite-aided navigation systems GPS and GLONASS, according to Alexander Ignatyev, head of the design bureau at the Institute of Critical Technologies. The geomagnetic navigation system may be indispensable, for example, in the event of disappearance of a satellite signal. From the viewpoint of orientation accuracy, our (newly-developed) system is up to the selfsame GLONASS, Ignatyev emphasized. Valery Anikin, Dean of the Physic Department at Saratov University, Russia stressed, "This does not refer to an assumption that one of systems would edge another one out. However, from the safety point of view, it is better for them to co-exist and mutually complement one another if, for example, something happens with communications satellites".
The development of geomagnetic navigation systems is one of upcoming trends of research, Anikin pointed out. The Saratov school of magnetoelectronics has a long record. This is why it is no wonder that a practical development of a new navigation system is under way precisely over here, he said. http://en.itar-tass.com/
Russia to launch new GLONASS satellite by year end
"In November–December, 2014 we will launch the new GLONASS-K spacecraft. The launch is planned to be implemented from the Plesetsk Cosmodrome [in northern Russia] using a Soyuz 2.1b carrier rocket," according to Yury Vygonsky, deputy general designer for space systems development, general engineering and satellite control at JSC Information Satellite Systems, Russia.
"If the launches are successful, three more GLONASS-Ms will be launched at the end of 2015 using Proton rockets," Vygonsky said. http://en.ria.ru/russia/
5 billion rubles for GLONASS
The Russian state development bank Vnesheconombank (VEB) is set to offer financial support for domestic companies to develop projects using the GLONASS navigation system in Russia and abroad pending government approval. VEB's sister fund –"VEB Innovations" will set up the "GLONASS Fund" within the fourth quarter of this year; funds will be made available by next February- March. The fund will include 5 billion rubles (about $122 million) from VEB itself, together with 3 billion rubles ($73.1 million) from private investors, whom the fund hopes to attract by the end of 2016. http://en.ria.ru/business/
Top international honour for Indian navigation scientist
Dr G Satheesh Reddy, eminent scientist and Director of DRDO's Research Centre Imarat, India has been conferred the prestigious fellowship of the Royal Aeronautical Society, London for his outstanding contributions in the field of aeronautics and aerospace engineering.
The society, a professional body dedicated to the aerospace community, has nearly 2,780 fellows elected and inducted from all over the world and Reddy is one of the only five from India, according to Defence Research amd Development Organisation. As a top navigation scientist in the country, he holds the distinction of being conferred with the full member diploma from the Russian Academy of Navigation and Motion Control and has been inducted into it as a foreign member.