GNSS
SpaceX launches third GPS Block III satellite
SpaceX launched their Falcon 9 rocket with the third Block III GPS satellite, named SV03. Block III is the next generation of GPS satellites, replacing the aging Block II series. This will be SpaceX's second GPS launch, out of the five they have been awarded so far.
SpaceX previously launched the maiden GPS Block III satellite, SV01, on a Falcon 9 in December 2018. SV01 was the first launch contract that SpaceX won in the Evolved Expendable Launch Vehicle (EELV) program.
In March 2017, SpaceX beat United Launch Alliance (ULA) to secure the launch contract for the third Block III satellite, SV03. At that time, the launch of SV03 was expected in early 2019.
Although SV01 and SV03 have flown or will fly on a Falcon 9 Block 5, their mission profiles will be slightly different.
For SV01's launch, the Air Force requested that the Falcon 9 fly in an expendable configuration to dedicate more performance to the satellite. This meant that the first stage – the new core B1054 – had to be expended on its first flight.
For SV03, however, the Space Force – who now run the GPS program – gave SpaceX the go-ahead to set aside some vehicle performance to enable first stage recovery.
Because of the satellite's deployment orbit and relatively high mass – 3.9 metric tons – the first stage will perform a ballistic landing. This will take place approximately 634km downrange, on SpaceX's droneship. www.nasaspaceflight.com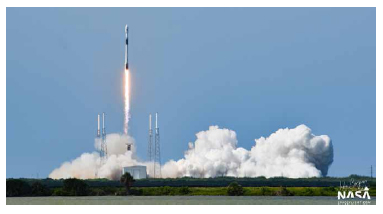 Third Lockheed Martin-Built GPS III Satellite now climbing to orbit
After a successful launch, the third Lockheed Martin built GPS III satellite is now headed to orbit under its own propulsion. GPS III Space Vehicle 03 (GPS III SV03) is responding to commands from U.S. Space Force and Lockheed Martin engineers in the Launch & Checkout Center at the company's Denver facility. There, they declared rocket booster separation and satellite control about 90 minutes after the satellite's launch aboard a SpaceX Falcon 9 rocket from Cape Canaveral Air Force Station, Florida. After on-orbit testing, GPS III SV03 is expected to join the GPS constellation – including GPS III SV01 and SV02, which were declared operational in January and April – in providing positioning, navigation and timing signals for more than four billion military, civil and commercial users.
Lockheed Martin designed GPS III to help the Space Force modernize the GPS constellation with new technology and capabilities. The new GPS IIIs provide three times better accuracy and up to eight times improved anti-jamming capabilities over any previous GPS satellite. They also offer a new L1C civil signal, which is compatible with other international global navigation satellite systems, like Europe's Galileo, to improve civilian user connectivity.
GPS III also continues the Space Force's plan to field M-Code, a more-secure, harder-to-jam and spoof GPS signal for our military forces. GPS III SV03 brings the number of M-Code enabled satellites to 22 in the 31-satellite GPS constellation. www.lockheedmartin.com

European Commission cuts space budget
The European Commission (EU) proposed to allocate €16 billion to enhance EU's leadership in space. However, the budget gas been slashed for science and technology, including space. The budget for the European Space Programme has now been set at €13.2 billion, of which €8 billion will be invested in the satellite navigation system Galileo and €.4.81 billion for Copernicus, Europe's earth observation programme. In the earlier budget, €9.7 billion was allocated for Galileo and €5.8 billion for Copernicus.
The remaining 392 million euros is going to be split between European space situational awareness (SSA) investments and GovSatCom, an initiative aimed at providing secure satellite communications for EC members. Horizon Europe, the EU's next research and innovation program will receive a budget of €80.9 billion. The figure is quite less as compared to the proposed €94.4 billion put forward by the European Commission in May. The budget for R&D have also got significantly cut.

European GNSS Agency launches MyGalileoDrone contest
The European GNSS Agency (GSA) has launched its MyGalileoDrone competition on July 17. Design and development of drone-based applications or services, using a Galileo-enabled receiver, are the main targets of this competition. They should address the EU's key priorities such as the Green Deal, and support the EU Recovery Plan for Europe.The deadline for submission is August 31.
The competition aims to tap into the EU's innovative spirit. They seek to deliver services and applications which can contribute and boost Europe's competitiveness, resilience and sustainability. The solution based on drone operations should also seek to add value by increasing accuracy, availability and robustness of position as well as integrity.
The contestants should focus on not only design and development, but also prepare their drone based application or service for a commercial launch. The solution should leverage Galileo to provide a position fix. The use of EGNSS should be understood in the broad sense, and kept in mind that Galileo can be integrated in the flying platform, the ground control station, or in other devices supporting the operation, such as a smartphone or even in the frame of U-Space services.
EUR 100,000 will be rewarded as the first prize in the MyGalileoDrone competition, with EUR 60,000 for second, EUR 40,000 for third, and a fourth prize of EUR 30,000. www.gsa.europa.eu

Advanced GNSS Antijam by Raytheon
The UK Ministry of Defence Equipment and Support office tasked Raytheon to develop a prototype system to exploit assured and resilient position navigation and timing information derived from GNSS, according to a statement. Under the contract, Raytheon UK's Assured Positioning Navigation and Timing business will deliver a Technology Demonstrator Programme, with advanced multi-element anti-jam technology, to prove the integration of the A-J with a next-generation multi-GNSS receiver to both accelerate and de-risk the availability of such systems to end users.
The Programme will take advantage of Raytheon UK's extensive A-J heritage and established capability in the development of reduced size weight and power technologies, including Landshield and Landshield Plus, to enable the fitment of GNSS A-J to a wider range of platforms. It will help mitigate the increasing threat of satellite signal interference and provide a future solution that will protect our Front-Line Commands and Critical National Infrastructure.
Landshield houses a multi-element antenna and the anti-jam processing in a single small, affordable, 'one-box' solution that interfaces at RF level to the GPS receiver, with minimal system modification required. The device is intended to replace existing unprotected GPS antennas, as well as enhance original installations where protection against jamming and interference is required. It interfaces with standalone GPS receivers or those integrated within communication, inertial navigation, sighting, and vehicle or weapon-aiming systems.

KVH receives $10 million order
KVH Industries has received a new order with a net value of more than $10 million for its TACNAV® tactical navigation systems for use by an international military customer. KVH's fiber optic gyro (FOG)- based TACNAV systems are designed to provide unjammable inertial navigation data that fills in the gaps when GNSS is lost or unavailable, helping to keep soldiers and missions on track. kvh.com

Russia to place 6th ground station of Glonass satellite navigation system in Brazil
The Precision Instrument-Making Systems research and production corporation (part of the State Space Corporation Roscosmos) will place a non-request measuring station of the SM-Glonass satellite navigation system in the city of Belem (the state of Para in Brazil), Roscosmos reported. The Russian company signed the corresponding contract with the Federal University of Para and the Research Development and Support Foundation (FADESP).
The measuring station of the SM-Glonass system is designed to continuously monitor the signals of the Glonass, GPS, Galileo, Compass and QZSS navigation systems. The station is also required for controlling the reliability parameters of navigation signals of global navigation satellite systems. https://tass.com
Delivery of innovative z-axis capabilities for public safety
NextNav, the leader in z-axis and 3D geolocation services, and Sonim Technologies a leading U.S. provider of ultra-rugged mobility solutions, have announced a new partnership to make NextNav groundbreaking z-axis technology available to first responders and 911 emergency services.
Drawing on NextNav's carrier-grade network and innovative software, Sonim will be the first to offer NextNav-enabled devices capable of delivering z-axis (altitude) measurements for Public Safety and 911 emergency services. Using NextNav's software, first responder applications on Sonim devices will provide more accurate altitude data – capable of floor level (± 3m) accuracy mandated by the FCC – 95% of the time for locating 911 callers and minimizing response times. NextNav.com
Ramjack Technology Solutions and Syntony GNSS partnership
Ramjack Technology Solutions has announced a partnership with Syntony GNSS. Syntony innovations extend GPS coverage into previously inaccessible spaces, giving mining operations relentlessly reliable connectivity. Built on software-based navigation, mining operations can fully customise and upgrade their system to continue maximising their investment through the life of the product. The productivity gains and increased safety capabilities will be a game-changer in the mining industry, and this partnership will allow Ramjack to further introduce enhanced connectivity into even the most rugged of global mining operations. www.ramjacktech.com