Global Navigation Satellite System Workshop
| | |
| --- | --- |
| | March 09, 2019, New Delhi, India |
Global Navigation Satellite System (GNSS) forms an extremely important technological infrastructure having wide ranging applications catering to different strata of modern society. Different countries have invested heavily in building up the space segments of satellite constellations with a conservative estimate of more than $US400 billion presently available in terms of space assets. Other than commercial exploitation of this asset, student education and cutting-edge research is the need of the hour. Significant amount of human resource generation and training on optimum utilization of such expensive and sophisticated instrumentation is the preferred path to achieve such objective. With this in view, a one-day pre-URSI APRASC 2019 GNSS workshop was organized on March 9, 2019 with research interests encompassing a number of URSI Commissions.
Dr. P. Banerjee, former scientist of National Physical Laboratory, New Delhi India and URSI Fellow was the Convenor of this workshop who was supported by Dr. A. Bose, (Burdwan University) and Prof. A. Paul, URSI Individual Member (University of Calcutta). In the workshop, two talks were delivered by Dr. Dinesh Manandhar, University of Tokyo, one each by Dr. Demetrios Matsakis, US Naval Observatory (USNO) and Dr. Seebany Datta-Barua, Illinois Institute of Technology (USA). There were 45 participants in the workshop among which there were a sizeable proportion of young researchers.
Dr. Manandhar, in his first talk, initiated the young audience to the genesis of the GNSS constellations, namely, GPS (USA), GLONASS (Russia), Galileo (European Union) and Beidou (China). Details of the orbital characteristics and signal structures of the different GNSS were elaborated by him in a lucid manner. Dr. Matsakis deliberated at length on the importance of time synchronization in satellitebased navigation. He introduced the concept of accurate time transfer using GNSS and highlighted the various time offsets and errors encountered by a signal as it traverses from the satellite to the receiver. He stressed on the need for time synchronization with high precision required to serve high dynamic platforms, like an aircraft.
Dr. Datta-Barua spoke about the deleterious effects of signal fading and outages introduced by the medium of propagation, mainly the ionosphere. She presented cases from measurements made at various places on the surface of Earth and established the levels of errors encountered when attempting high precision position determination. The dominant role played by solar energetics on the performance of GNSS was discussed by her. She also informed that present day forecasting techniques of such solar events are still in a nascent stage requiring further development of the subject.
In the final lecture, Dr. Manandhar informed about the expected and foreseeable threats and vulnerabilities, natural as well as intentional, in view of the sensitive nature of GNSS infrastructure. Signal jamming and spoofing are some of the mechanisms which may compromise the levels of services offered by GNSS and lead to life-critical situations.
He suggested use of GNSS signals for strategic applications needs to be adequately safe-guarded through use of digital authentication. In the final session of the workshop, Dr. Banerjee shared a brief history of GPS use and research in India detailing the early history from 1980s when one of the first-generation GPS receiver was installed in the Time and Frequency Section of National Physical Laboratory (NPL), New Delhi. Subsequently, Prof. Paul highlighted that Institute of Radio Physics and Electronics, University of Calcutta was the first University department to start routine GPS operations in 1994 using an indigenous receiver received from NPL. Dr. Banerjee mentioned that Dr. A. Bose was the first Ph.D. recipient in India for his work based on GPS. Prof. Paul also indicated that the first paper globally to relate ionospheric impact on GPS was published by University of Calcutta and mentioned that one of the co-authors of that paper, Dr. (Mrs.) Arpita Bose, was present in the audience today.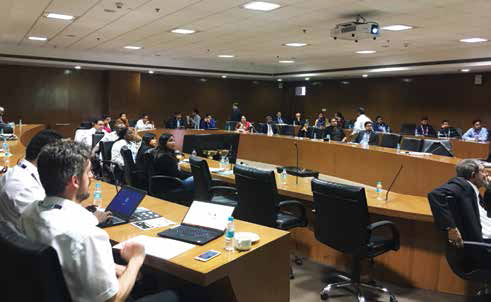 Then feedback and inputs from the participants were requested which were forthcoming were highly appreciated. The participants expressed satisfaction with the timeliness of the workshop and the content of the lectures. There were some queries related to the use of various GNSS services in India which were addressed by Prof. Paul. He informed that Govt. of India has in place GNSSbased services related to help agricultural farmers, fishermen and other sections of the society.
It was widely opined that in view of the diverse nature of GNSS applications and the presence of a good cross-section of such educators and researchers in India, an Indian GNSS Society should be created, on the lines of Institute of Navigation (ION) which is world-renowned in this field. This society will provide an appropriate platform for educators, researchers and scientists to come together and exchange ideas, evolve techniques, sensitize people, create awareness about GNSS system and services through periodic publications and organize meetings. These ideas were very well appreciated by the audience and it was proposed that preamble and constitution of the society should be formulated as soon as possible and the process of registration of the society would soon be initiated.