Geographic coverage expands as imaging technology matures
| | |
| --- | --- |
| | Vexcel Imaging will continue to develop advanced hardware and software for the benefit of its commercial customers and for VDP with a focus on optimizing efficiency and quality. |
Alexander Wiechert

Vexcel Imaging GmbH
Remote sensing relies on hardware, software and workflow processes to deliver consistent and useful imaging products for a broad range of applications. When the industry was in its infancy, a great deal of attention was focused on improving the hardware to collect a much higher quality of data. Now we must fine-tune the software and workflow processes to fully leverage the tremendous amount of data that is being generated. After a hectic period marked by significant advances in collection and processing capabilities, we have reached a more stable point with development cycles becoming longer and incremental benefits to the customer.
Hardware First
Hardware became the first "battleground" as industry leaders continued to experiment with different approaches. Eventually imaging technology made the revolutionary leap from analog to digital, which resulted in significant performance improvements and created many new opportunities.
Now that a digital format is accepted as the most effective technology for mapping, the aerial imaging industry is focusing on more subtle evolutionary hardware changes. We are making modifications that increase efficiency and enable improved quality. For example, with faster frame rates and new camera electronics, airplanes can fly at higher speeds and collect data with a greater forward overlap, which leads to better image quality and more efficiency.
To continue delivering improvements to our customers, Vexcel Imaging is developing a completely new camera design. We are changing everything — lenses, sensors, electronics, storage, and housing. This 4th generation UltraCam camera is based on the latest CMOS sensors instead of CCD, which boosts efficiency to the next level. The newest CMOS technology, for example, supports an increased pixel count in the imagery and provides radiometric advantages and better image dynamics without the downsides present in previous generations of CMOS.
The entire suite of UltraCam cameras will benefit from the new design, with the expected efficiency gain to be between 15‒40%, depending on the camera model. The updated UltraCam Osprey will be released first, in spring 2020, with a wider nadir footprint and an almost doubled oblique collection capability. Next in line for release is the UltraCam Condor, scheduled in 2021, which will also offer a significantly larger footprint and faster frame rate. A new version of the UltraCam Eagle will follow at a later stage.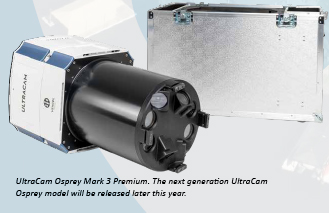 Handling the Data
Since imaging hardware has achieved such high performance levels, next the industry has to focus on software development and workflow processing. The volume of data collected by advanced aerial and satellite imaging resources has increased exponentially, so software products must handle larger data streams. Workflow processes are being streamlined to handle the increased volume of data. As a result, the industry continues innovating by adding automation and updated workflows to keep pace with the hardware and to meet the demand for faster turnaround of end products and analysis.
Vexcel Imaging is committed to investing in further development of UltraMap, our photogrammetric postprocessing software that provides highly automated processing capabilities. We just launched Version 4.5 in November 2019, featuring real Oblique AT, and 5.0 is on the horizon, which will add a rich feature set to further improve efficiency and 3D capabilities. Vexcel has learned many lessons while processing our own huge datasets and that experience goes into UltraMap to benefit our commercial customers.
International Flying Programs
Another factor driving improvements in hardware, software and workflows is the creation of large flying programs that focus on high-resolution mapping of entire countries on a regular revisit schedule. Several flying programs started by global companies are applying the lessons learned from decades of hardware manufacturing and software development to improve their own collection and processing efforts and make up-to-date imagery available to meet the growing demand for highresolution maps.
The Vexcel Data Program (VDP) is a cloud-based imagery service, founded in 2018 with the insurance industry as an anchor customer. Vexcel's exclusive partner, the Geospatial Intelligence Center (GIC), was initiated by the National Insurance Crime Bureau (NICB) that represents over 1,000 insurers in the US. The consortium of insurers shares the GIC program costs in return for access to current aerial imagery before and after natural disasters. Insurers benefit from the expedited process where agents can review imagery to assess damage instead of traveling to the site and deliver value to their customers with more accurate claim evaluations and faster payments.
VDP has a two-pronged approach to data collection. "Blue sky" refers to the scheduled collection of priority areas to complete large-area datasets. Initially the plan called for annual coverage of the entire US and several European countries at 20 cm GSD, with major metro areas collected at a higher resolution of 7.5 cm GSD. More recently surveygrade (metric/calibrated) oblique data to facilitate 3D modeling of buildings is also being collected.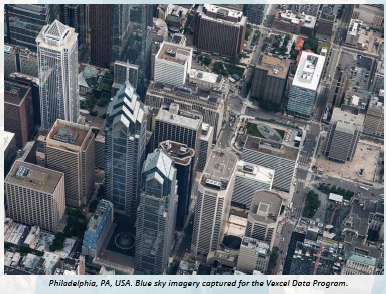 The second category is "gray sky" collections, which take place in disaster areas, immediately after floods, fires, hurricanes, earthquakes, etc. Vexcel's highly automated processing capability makes images accessible online within 24 hours after data collection to all government agencies and other emergency personnel. This access is provided through GIC/NICB and has substantially improved the situational awareness of organizations trying to deliver services in devastated areas.
Demand for imagery is increasing around the world. The geographic priorities of Vexcel's global partners are influencing the selection of overseas targets. In 2020, with the UltraCam Condor collecting nadir imagery, geographic coverage will grow in Europe and potentially areas in the Asia Pacific region. The UltraCam Osprey is also collecting high resolution urban oblique imagery of major areas in the United States, and the program is expanding to Australia, New Zealand and other Asian locations.
Large flying programs are the way of the future as they allow up-to-date imagery of entire countries to be available at lower cost. Vexcel Imaging will continue to develop advanced hardware and software for the benefit of its commercial customers and for VDP with a focus on optimizing efficiency and quality.