Experiences from world bank development support for land reform
Keith Clifford Bell

World Bank, East Asia Pacific Region

Washington DC, USA
The World Bank, with the support of development partners and civil society organizations (CSO), are continuing to support the implementation of land administration and management projects throughout the world. From the World Bank side, specific support to the land sector has been provided for the past three decades. These projects have varying degrees of emphasis on social equity and economic development. In post-conflict countries, tenure security and access to land are major factors in providing long-term stability. There are many complexities, dimensions and themes associated with land administration. Securing land rights is particularly relevant to vulnerable groups such as the poor, women, orphans, displaced persons and ethnic minority groups, especially after disasters or conflicts. Fees and taxes on land are often a significant source of government revenue, particularly at the local level, and often underpin the sustainability of decentralization. In most societies, there are many competing demands on land including development, agriculture, pasture, forestry, industry, infrastructure, urbanization, biodiversity, customary rights, ecological and environmental protection. Most countries have great difficulty in balancing the needs of these competing demands.
Reform of land administration in any country is a long-term prospect requiring decades of sustained commitment. It is a major investment of capital and human resources and requires strong, consistent, transparent and accountable leadership, in order to achieve effective, sustainable outcomes. Dealing with each and every one of these can contribute to achieving the challenges of the Millennium Development Goals (MDG). Reform is often inhibited or even undermined by poor governance. Good land administration is often as much related to land administration issues as it is to the quality of the civil service, especially its transparency and accountability. Investment in land administration systems should also explicitly see the development of the spatial data infrastructure and the spatial enablement of the government as part of overall reform, which facilitates an expanded agenda including land governance, social development, sustainable management of natural resources and the environment, disaster prevention, climate change, carbon monitoring and so forth. However, such investments need to be calibrated for the specific country requirements, including capacity and sustainability.
World bank support for the land sector
Overview
The World Bank has been directly engaged in supporting the land sector for more than thirty years. Over the past twenty years, the Bank has supported 76 dedicated land administration projects in 48 countries totaling an investment of around US$3.6 billion, and in addition, a further 228 projects (in 78 countries) had a secondary focus in land. Currently, the World Bank is providing funding of around US$ 1.5 billion for around forty-six projects which are classified as land administration and management projects. Projects with a secondary focus in land may fall under natural resources management, agriculture, forestry, urban development, housing and infrastructure sectors. Furthermore, the World Bank is also providing significant funding for land-related cross-sectoral analytical and technical assistance interventions globally, regionally and nationally. (Deininger and Bell, 2010).
Of all the development sectors supported by the World Bank, land is amongst the most challenging, complex and controversial, and it directly or indirectly, impacts the achievement of each of the eight MDG. However, it is also one of the most fundamental sectors, with land issues underpinning multiple other sectors. Land issues are deeply rooted in countries' histories and cultures. At its most extreme, land issues have been identified as cause of civil and international wars, and even genocide. Furthermore, land issues are often highly politically sensitive, implying that attempts to address them need to be solidly grounded in empirical research, often building on carefully evaluated pilots. The risk matrix for all land-related interventions is indeed high, and such risks run far more deeply than reputational risks to donor institutions, as the lives and the livelihoods of individuals is very much affected. The continuing legacy major natural disasters has emphasized the critical importance of land and property rights in reconstruction and rehabilitation. Table 1 presents a summary of World Bank supported land administration projects in the East Asia Region since 1984.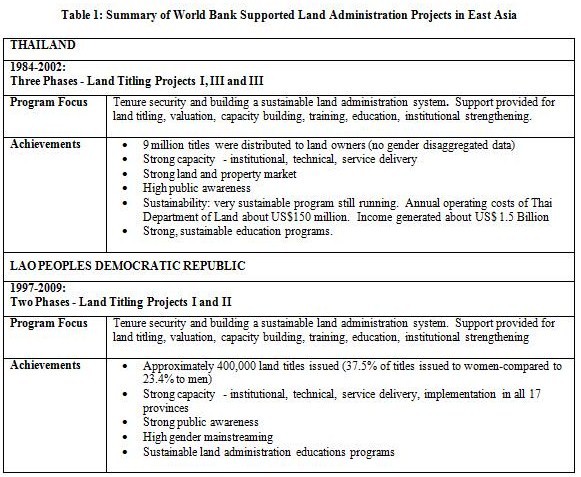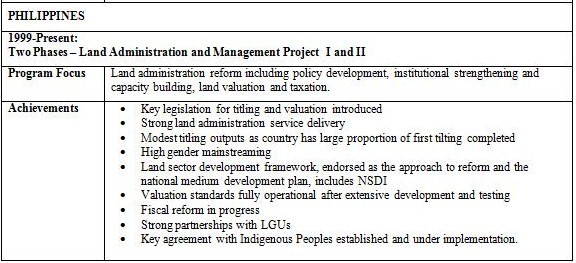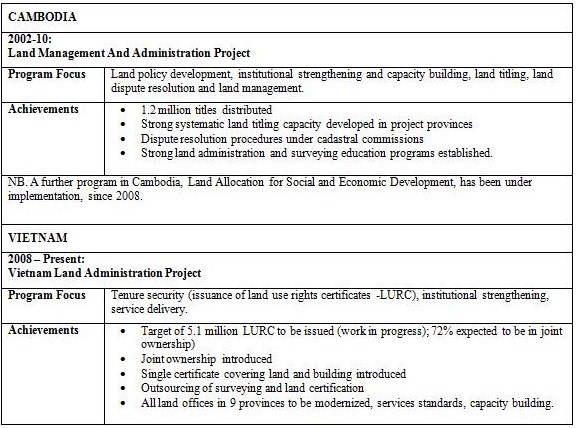 Since the early 1980s, land administration programs have evolved from being more narrowly focused on titling, institutional strengthening and capacity building to address any number of the following:
• Institutional and policy reforms
• Capacity building in government and private sector
• Education
• Applications of information communications technologies (ICT) including computerized records management, geographic information systems (GIS), electronic data capture, web-based applications, satellite position systems (GPS/CORS), national spatial data infrastructure (NSDI), e-governance
• Service Delivery
• Land valuation and taxation
• State land management
• Land management
• Good governance and civil service reforms.
"Breaking News" – Land remains a high priority for World Bank support
During the first months of 2011, the World Bank's senior management have strongly affirmed the institution's support to agendas of the land sector. Firstly, in January 2011, the World Bank President, Mr. Robert Zoellick, in an interview with Newsweek, advised that the biggest challenge facing the developing world was food security and there was a need to give priority to property rights (Schneiderman, 2011). In April, 2011, Mr. Zoellick further drew attention to food security and the importance of land and property rights as well as the concerns of foreign direct investment (FDI) in land for agri-business.
More recently, Ms. N. Okonjo-Iweala, World Bank Managing Director, in opening the Bank's 2011 Annual Conference on Land and Poverty, advised:
"Agriculture and food are back on the agenda for development agencies – and increasingly also the private sector. But to maximize investment in the sector and ensure that it yields benefits for local people, attention to land tenure is critical. …..
….Increasing farmer's tenure security , ensuring that they can transfer land to better uses and join the non-farm economy in the context of structural change, and possibly allow them to use it to access credit . ……
In most developing countries, women's rights to land and girls' ability to inherit are weak. …
…Land is critical for how cities expand. Opportunities to expropriate land from farmers at little or no cost lead cities to expand horizontally rather than vertically. This makes services costly to provide pushing the poor into far-flung informal settlements and increasing commuting and pollution.
Thus, while sources of tenure insecurity differ across regions – loss of land to urban growth is very important to Asia – consequences are similar. The main one is a failure to put a valuable resource to its best use and make it contribute to the local economy rather than rent-seeking and conflict. ……
…..In response to our clients we are fully committed to expand our commitment to address the challenges in this sector – especially as recent events have made doing so more urgent. …."
– To be continued
| | | |
| --- | --- | --- |
| | | |
| | My Coordinates | |
| | Mark your calendar | |
| | News | |