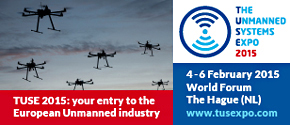 On 4-6 February 2015, the first fully integrated European trade show and conference on unmanned systems, 'The Unmanned Systems Expo' (TUSExpo), will be held in The Hague. The event is aimed at the whole spectrum of the rapidly growing unmanned systems market for both commercial and civil applications in the air, ground, maritime and space domain.
TUSExpo, taking place in the World Forum, is expected to attract around 3,500 international visitors bringing together leading experts including key industry figures, academics, and government officials.
Both European and global companies across the whole supply chain ranging from manufacturers, information technology hardware and software suppliers to system integrators and consultants will demonstrate the latest technology developments and increasing potential in the use of unmanned systems.
Being a dedicated and focussed business platform, TUSExpo provides network opportunities between suppliers, partners, buyers, and end-users offering scope for enhanced international co-cooperation.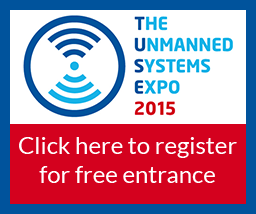 In addition to the exhibiting companies, there will be a range of zones organized around themes such as Innovation, University, Start-ups, Demonstration and Technical Seminars. There will further be a Media zone ensuring international media coverage.
Would you like to be part of the first integrated Unmanned Systems Expo in Europe, and benefit from the opportunities it offers by bringing together both European and global players in a dedicated trade platform? For more information contact:
Anoeska Hagenstein, a.hagenstein@tusexpo.com, +31 (0)6 396 99 110
Niels Westendorp, n.westendorp@tusexpo.com, +31 (0)6 245 28 978