Simplicity and ease of use is the key to the success of our drones!
Andrea Hildebrand

Co-founder, senseFly, Switzerland while explaining the key features of senseFly drones and new software release – eMotion 2
What are the key features of senseFly drones?
Both the eBee and swinglet CAM have been designed with ease of use for the end user in mind. Our drones are hand launched then fly & land fully autonomously. Safety is high on our list of priorities at senseFly, which is why our systems were developed with a foam airframe and rear-mounted propeller to ensure the safety of both the drone and the people on the ground. We are constantly looking at ways to improve our systems and recently added 3D flight planning to our software, which has further increased the safety of operating when mapping over uneven terrain. Being lightweight and compact the systems are easily transported between projects.
Compared to other commercially available UAV drones in the market, how does senseFly has an edge over others?
Simplicity and ease of use is the key to the success of our drones! Our team has spent a lot of time creating and developing powerful autonomous 2D and 3D mapping tools that not only deliver quality images, but which can be operated by anyone with very little training required. Our systems come complete with full mission planning & control software eMotion 2 and image processing software Postflight Terra thus providing a complete solution.
Our drones are among the lightest on the market with the eBee weighing in at less than 0.7kg and the swinglet CAM weighing in at 0.5kg. Being lightweight not only allows for ease of transportation but also makes the systems safer should a collision occur.
How price competitive are your drones?
We feel that our pricing is very reasonable and highly competitive and our systems generally pay for themselves in a very short timeframe.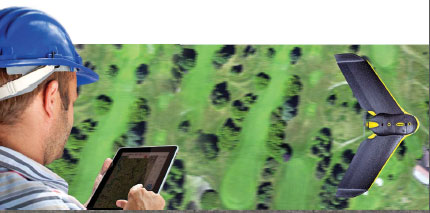 What are the optimum weather conditions for both eBee and swinglet CAM drones?
As with all aerial photogrammetry good weather conditions are always the best way to produce optimalimage results. Although even on cloudy days where traditional methods would be hindered, the drones produce quality imagery due to their ability to fly beneath the cloud cover.
With the world marching towards greener technology, how are both the swinglet CAM and the eBee environmental friendly?
Both the eBee and Swinglet CAM have green credentials as they are carbon neutral, due to their electric brushless motors with rechargeable Lipo batteries. They are also extremely quiet thus do not contribute to noise pollution.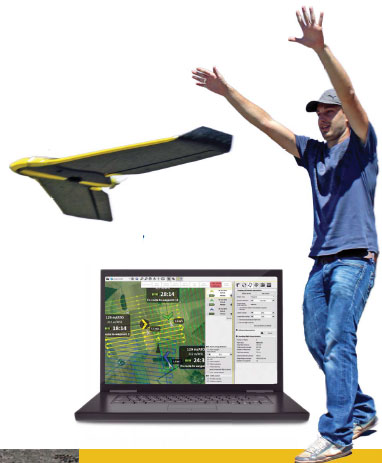 Can the senseFly drones be used in city area?
Technically speaking the senseFly systems are more than capable of working in city areas due to the ability to launch and land in small confined areas. However in certain countries regulations will dictate whether the user is permitted or not to operate in these areas.
What are your expansion plans in terms of increasing your market share in UAV market worldwide?
At senseFly we are continually expanding and developing our dealer network, establishing relationships with respected companies within the surveying and agricultural communities throughout the globe which share our enthusiasm and vision for UAV applications. We have dealers based throughout Europe, Australia, South America, Canada and have recently branched into Asia, Africa & the United States. We anticipate further growth within the US market following the new FAA regulations that are expected to come into eff ect during 2015.
What are the key features of your new software release – eMotion 2?
eMotion 2 is our intuitive ground station software. It allows you to plan, simulate, monitor and control the trajectory of the drone, before and during flight. The latest update includes the following new features:
• 3D flight planning. Constant over ground distance on steep terrains allows minimizing the image pixel resolution variation, thus providing better image quality & results.
• Google Earth visualization. The ability to check a flight plan within a 3D environment increases the safety of the operation.
• Multiple drones operation. Using a single interface to control multiple drones allows greater areas to be covered in less time. They share start and landing waypoints, are coordinated for take-off and landing, and have automated in-flight collision avoidance.
• Integrated data management. Have a look at your former flights, find flight logs and corresponding images, simply create geotags and upload your project to Postflight Terra for image reconstruction.