Showcase of New GNSS Era
Showcase of New GNSS Era
The First Asia Oceania Regional Workshop
Jan 25-26, 2010, Bangkok, Thailand
The First Asia Oceania Regional Workshop was held on January 25 and 26 at Sofitel Centara Grand Bangkok, Thailand. The workshop was hosted by SPAC, JAXA and GISTDA as well as supported by United Nations International Committee on GNSS (UN ICG). The workshop was attended by 195 participants from 95 organizations including GNSS providers, universities, related research institutes and agencies gathered from 18 countries.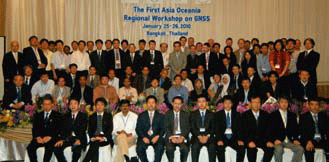 The workshop provided the overviews of various GNSS systems. There were presentations on four Global GNSS systems GPS, Glonass, Galileo and COMPASS. The regional GNSS systems QZSS and IRNSS were also introduced. The workshop had presentations on various topics like applications presentations; GNSS infrastructure and Augmentation technologies; Precise Positioning; Ionosphric Observation; Disaster Mitigation and Management; ITS, Mapping and LBS; Timing, GIS and Space Applications. The workshop also had Group Discussion for project planning. The topics were Multi-GNSS network establishment, Precise Positioning, Disaster Mitigation and management and ITS, Mapping and LBS.

The workshop "Asia Oceania Multi-GNSS Demonstration Campaign" was also introduced. Multi GNSS Asia (MGA) was proposed to be established in early 2010, secretariat of MGA.

The workshop was impressive in terms of its content and participation. It appeared that this initiative will go a long way to serve the interest of GNSS community of Asia and Oceana region.