Satellite technologies in Turkey
| | |
| --- | --- |
| | This article gives some informations about Satellite Technologies of Turkey called "Yesterday and Today of Developments in Satellite Technologies in Turkey" established by Nevsehir Haci Bektas Veli University, Engineering and Architecture Faculty, Department of Biosystem Engineering |
M Cuneyt Bagdatli

Department of Biosystem Engineering, Engineering and Architecture Faculty, Nevsehir Haci Bektas Veli University, Turkey
Turkey, in the 1980s communications satellites were purchased. In 1989, a tender was floated for the first communications satellite project. Following this development, the French Aerospatiale company on December 21, 1990 signed the 'Turkish National Satellite Communication System Agreement' with Turkey. However, the satellite TURKSAT-1 made at the launch base in French CSG launch was lost, since in the third stage of the Ariane-4 rocket launcher 24 failed in January 1994. The insurance required under the terms of the agreement, which was produced at that time, the completion of the second satellite whose development was accelerated. TURKSAT- 1B construction was completed on August 11, 1994 at 42 degrees East position placed, and entered service in October 1994.
Immediately after the delivery of TURKSAT-1B, in accordance with the provisions of the contract of the insurance company, Aerospatiale Turksat started to make a new satellite, TURKSAT- 1C satellite-tossed 31.3 East, and was placed in position on July 10, 1996. The first generation TURKSAT satellites by Turk Telekom was followed by a series of Spacebus 3000B3 platform and 32 high-power Ka-band transponders with Turksat-2A (Eurasiasat) satellite, and its construction began in 1998 as decided. The satellite launched in mid-2000 and was again placed in position 42 degrees East, and began operations on February 1, 2001.
As the lives of TURKSAT-1B and 1C satellites about to end, Turksat company started work on TURKSAT-3A satellite in 2006. The French-Italian joint venture with Thales Alenia Space company, bagged the tender on June 13, 2008 and sent into space TURKSAT-3A satellite on July 16, 2008 when operations began. Approximately, 25 Turkish engineers hired during the production phase of the project, was given training for the next generation communication satellite that Turksat aimed at, with the ability to partially produce it in Turkey. Turksat was firm yet tender with the TURKSAT- 4A communications satellite, which was planned and partially assembled in Turkey and started planning for communication satellite Turksat-5 as the next project.
Observation satellites production technology for Scientific and Technological Research Council of Turkey (TUBITAK) technology transfer projects have been initiated. Developed and produced under the project of remote sensing earth observation satellite BILSAT, on September 27, 2003 was launched from Russia's Plesetsk base and placed into orbit. Regarding BILSAT satellite, the task was completed.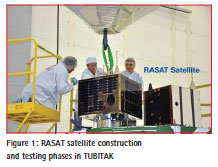 After the completion of BILSAT satellite, RASAT satellite project was activated. Making use of current satellite capabilities with this project, RASAT satellite was designed and produced in Turkey. It had high-resolution optical imaging system and new modules developed by Turkish engineers, making it the first earth observation satellite designed and manufactured in Turkey (see Figure1).
The observation satellite was sent into space on August 17, 2011. RASAT satellite that TUBITAK Space Technologies Research Institute designed and produced indigenously, aiming at helping a total of 3,856,000 sq km area on the world's image. A 7.5 m panchromatic, multispectral image of the world, can be taken. RASAT, TUBITAK-drawn images to the ground station transmits in Ankara Space. The observation of Turkey with satellite images taken from the 2D satellite image database was created. Taken to ensure timeliness, the new image data base was made even richer with each passing day, and reliable satellite earth observation mission still holds.
Turkish engineers designed and realised in 2012 with the launch of operations that have been placed into orbit GOKTURK task-2 Turkey that was originally developed is the first high-resolution earth observation satellite. GOKTURK-2 System and the tasks related to the design, production and testing processes were carried out on a national engineering activities level. GOKTURK-2 Satellite which was tested before shipment was completed in the TUSAS facilities and the satellite company, and was sent to the People's Republic of China's Jiuquan Launch Center. GOKTURK-2 satellite on December 18, 2012, at 18:13 (Turkey time), was launched from China (see Figure:2).
GOKTURK-2 satellite, during the launch of the space mission to orbit, 12 minutes later settled the first signal from the satellite, at 19:39 in Tromso Norway and was taken from Ground Station. Following the commissioning process, images captured by GOKTURK-2 Satellite started downloading to the ground station located in Ankara. This 2.5 m panchromatic and 5 m multispectral satellite with resolution picture can be drawn. Orbit altitude of 700 km had a planned collected tenure of five years. With the GOKTURK-2 Project, technologies for space and satellite systems, that specialized in manpower and infrastructure development, observation and research needs of public institutions and organisations with national means and capabilities were expected to be met. These satellites, with the launch of the satellite project will work if Turkey's future professionals have been trained manpower. Satellite and equipment for this project level design, analysis, manufacturing, assembly, integration and test activities and the ability of the infrastructure have been acquired.
Turkey's Japanese and Turkish engineers recently co-produced a communications satellite which was launched. This is the satellite Turksat- 4A. Turkey evaluated the new stage in the development of the satellite Turksat-4A satellite, which on February 14, 2014 from Kazakhstan's Baikonur Cosmodrome 23:09 (Turkey time), was launched into space (see Figure 3).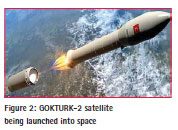 TURKSAT-4A satellite in space makes Turkey one of the 30 countries with a number of satellites that have increased in active operations from 4 to 5. In TURKSAT-4A satellites with the new technology, which for the first time in Turkey's satellite fleet, the Ka frequency band began to take place. In this way, part of which were previously inaccessible to sub-Saharan Africa now was also provided with an opportunity to receive television broadcasts. Ka-band covers areas through publications downloaded in the form of a small circle, and it began to be given the opportunity to broadcast more intensively and effectively. Thus, the cost of internet access was also reduced. TURKSAT-4A satellite broadcasting service in the military as well as in civil operations began to be recognized. Satellite TURKSAT-4A brought a 3-fold increase to Turkey's communications capacity, making it one of the most important part of the project. This satellite communication ensured that television broadcasts began to China's western region of Turkey, to the east of the UK, Europe, Central Asia, the Near East and Africa including the transfer of a large region. Thus, the Turkish television and radio channels broadcasting in Europe and Asia was now accessible in Africa.
Earth observation satellites currently in Turkey, is continuing studies for the production of a new satellite. The GOKTURK-2 satellite earth observation satellite, following the National GOKTURK-1 satellite began to be developed since July 19, 2009 and is still ongoing. Without geographical constraints with this project in any region of the world, high-resolution images can be taken for military intelligence. At the same time, forest area control, illegal building monitoring, natural disaster followed by damage assessment, product yield determination, geographical map data production as well as many civilian activities in the field of image needs could be met. With this project in Turkey up to 5 tons of integration and testing of all satellites can be carried out domestically, and satellite assembly, integration and test center have been established according to international standards.
As can be seen from the above developments, Turkey, on a world scale, is a developing country in the field of space technology. Started in 1980 with the purchase method, the country began using space technology, and from the beginning of the 2000s it went on a national-scale. Space technology capabilities in our country is for display purposes, satellite design, manufacture and operation of satellite imaging and communication purposes, with the use of data from space level. However, the satellite launch capability, is currently available in a few countries only. These countries are at the forefront of space technology.