Record and Replay Signals for the Sporting Market
Mark Sampson

LabSat Product Manager
In recent years there has been an explosion in the sporting world in the use of GPS. You will scarcely see a runner or cyclist on the road without either a smartphone strapped to their arm, or a dedicated GPS device clamped to their handlebars, tracking their every move. The amount of information that the modern sportsperson – from casual amateurs to full time professionals – is logging, analysing, and sharing is phenomenal. There are now dozens of ways of uploading data for the whole world to share and study.
As more manufacturers come to this market with the hope of capturing a share of it they are faced with the challenge of effectively developing, and then testing their devices. For one thing, new products will have to have capability for local constellations such as BDS and QZSS rather than GPS alone. New market entrants won't have the same budget as the established big players, and constantly travelling to China or Japan in order to try out a new gadget is going to escalate costs to an unsustainable degree.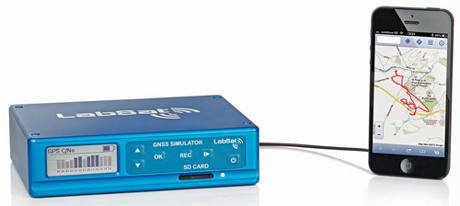 Then there's the issue of getting out into the kind of environment in which you imagine your new sporting GPS device will be put to use. In many cases this is going to be remote areas, forests, hills and mountains: stepping outside into the office car park is not a realistic test for satellite acquisition and retention. Driving home with it isn't either.
So you need a GPS simulator or replay device, to allow for bench testing. But these are expensive. They might not actually be all that useful, either, if all they play into the GPS engine is a perfectly clean signal that has been generated, or recorded from an ideal environment. You need to know how your new product will operate through a forest, or down an urban canyon.
Soon to launch at the ION exhibition in Nashville, LabSat3 provides a solution to these problems. The third generation to be launched in the LabSat range, the new product from UK based Racelogic is a very cost effective GPS record and replay system available for anyone developing GPS devices, and arguably the most convenient to use. It is a battery-powered, standalone unit that can be taken anywhere and used to record satellite signals for reply back at base. It measures 167mm x 128mm x 43mm and weighs 900g, making it a truly portable record and replay system. And it has the ability to record and replay two constellations in parallel.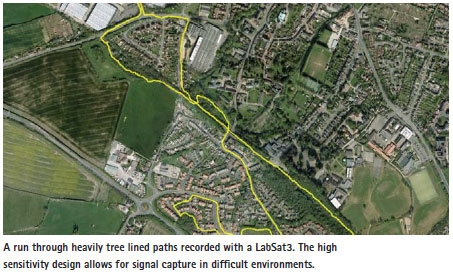 Racelogic have designed the new LabSat with great care. Chris Smith, Design Director, who has worked closely on the project, says: "We have deliberately built the unit to have a high degree of sensitivity when operating in difficult circumstances. The user can capture satellite signals in heavily tree-lined areas even using a passive antenna, with the LabSat in their backpack, and still get a recording that is going to be perfectly useable back in the office. It gives the developer huge flexibility for real-world testing without having to spend a fortune. And a one-button press to make these recordings means that anyone can do it, not just a specialist engineer."