"Radio and positioning solutions from Pacific Crest go hand-in-hand"
An interview with Charles Branch, Portfolio Manager, Radio products, Pacific Crest Corporation

"The Gold Standard in Communications and Positioning." What are the efforts that go into maintaining the 'standard' at Pacific Crest?
The efforts are towards:
• Increasing range by use of cleaner signal and greater receiver sensitivity
• Increasing operational efficiency by use of smarter protocols
• Increasing throughput by use of new data compression technologies
• Increasing reliability by making each radio bullet proof.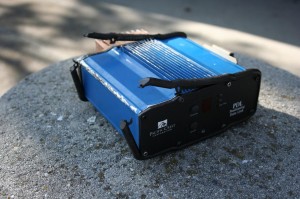 And they ARE bulletproof, though we do not recommend testing this in populated areas. Actually we do not recommend testing this at all.
Also, dragging the radio behind a truck is not recommended. The radio in the picture needed to have a new toggle switch put on it but it wasn't otherwise damaged. We just put the internals inside a new housing and shipped it back.
Please elaborate on your 'Radio modems' portfolio for our readers.
The PDL Line going end of life:
The products included are – PDL RXO, PDL LPB, PDL HPB, EDL II, Sitecom, PDL Rover
The PDL line is being replaced with ADL line which include:
• OEM modems:
ADL RXO and ADL Foundation, and a variety of custom built radio modems designed and manufactured for our OEM customers.
• Complete radios:
ADL Vantage and ADL Sentry – transceivers with 0.1 to 4 Watt configurable output, rugged all metal IP67 housings and an extensive list of accessories from data interface cables to antennas and power supplies.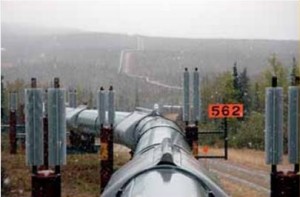 Would it be correct to say that radio and positioning solutions from Pacific Crest go hand-in-hand?
Yes, because our positioning solutions are "precise positioning" solutions, i.e., with cm-level accuracy. The only way to do this in real-time is by providing the rover GNSS receivers with Real Time Kinematic corrections. Using a cable is obviously not possible so wireless communication must be an integral part of the overall solution. Each GNSS receiver board we sell to system integrators must be attached to a radio. We strive to ship one radio modem for each GNSS receiver we sell.
What are the difficulties that 'wireless data communication using radio frequency' face in the real world?
There are several issues:
• Crowded airwaves.
• People stepping on each others frequencies.
• Interference from consumer wireless products.
• Cannot get licenses or do not want to go to the trouble of acquiring them and paying for them.
• Cellular coverage is poor in most areas of the world.
• It is fine for voice in Europe, Japan, and much of China and the US, but not as capable of handling data transmissions.
• Also, in high density areas at peak load times, you can get data/voice dropout.
• Different brands of radios do not talk to each other. This is OK as long as the radios support the standard Pacific Crest protocols, but radios that don't/won't support PCC protocols (or do so with errors) frustrate their users.
How do Pacific Crest products overcome these difficulties?
Last year we began releasing the ADL generation of UHF radios that support software-derived channel bandwidths. As governmental regulatory agencies such as the FCC and ETSI require the use of 12.5 kHz channels in place of the more bandwidth-consuming 25 kHz bands, ADL customers can make the switch just by uploading a new channel table. And when countries start requiring 6.25 kHz channels, Pacific Crest will be ready to meet the challenge.
Pacific Crest has also worked with other radio manufacturers to support each other's protocols so customers have greater flexibility when building on to their radio networks.
Among the various 'Precise Positioning' and 'Remote Sensing' solutions offered by Pacific Crest which ones require the most customization?
The radio boards we sell to system integrators require the most customization because different customers want different:
– Antenna connectors
– Data connectors
– Types of serial data, e.g., CMOS or RS232
– Different power input: some solutions give only 3 V, some want to give the board 3-7 V, etc.
– Custom protocols and modulations
– Custom sizes
Which regions do you think will see the maximum growth in the wireless data communication segment in the coming months?
• Technology: Cellular links, WiFi links, networked radios
• Applications: Precision agriculture, offshore positioning, environmental monitoring of industrial sites
• Markets: China (huge growth that is beginning to explode at a somewhat slower rate); India (slow growth at present but huge potential in the future), US and Europe remain slow but are growing again and will soon face large infrastructure replacement needs.
Pacific Crest: The Gold Standard in Communications and Positioning
Pacific Crest is the leading supplier of wireless data communication solutions designed for positioning and remote sensing applications. Pacific Crest was acquired by Trimble Navigation in 2004 and is also responsible for the sale and support of Trimble's high-accuracy GNSS board sets to the OEM and system integrator market.
Pacific Crest was founded in 1994, with the mission of developing DGPS technology for precision survey and agricultural applications. Today Pacific Crest serves a broad cross-section of major markets with its rugged and reliable radio and positioning solutions. These markets are broken down into two discrete application segments: precise positioning and remote sensing.
"Pacific Crest enables customers to build a solution that reduces the size, cost, and complexity of critical data communications and positioning systems. Customers require the highest performance, reliability and support for their positioning solutions. We believe we have an innovative line of digital radios tailored to deliver new levels of quality, reliability and flexibility for data communications in the geomatics industry."
John Cameron
General Manager, Pacific Crest
Precise positioning applications include land/marine surveying, construction and machine control, agriculture, and infrastructure monitoring. These applications utilize both Global Navigation Satellite Systems (GNSS) technology and the radio links that communicate Real-Time Kinematic (RTK) corrections from GNSS reference stations to GNSS rover receivers.

Remote Sensing applications include environmental monitoring, water management, and pipeline/transmission line management. These applications require the broadcast of digital information from remote sensing devices to central offices that process the data for decision making as well as send command/control instruction back to the remote sensors.

Positioning Solutions: Pacific Crest offers Trimble's latest centimeter-level positioning technology to system integrators. GPS/GNSS receiver modules harness the widest range of GPS L1/L2/L5, GLONASS L1/L2, and Galileo experimental signals in easy-to-integrate modules that provides fast RTK initialization with proven low-elevation tracking.

Radio Solutions: Radio modems from Pacific Crest provide wireless data links for RTK positioning and remote sensing. Pacific Crest is the leading provider of high-performance data links for the Geomatics industry based on the acceptance of its communications protocols as the standard for RTK surveying.