The 20th INTERGEO will be a mix of technical sessions; a conference and trade show and a variety of side events, giving you a unique opportunity to discuss best practices within the geo-branch. Do not miss this great event: INTERGEO will take place from 7 to 9 October 2014 in international metropolis Berlin.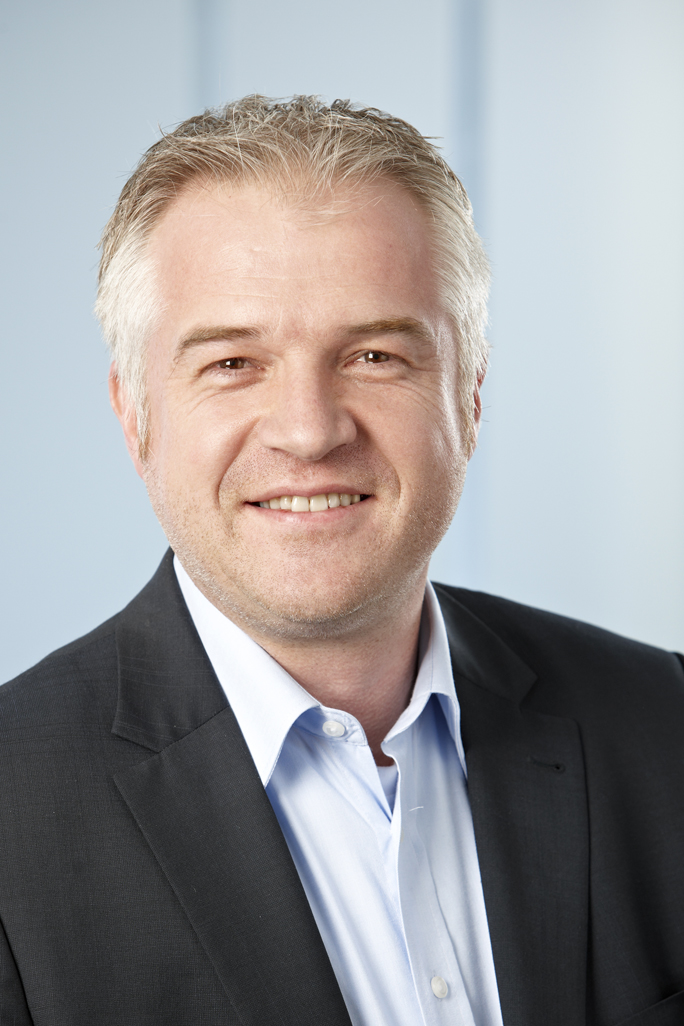 INTERGEO interview with Olaf Freier, Managing Director of Hinte GmbH "Shaping the future with a global network" Olaf Freier has been with INTERGEO since its inception. He is credited with moulding the event and creating its identity. He has also overseen its evolution into the leading trade fair for geodesy, geoinformation and land management. Not only that, INTERGEO has shaped his personal life too. We caught up with him recently.
Mr. Freier, INTERGEO celebrates its 20th anniversary this year. What do you see when you look back?
Above all, 20 years of INTERGEO means 20 years' ongoing development of a communication platform for highly innovative industries. Since 1995, INTERGEO has assumed a very clear structure and addressed the requirements and developments in the fields of geodesy, geoinformation and land management, while the trade fair and conference have converged enormously as well. Dialogue has also grown in importance, in particular because a number of products cannot be developed any further or there is no further scope for optimisation. Nowadays, it's no longer just about the product. Beginning with an explicit focus on geodesy, new wider-reaching topics in the geoinformation and land management fields have emerged. A growing number of technologies and nearly all sectors of industry have a geographical link because everyone is interested in location. Customers have specific requirements and are not asking for one-off technologies, but instead looking for solutions for entire process chains. More than ever, manufacturers are in a position to offer these end-to-end systems. For the past 20 years, INTERGEO has created a forum for this exchange and acted as a platform to accompany, guide and facilitate the dialogue.
The exhibitor and visitor numbers from outside Germany are remarkable. What's your secret?
The combination of trade fair and conference has certainly played a part in our rapid success outside Germany since 1995 and our ability to fully address the topic areas at international level. At that time, around 15 percent of exhibitors were from outside Germany, primarily from neighbouring countries. Nowadays, more than 40 percent are from outside Germany. Overall, the number of exhibitors has grown almost threefold from 180 back then to more than 500 today. In those days, ten percent of visitors came from abroad whereas international visitors now account for around a third of attendees. This means we can quite safely claim to be the world's largest trade fair in our industry. We bring together experts and market leaders from all over the world. To make this goal reality, we have collaborated with INTERGEO host DVW e.V. (German Society for Geodesy, Geoinformation and Land Management) on concept and strategy. This extremely close cooperation has enabled us to develop, facilitate and deliver INTERGEO and consequently achieve comprehensive market coverage. Ongoing development is based on the solid partnership we have with DVW, with each side contributing its experience and ideas. In addition, the INTERGEO Advisory Board comprised of global companies Esri, Hexagon and Trimble was created in 2012. All participants get together regularly to discuss and reflect on industry developments and from there we set the direction for the trade fair and conference. For more than ten years, we have facilitated dialogue outside of the trade fair and conference among a global community of more than two million readers through print and online communication. This includes our newsletter and media partners as well as communication with users on social media channels like Facebook, Twitter, YouTube and Flickr. This is something that international target visitor groups are also tapping into and is a trend that is set to grow in the future.
What about growth in visitor numbers from within Germany?
Visitors to INTERGEO have continued to come from further and further afield. At present, almost two thirds of visitors travel more than 300 kilometres. I believe that the conceptual approach involving varying locations across Germany has gone down well. We've gone to the visitors and haven't expected them to come to one set location. Bearing the international dimension in mind, we have opted for locations that are easily accessible for overseas visitors for a number of years. That was definitely not the case at the outset.
Can you still remember the first event?
Absolutely. I was exhibiting in Dortmund for a company called Geo++ from Garbsen at the time. The hot topics then were GPS and navigation. Satellite technologies had revolutionised measuring processes and that shaped the trade fair. However, for me personally, the second INTERGEO was more significant as it was there that I met my wife. She was an INTERGEO project manager but it seems I later lured her away from the job. [Laughs]
So INTERGEO has really had an impact on your private life then. Thinking about visitors now, how can they home in on what they're interested in from the wide variety of topics on offer in the event programme?
The sheer size of the programme has led us to develop a diverse range of tools and communication methods. The recently relaunched website www.intergeo.de is obviously the first port of call for visitors and the different topics can be easily selected from there. Professionals can also consult the INTERGEO app for information on the move. This enables visitors to find out about and select from the broad programme in a way that suits them. The app is also the best way of navigating round the trade fair and indeed the conference at each INTERGEO.
There is a growing number of events in Europe on GIS and geodesy, for instance the Geospatial World Forum, the Geobusiness Show and the GeoSummit. Do you see these events as competition?
All industries have leading trade fairs where trends and developments are showcased and high-level discussions on applications take place. The national events translate these discussions to domestic requirements and therefore have their place. We are lucky to enjoy strong commitment from our exhibitors. For the market leaders in particular, INTERGEO represents their opportunity for meetings with trade partners and discussions with national and international customers, not to mention the chance to unveil their product innovations. Our aim is to network the community across the globe to promote our core topics and optimise these where necessary. In the future, the world will be shaped by a single global network. This will enable us to connect as many people as possible.
What are your hopes for the anniversary event? What are the highlights?
Naturally, I'm hoping for a successful event for both exhibitors and visitors. For this INTERGEO anniversary year, they can look forward to visiting one of the most vibrant cities in the world! Berlin has lots to offer, not just as a trade fair venue but also in terms of culture and history. Choosing Berlin has enabled us to address aspects of German national politics. We will be welcoming two German Federal Ministers, Dr. Thomas de Maizière and German Federal Environment Minister Dr. Barbara Hendricks. Two State Secretaries from the German Federal Ministry for Economic Affairs and the German Federal Ministry for Transport and Digital Infrastructure have also been invited. This is real recognition for the industry. In addition, the European umbrella organisation EUROGI is hosting the Imagine-2 conference at INTERGEO. That is a real vote of confidence for us and a genuine programme highlight for visitors. We will also be honouring around 35 companies that have been with us since the very start of INTERGEO. The JobSHAKER module that we launched in Essen is definitely set to return in Berlin. It functions as an interface between the industry and job seekers. This involves us gathering accurate, certified data on company requirements and making this available to career-starters and specialists.
Where do you see INTERGEO on its 30th anniversary?
We aim to maintain our position as the leading international trade fair, but with a different dimension. INTERGEO will no doubt take a different format from that of today as the world and indeed the industry develops and communication requirements change. However, one thing will not change – INTERGEO will continue to be shaped by its cooperation and innovation in ten years' time. And I, for one, look forward to the journey ahead.