INDUSTRY
Trimble introduces BD935-INS module with precision GNSS
The Trimble BD935-INS is part of the company's GNSS OEM portfolio and augments real-time positioning with 3-D orientation. It is designed for applications that require orientation as well as RTK in a single package.
The module features triple frequency for both GPS and GLONASS constellations, as well as dual frequency for BeiDou and Galileo. It delivers RTK initialisation for 1–2cm positioning. For applications that do not require centimetre accuracy, the BD935-INS integrated GNSSInertial engine delivers GNSS and DGNSS positions in GNSS-denied environments such as urban canyons, tunnels, heavy canopy and more.
IFEN's v3.0 of SX3 GNSS Software Receiver
IFEN has launched the latest software release, v3.0, for its SX3 GNSS Software Receiver Generation with following features:
• Real-time P-code generator and P-code aiding for GPS L1/L2 cross-correlation
• Full dual-antenna support for SX3 Black Edition
• KML file output for Google Earth real-time visualization
• Better performance through switch from 32-bit to 64-bit version
• Support of new SX3 RF frontend with up to 12 IF streams
IFEN's SX3 multi-GNSS software receiver now tracks all known and in future upcoming GNSS signals in view in real-time on a standard laptop (up to 1,000 channels in parallel on a core i7 desktop PC).
Fugro wins DeepOcean fleet contract
Fugro has been awarded a contract by DeepOcean for the provision of precise satellite positioning for their entire fleet. The contract is valid for three years and also includes the new vessels in DeepOcean's continuously expanding fleet. DeepOcean is one of the world's leading providers of services and technologies for the subsea industry.
NovAtel chooses FileCatalyst Direct to send Large Files Fast
Unlimi-Tech Software, Inc., creator of FileCatalyst, has announced that NovAtel Inc has chosen FileCatalyst Direct for their high-speed file transfer requirements. With the implementation of FileCatalyst Direct, NovAtel employees are now able to transfer their large datasets across the globe quickly and securely. http://www.prweb.com
Hemisphere GNSS release Athena
Hemisphere has designed its new core engine to maximize the company's ability to excel at the rigorous GNSS requirements of multiple market segment customers in Machine Control, Survey and GIS. The release of Athena is a significant milestone for Hemisphere but just the first piece of a wave of new technologies being delivered into the market by Hemisphere in 2015. Athena excels in virtually every environment where highaccuracy GNSS receivers can be used.
New Thuraya Sat Phone comes with GPS, BeiDou and Glonass
Thuraya Telecommunications Company has launched a new satellite phone, the Thuraya XT-PR, featuring built-in GNSS with GPS, BeiDou and Glonass. It has a talk-time of up to 9 hours, it is water splash, dust and shock resistant, and features a hardened Gorilla glass display.
Forsberg Acquires Raven's StarLink GNSS Product Line
Forsberg Services Ltd. has acquired the StarLink product line from Raven Industries. StarLink includes inline amplifiers, coaxial down/up converters and fiber-optic link systems to enable and support extended cable runs for GNSS in navigation and time synchronization applications.
Forsberg Services Ltd. is a European navigation systems integrator and OEM component supplier based in Lancaster, U.K. www.forsbergservices.co.uk
Topcon's GNSS network expands to Latin America
Topcon Positioning Group has announced the expansion of the TopNETlive GNSS reference station network into Latin America. In conjunction with hosting partners, new service will be provided in Mexico, Peru, the Dominican Republic, Bolivia, Guatemala, Colombia and Panama. It is designed to deliver highaccuracy GNSS correction data to rovers for surveying, construction, GIS mapping and agricultural applications.
eCognition Suite 9.1 by Trimble Geospatial
Trimble Geospatial has announced a new version of the Trimble® eCognition® software suite. It offers additional workflows to increase efficiency and quality of deliverables for Remote Sensing and GIS experts. This release includes capabilities to more efficiently generate intelligence from images and point clouds acquired by aerial, space borne, UAS-based or mobile mapping platforms. eCognition.com
Kenya Land Survey Efforts Aided with Spectra Precision Equipment
The Kenya Department of Surveys has acquired eight Focus 30 total stations and an additional eight Epoch 50 GNSS receivers as part of an ongoing major effort to adjudicate land and prepare deeds. According to the Lands Cabinet Ministry, until recently 67 percent of Kenya had yet to be adjudicated even as the work was supposed to be completed within 20 years after it was commissioned in 1957 by the British colonial government. To rectify the problem the government of President Uhuru Kenyatta two years ago began a major new push to produce three million titles by 2017. Recently, it was announced by the Land Surveys Department that 800,000 title deeds had been prepared and are being distributed.
AAM Group expands its operations to India
AAM Group has announced their expansion into India during a recently held ceremony held in Delhi. According to Mr. Mark Freeburn, Global CEO, AAM Group, "AAM is the largest geospatial mapping business in our Region which spans Africa, Asia and the Pacific. Creating AAM India furthers our aspirations and capabilities in Asia, with offices in India, Singapore and Malaysia. The new entity will focus its energies to provide excellence in data acquisition, processing and delivery across the geospatial spectrum. We will provide 3D City models,similar to the AAM produced models for Singapore, Sydney and Hong Kong, to broad area geospatial informationat a state wide level to assist with infrastructure, urban design planning, and the National Land Records Modernization Programme. We plan to work with other Indian geospatial companies to provide a new level of technology to support India's growth".
RTK V6+ six engines plus one support by JAVAD GNSS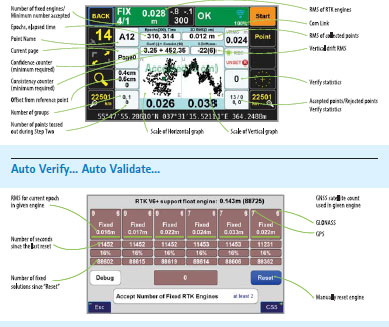 This vigorous, automated approach to verifying the fixed ambiguities determined by TRIUMPH-LS gives the user confidence in his results and saves considerable time compared to the methods required to obtain minimal confidence in the fixed ambiguity solutions of other RTK rovers and data collectors on the market today. The methods required by other systems are not nearly so automated, often requiring the user to manually reset the single engine of his rover, storing another point representing the original point and then manually comparing the two by inverse, all to achieve a single check on the accuracy of the fixed ambiguities. Acquiring more confi dence requires manually storing and manually evaluating more points. Conversely, J-Field automatically performs this test, resetting the multiple engines, multiple times (as defined by user), provides an instant graphic display of the test results, and produces one single point upon completion. www.javad.com