IMAGING
New China-Brazil Earth resources satellite in launch in H2 2019
The China-Brazil Earth Resource Satellite- 4A (CBERS-4A) will be launched in the second half of 2019, according to Li Guoping, secretary-general of the China National Space Administration (CNSA).
With a spatial resolution of two metres, the CBERS-4A satellite will offer the highest precision among CBERS satellites, though other Chinese optical remote sensing satellites can offer submetre resolution. CBERS satellites are remote sensing satellites specifically designed for Earth observation from orbit for use in areas including environment monitoring, meteorology and map making. https://gb`times.com
NGA seeks remote sensing tech for agricultural delineation challenge
The National Geospatial-Intelligence Agency is accepting proposals for a new program aimed at developing a system that can visualize agricultural field outlines from satellite sources.
The Agricultural Delineation contest tasks industry to contribute ideas for a remote sensing platform that utilizes satellite imagery to outline large homogenous and heterogeneous fields that are prominent in the sub-Saharan Africa region.
The agency said satellite-based remote sensing technology significantly aids plant health observation processes that are crucial in estimating farm yields and tracking agricultural productivity. NGA will award a total of $15K and select at least one submission as the winner. Winners may opt not to transfer intellectual property or property rights for their technologies.https://blog.executivebiz.com
Moroccan RS satellite successfully put into orbit
European lightweight Vega class rocket with a Ukrainian engine successfully launched the Mohammed VI-B Moroccan Earth Remote Sensing Satellite (ERS) into a sun-synchronous earth orbit. The mass of the Mohammed VI-B satellite, created by Thales Alenia Space with the participation of Airbus on the order of the Kingdom of Morocco, is 1,108 kg. The satellite will be used primarily for mapping and land surveying activities, regional development, agricultural monitoring, the prevention and management of natural disasters, monitoring changes in the environment and desertification, as well as border and coastal surveillance.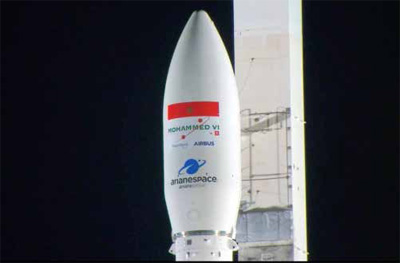 The Vega was developed by the European Space Agency (ESA) in cooperation with the Italian Space Agency (ASI). It is intended for launching into a solarsynchronous orbit with a height of 1,200 km satellites weighing up to 1,200 kg or into a polar orbit with a height of 700 km satellites weighing 1,500 kg. https://en.interfax.com
ABB to manufacture an optical sensor for GHGSat
ABB Measurement & Analytics Business Unit in Québec City, Canada has signed a contract with Montréal-based company GHGSat to manufacture and test the optical sensor onboard the company's third microsatellite (GHGSat-C2) aimed at monitoring greenhouse gases (GHG) emitted by industrial facilities around the world. GHGSat-C2, scheduled for launch in early 2020, will further the deployment of the GHGSat satellite constellation. www.abb.com
Ethiopia To Build And Launch RS Satellite With Chinese Help
Ethiopian scientists and engineers are building a small Earth observation satellite in cooperation with and with funding from China, which will be launched from China in 2019, according to a report in The East
African newspaper. This announcement is the culmination of much effort to bring Ethiopian space ambitions to reality.
Twenty Ethiopian aerospace engineers are involved in the satellite project. Furthermore, about 60 masters and Ph.D. students are also taking part in research and training at the space institute, as well as at the country's multibillion-dollar Entoto Observatory and Research Centre.
Kerala, India join hands with Airbus
The Kerala government signed a MoU with Airbus BizLab India, a global aerospace accelerator which is part of Airbus, for establishing the Aerospace Innovation Centre in Thiruvananthapuram.
Under the agreement, the Airbus will provide support and mentoring for startups in Kerala and conduct regular workshops and discussions with experts from the aerospace and defense sectors.
Further, the France-headquartered company, which has set up facilities in Bengaluru, Toulouse (France), Hamburg (Germany) and Madrid (Spain) to create a global network of business accelerators, is to run training programmes to acquaint participants with aerospace technologies. www.uniindia.com
SAR remote sensing experiment site unveiled in northern China
A synthetic aperture radar (SAR) remote sensing experiment site was unveiled in Zhangjiakou, northern China's Hebei Province, according to the China Science Daily.
The experiment site, covering an area of 46,000 square meters, has a comprehensive remote sensing experiment center and a remote sensing information center.
Operated jointly by the Chinese Academy of Sciences and the city of Zhangjiakou, the experiment site is a platform to conduct remote sensing technology research and push forward the transformation of innovation achievements. www.xinhuanet.com