GPS import in India – Derestricted
Jun 2005 |
Comments Off

on GPS import in India – Derestricted
The order issued last year to de-restrict the import of GPS and DGPS receiver is a boon to the GPS market in India. However, some of us are unaware of this development despite the fact that the notification was issued in January 2004, and this information is available at the website of Directorate General of Foreign Trade (DGFT), Government of India.
The black
Four years ago, in 2001, while attending a conference on GPS in Delhi, I came across a debate where some participants insisted that to import GPS one needs a license as they were categorized as 'restricted'. Other disagreed, and many were unaware. In fact, those that claimed restriction were correct.
Again, in January 2005, in another conference on transport and navigation in Delhi I witnessed the same debate where some insisted on the need of licenses for GPS import. This time, they were wrong.
I took it upon myself to find out the facts. I went through a few notifications issued by DGFT.Vide notification No 27/ 2003 – Cus, dated 1 – 3- 2003, one can see that GPS and DGPS receiver are put under exim code 8526 93 00 as restricted. The GPS and DGPS receivers are under broad category 8526. Exim Code 8526 that deals with Radar apparatus, radio navigational aid apparatus and radio remote control apparatus.
If the DGFT puts any item under restricted category of import, that implies that one needs to get a license before importing the instrument. Implied also are the associated hassles of dealing time wastage, an often insensitive bureaucracy and even corruption.
The White
The change in policy came vide notification no 29/ (RE – 2004)/ 2002 – 2007, New Delhi dated 28th January, 2004, Amendments the ITC (HS) Classification of Export and Import Items 2002 – 07, the policy regarding GPS and DGPS receiver changes from restricted to free.
The Ministry of Communication, governs the policy formulation regarding GPS. It is on their recommendations that DGFT effects policy changes. This change of policy is surely a recognition by the Government of India of not only the importance and potential of GPS but its increasing usability, applicability, and demand in India.
The Grey
There is no doubt that the import of GPS and DGPS receiver are free. However, we look at the latest information available on the DGDT website (http://dgft.delhi.nic.in), ITC (HS) as notified by August 31, 2004, we can see the change in the exim code for GPS itself (from 8536 93 00 in the notification issued in January 2004 to 8526 91 90 in the notification issued in August 2004 where GPS and DGPS were put under the category of 'others' other than GPS and DGPS per se as used to be earlier). I assume it is only for a more rationalized classification.
The other grey area is the use of GPS for Real Time Kinematic (RTK) Survey where one needs to operate at a particular radio frequency spectrum between the base and roving station. And it is here where Wireless Programme and Coordination (WPC), another division of Ministry of Communication has a role to play. Does it mean a tedious process of acquiring a license and associated hassles? Coordinates will try to contact WPC on this to find the answers.
Meanwhile, it is time to celebrate the era of de-restriction.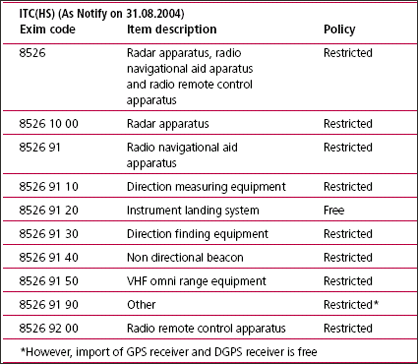 Bal Krishna, Editor

bal@mycoordinates.org