GIS makes geography alive
"Geography is our platform for understanding the world," said Esri president Jack Dangermond in his opening remarks at the 2012 Esri International User Conference, held July 23–27 in San Diego, California, "and GIS makes geography come alive by condensing down data and knowledge into a kind of language that we can easily understand."

Dangermond went on to talk about Geography as a Platform (GaaP), a GIS-based environment he envisions that will deliver enabling technology to anyone, anywhere, on any type of device. He indicated that ArcGIS Online, Esri's cloud service, is a fundamental component of the GaaP concept because it promotes platform interoperability.
Keynote speaker Julia Marton- Lefèvre, director-general of the International Union for Conservation of Nature (IUCN), addressed the problem of species loss and talked about the IUCN Red List of Threatened Species map portal that accesses a vast dataset of 40,000 georeferenced species. Another plenary speaker, Peter Carlisle, mayor of Honolulu, Hawaii, discussed how his city used ArcGIS and Esri CityEngine to look at the impact of population growth on Honolulu's public transport network. Bruce Wong, manager of network analytics at General Motors, shared how successful location analytics helped transform the company.

During the technology workshops, Esri's technical support team demonstrated new tools, workfl ows, and applications available in ArcGIS 10.1. A key benefi t is the creation of an interactive common operating picture, which incorporates web applications created on ArcGIS for Server, and Software/Data as a Service provided by ArcGIS Online.

The more than 15,500 attendees had a number of opportunities to share their work, including the User Software Applications Fair, Map Gallery, Lightning Talks, and moderated paper sessions. At the GIS Solutions EXPO, many users joined the Handson Learning Lab and watched product and application demonstrations.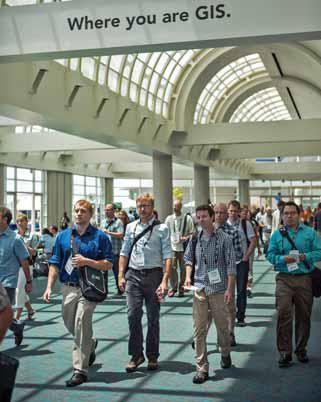 The annual awards presentation is an eagerly anticipated part of the conference. This year, the Lifetime Achievement Award was presented to renowned landscape architect Stephen Ervin, while the President's Award acknowledged the work of the US Environmental Protection Agency. Two Making a Difference Awards were presented this year: one to the Trust for Public Land and the other to Mayor Carlisle. The US Geological Survey was given a special mention for its 40-year-old Landsat program and thanked for making this data available for free. In addition, Esri celebrated the outstanding work of more than 160 businesses, governments, and organizations around the world at the Special Achievement in GIS Awards ceremony. During the closing session, awards for selected maps exhibited in the Map Gallery were presented.
Esri staged fi ve concurrent conventions this year in conjunction with its User Conference: the Esri Business Summit, Survey Summit (jointly with the American Congress on Surveying and Mapping Annual Conference), Esri Homeland Security Summit, Global Marketing and Sales Summit, and Esri Education GIS Conference.
Juliana Rotich, cofounder and executive director of Ushahidi, spoke on crowd mapping, citizen science, and participatory learning during a special presentation at the education conference. Based in Nairobi, Kenya, Ushahidi— which means "testimony" in Swahili—supports map-based, crowdsourced data collection for the democratization of information. Esri is a longtime supporter of Ushahidi and recently released the ArcGIS Add-in for Ushahidi.
While the User Conference is now concluded, it is still possible to learn about the latest trends and GIS technologies that were discussed. The conference website, esri.com/uc, is a valuable resource for viewing the plenary talks, listening to technical session podcasts, and reading conference proceedings such as user presentations.
The 2013 Esri International User Conference will be held at the San Diego Convention Center July 8–12.
– Jim Baumann, Esri Writer