Fishermans Bend Digital Twin Project
| | |
| --- | --- |
| | Harnessing digital capabilities for Sustainable Urban Planning |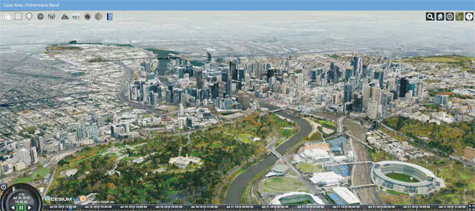 The Centre for Spatial Data Infrastructures and Land Administration (CSDILA) at the University of Melbourne, Australia, has been chosen by the Victorian Government Land Use Victoria, Department of Environment, Land, Water and Planning (DEWLP), to design and develop a Digital Twin of Fishermans Bend, a significant precinct set to be the largest urban renewal project in Australia, covering approximately 480 hectares in the heart of Melbourne. Fishermans Bend comprises five linked precincts across two municipalities (the City of Melbourne and the City of Port Phillip) and connects Melbourne's Central Business District (CBD) to the Bay. It is expected that by 2050, it will be home to approximately 80,000 residents and provide employment for up to 80,000 people.
A multi-disciplinary team from University of Melbourne lead by Professor Abbas Rajabifard, Director of CSDILA, is working closely with Victorian Government Land Use Victoria to design and develop an advanced geo-analytics and visualisation platform that will enable the capability to create 4D modelling of all physical assets design and condition (above and underground), including precise location and legal boundaries, enabling better decision-making about how to manage current and future infrastructures.
The team is building a Digital representation platform of the past, current, and future of Fishermans Bend, as an innovation and interdisciplinary collaboration project, to enable government and wider industry with a series of applications. In the land administration domain, this unique platform will allow its users to investigate and demonstrate the benefits of a 3D cadastre and to digitally enable integrated planning through the development of a Digital Twin.
A Digital Twin is an intelligent digital replica of reality bridging the virtual and physical worlds. By connecting realtime data to the virtual world, the digital replica can change simultaneously with the physical entity. By adopting a virtual model, various scenarios can be modelled prior to being implemented in the real world. This digital innovation can positively impact various industries with a need to conduct simulation modelling, by reducing the cost of development and maintenance. It is also a great communication tool for users, in every industry, to understand the changes and effects of various phenomena. In essence, Digital Twins are the foundation for how businesses and ecosystems will operate in the future. Through this intelligent project, we can use Artificial Intelligence to improve how we make decisions, how we get around, and how infrastructure is planned.
Building and Implementing a Digital Twin increases the reliability of systems and processes by integrating realtime data, identifying and reducing risk factors, allowing for simulations to analyse the impact of different events such as construction of new infrastructure as well as to enable more efficient planning. The main challenges encountered in implementing Digital Twins includes a lack of efficient platforms to support requirements of Digital Twins for different industries, limitations of required data – particularly regarding real-time data availability, the organisation of data ownership, the integration of different types of data and having up-to-date and accurate map data (road networks, road attributes, land parcels, building footprints, building height, DTM, traffic, venues, public transit data, green areas and so on) as a foundation of a digital twin. To overcome such challenges, it is imperative to have a broad and in-depth knowledge of the target industry.
The Fishermans Bend Digital Twin Project is an opportunity to lead the generation of scientific evidence and prepare for the challenges ahead. It will allow us to encompass a better understanding of our changing environment and to support our societies using location intelligence technologies. It is also a step towards addressing a range of unresolved challenges confronting urban renewal, city planning and digital cadastre modernisation. By collaborating with a number of key stakeholders, the objective of the project is to develop, validate and show case a multi-disciplinary (and cross-government) testbed for addressing the challenges involved in aggregating, managing and visualising complex and multi-faceted (4D) digital information about cities in an interoperable way. The intended purpose of the testbed is to provide a foundation upon which various government stakeholders can build intelligent, innovative digital information systems (either independently or collectively) that will satisfy future (whole-of-government) initiatives for the coordinated management of smart, sustainable and liveable cities, suburbs and regional centres.
The project adopted FAIR Data Principles (Findable, Accessible, Interoperable, Reusable) and enables the spatial information to be searched, discovered, aggregated and visualised seamlessly, irrespective of database management system, data model, data content (raster, vector, metadata, etc.), data server or preferred application.
By leveraging capabilities and technical resources in Spatial Data Infrastructures (SDI), 3D Cadastre, Digital Engineering, and spatial enablement of the urban and regional planning and decision making, and in close collaboration with wider government and industry, the Fishermans Bend Digital Twin project is a model of an innovative ecosystem that enhances Victoria's liveability and Melbourne's goals as a smart and sustainable city. The project has establish and promote:
▪ a collaborative environment comprised of relevant stakeholders across state and local government to foster information and data sharing, innovation and addressing challenges common to all
▪the modernisation of land administration by implementing 3D land and property information
▪a more responsible approach to the urban renewal and precinct planning activities to maximise the achievement of sustainable future for all
▪ United Nations Sustainable Development Goals realisation in Australia.
The design team is pioneering stateof- the-art technologies to integrate multi-dimensional data, visualise and interact with multi-sources information to modernize the urban planning and land administration. The Fishermans Bend Digital Twin project will ensure a more responsible approach to the urban renewal and precinct planning activities, and provide the foundations for a live testbed that will in turn support the achievement of a sustainable future for all.
The project started in June 2019, and was launched on August 23 2019 by the Victorian Minister for Planning Hon. Richard Wayne MP, to showcase the earlier capabilities. Over the first three months, the project has progressed very well and already showing how to bridge the gap between the Physical and Virtual World, and also to test future scenarios and technologies using location intelligence technologies.
A showcase of capabilities of the Digital Twin Project can be seen in this news: https://youtu.be/UL-TuwTAi0g
or via the CSDILA homepage – from the News and events tab: http:// www.csdila.unimelb.edu.au/news/ digital-twin-launch-2019/
For more information about the project, contact Director of CSDILA, Prof Abbas Rajabifard, abbas.r@unimelb.edu.au
About CSDILA
CSDILA is a Research Centre committed to excellence in research, innovation and training with a strong focus on future-proofing research. We focus on modernization of land administration systems and the role of spatial information in supporting changing modern societies and spatially enabled government and industry. www.csdila.unimelb.edu.au