ESRI's user conference highlights new developments in GIS
Sep 2006 |
Comments Off

on ESRI's user conference highlights new developments in GIS
| | |
| --- | --- |
| | A report on the 26th ESRI user conference, 7 – 11 August, San Diego, USA. |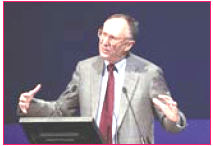 ESRI President Jack Dangermond set the tone for the company's 26th annual international user conference by announcing in his introductory address that, "This week is all about GIS, geography, and sharing our knowledge. You are working on problems that are international in scope including population growth, global warming, urbanization, pollution, public safety, and many other critical issues."
The imminent release of ArcGIS 9.2 attracted much interest among the 14,000 plus group of conference attendees. These enhanced features include improved tools and interfaces, support for sophisticated cartographic design, advanced modeling tools for image processing and analysis, and enhanced CAD support. Another new feature is geodatabase archiving, which allows the recording and display of changes over time that can be used with the new animation tools to create, play back, and export animations and animated graphics.
To demonstrate this new and powerful feature, information regarding the historical increase of children afflicted with asthma was displayed. Another dataset showed historical data about air quality in the areas where these children resided, and yet another dataset showed addresses of afflicted children in proximity to freeways. Bringing the datasets together in GIS to produce an animated historical map that showed changes in asthma cases, air quality, and freeway exhaust made correlations obvious.
Bob Kerrey, President of The New School and former U.S. Senator, delivered the keynote address. While in government, Kerrey spent some time examining the relationship between geography and public policy, which gave him insight into the effects of globalization with the relocation of people from agricultural communities to urban areas.
One of the many highlights of the conference was the awards ceremony honoring exemplary achievement in GIS application and implementation. The ESRI Presidential Award is one of the company's most distinctive honors and is presented annually to an organization that has achieved a level of success that significantly expands its application of GIS technology. ESRI President Jack Dangermond personally selects the organization that receives the award. This year, the award was presented to The Ordnance Survey of Great Britain. Accepting the award on behalf of the organization was Dr. Vanessa Lawrence, the Ordnance Survey's Director General and CEO. Observes Dangermond,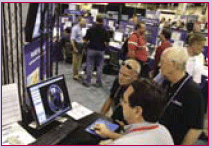 "Great Britain's Ordnance Survey has developed one of the largest, most successful GIS's I have seen. The organization has transformed itself from providing a traditional mapping service to that of a complete geospatial organization to meet the growing needs for GIS services in the United Kingdom." Other awards included the ESRI Lifetime Achievement Award, which was presented to Larry Smarr, Director, California Institute of Telecommunications and Information Technology, University of California, San Diego. In presenting the award, Dangermond described Smarr as the "leader of the supercomputer movement."
Distinguished Service in GIS Awards were presented to Dr. N. Vijayaditya,
Director General and Dr. Vandana Sharma, Sr. Technical Director, both of the National Informatics Centre of India, and Lt. General James R. Clapper, Jr., U.S. Air Force (Ret.); Former Director National Geospatial- Intelligence Agency (NGA).
Other conference highlights included product updates and discussions by senior ESRI product managers, one-on-one consultations with GIS software experts, more than 300 technical workshops on ESRI software, more than 1,000 professional user paper presentations, an exhibit hall showcasing hundreds of GIS solutions, GIS user achievement awards, special interest group meetings, and regional user group meetings.
Concurrent ESRI user conference events included the Survey and GIS Summit and the Education User Conference (EdUC), as well as more than 40 pre-conference seminars and special training sessions. Dangermond indicated that, "The theme of this year's conference 'Geography and GIS–Communicating Our World' reflects both the maturation of the industry and its expanding impact on society in general.
"With the recent proliferation of GIS Web-based services, combined with new server technology, and intuitive, easy to use Web clients, GIS technology is poised for greatly expanded use by many who may not even be aware of the underlying technology they are using. They have problems to solve and research to perform and Web-based GIS presents the best medium to provide the necessary solutions or analyze results.
"In this context, GIS technology can be thought of as a new medium for communication, not unlike newspapers, radio, television, and the Web. Today, this medium is being used to help people better understand situations and events and work collaboratively to determine the best solutions. GIS can even assist in forecasting the future by means of predictive modeling.
"Over time, GIS will become more widely used in collecting, categorizing, refining and communicating our collective human knowledge and experience. This will provide many benefits to our global society by helping us better understand and direct our shared future."
Dangermond concluded his remarks by quoting the American cultural anthropologist, Margaret Mead, "Never doubt that a small group of thoughtful, committed citizens can change the world… indeed, it's the only thing that ever has."