Conference connects GIS users worldwide
Oct 2009 |
Comments Off

on Conference connects GIS users worldwide
| | |
| --- | --- |
| | 2009 ESRI International User Conference draws more than 12,000 attendees |
| | |
"Thank you for attending this year," said President Jack Dangermond, ESRI, as he welcomed attendees at the 2009 ESRI International User Conference (ESRI UC). "Many things have taken place over the last year, and I'm particularly grateful you are here with us today. I know some of you came on your own money and traveled halfway around the world–I can't say how much I appreciate that."
Despite tight budgets and a bad economy, more than 12,000 members of the ESRI user community traveled to the San Diego Convention Center in California, July 13–17, for the ESRI UC–the largest geographic information system (GIS) conference in the world–to learn about the latest developments in GIS and network with colleagues. The conference theme was GIS–Designing Our Future, and the activities kicked off with an impressive Plenary Session that highlighted advances in GIS and the remarkable work going on in the GIS community. Before thousands of attendees, Dangermond honored the Special Achievement in GIS (SAG) Award winners and presented distinguished awards for exceptional use of GIS technology. Dangermond presented the Making a Difference Award to Dr. K. Kasturirangan, member (science), Planning Commission, Government of India, for his groundbreaking use of GIS in India's space program. "He makes a difference because of the integration of remote sensing into GIS and also the tremendous focus he's created on applications," said Dangermond. CenterPoint Energy, Inc., received the Enterprise Application Award for the organization's remarkable response to those affected by Hurricane Ike, and Governor Martin O'Malley of Maryland was awarded the coveted ESRI President's Award.
Dangermond then shared his vision for ESRI. Staff showcased the capabilities available in ArcGIS 9.3.1 and offered a sneak preview of the soon-to-bereleased ArcGIS 9.4 highlighting its performance and usability enhancements. ESRI's Christophe Charpentier took the audience on a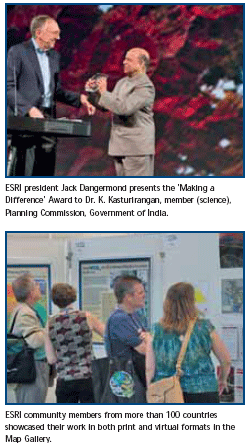 virtual tour of the wealth of content available through ArcGIS Resource Centers. ArcGIS Online product manager Rob Shanks demonstrated how attendees can begin using ArcGIS Online as a collaborative mechanism to find other people's content, share their own content, create groups, and grant access to those who want to join a specified group.
Later, attendees were encouraged to volunteer their time and expertise to help students develop GIS skills by becoming a GeoMentor. The plenary concluded with muchanticipated Keynote Addresses from economist Hernando de Soto, biologist Willie Smits, and the United States Census Bureau's Timothy Trainor.
The week progressed with hundreds of user presentations, technical and industry sessions, and workshops. Special Interest Group and Regional User Group meetings organized by industry, field, region, or area of interest facilitated networking among attendees. Product demonstrations and conversations with ESRI staff took place throughout the ESRI Showcase. Attendees could meet with ESRI's Professional Services staff members to talk about specific projects. Additionally, more than 300 exhibitors were available in the Exhibit Pavilion to answer questions about their advancements and solutions.
As in years past, attendee participation was a pivotal element in the ESRI UC experience. User work was highlighted throughout the Map Gallery, Virtual Map Gallery, and User Software Application Fair.
Special displays from organizations such as the National Geographic Society and the State of Maryland illustrated how GIS is an essential tool in today's world. Attendees participated in Lightning Talks, which are new this year. These five-minutelong presentations demonstrated inventive applications based on ESRI Web and mobile technology.
Throughout the week, the GIS community formed new connections with one another and learned more about using GIS to support their activities. "This is a very exciting time," said Dangermond when addressing the large audience during the plenary. "It is a time when we can all leverage that reservoir of knowledge that you have built."
Caitlyn Mitchell

Marketing Communications,

ESRI cmitchell@esri.com