Discover the Advantages of the CONNECT Edition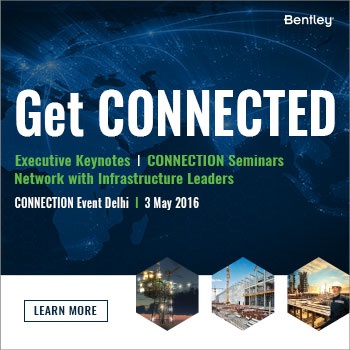 The Bentley CONNECTION Events 2016 will be held in 10 cities. These dynamic one-day events will provide infrastructure professionals with an expanded and in-depth understanding of capabilities and benefits of the CONNECT Edition, Bentley's current generation of infrastructure software.
2016 locations and dates for India are:
Delhi, India(May 3) | Hyderabad, India (May 5)
At a CONNECTION Event, Bentley executives will show how to connect people, processes, and projects for comprehensive project delivery to bring infrastructure projects to fruition on time, on budget, and with less risk.
Advancing Infrastructure | Advancing Project Delivery
|Comprehensive Worksharing for High Performance Project Delivery |
Bentley subject matter experts and application engineers will provide demonstrations and benefits of some of Bentley's most popular software applications, discussing local industry trends and highlighting best practices and the latest technologies. Topics vary by city, but will include up to four sessions to choose from in each location.
Civil Design | Geospatial | Pipe Stress and Vessel Analysis | Structural Analysis
Visit www.bentley.com/connection16for details and full agendas for each city*