A war on two fronts for the PND
| | |
| --- | --- |
| | In the ever-competitive world of technological convergences and advancements, the PND is not evolving at the same pace |
Zhong Ming Ng

Consultant,

Point Consulting,

Singapore
Much has already been written about how the smartphone is sounding the death knell for the personal navigation device (PND), and indeed, traditional PND manufacturers have struggled to cope with this new threat – most are bleeding badly from their PND units. True enough; the highly competitive smartphone market has seen significant development and vibrancy over recent years, as manufacturers claw tooth and nail for market share. In contrast, in the ever-competitive world of technological convergences and advancements, the PND is not evolving at the same pace.
As if coping with the rise of smartphones offering increasingly sophisticated navigation and location-based services was not bad enough, PND manufacturers now face a greater threat to their existence – the in-car navigation system that will soon be a factory-installed part of every automobile sold. The observers who have predicted the extinction of the PND with the advent of increasingly 'smart' smartphones are now sounding the death knell for the PND even louder, and with good reason.
With the smartphone, PNDs can still keep their heads above the water, albeit barely, by the simple, yet key advantages of sheer screen size and functionality in a vehicular setting. This advantage, however, does not hold at all against the in-car navigation system, which indeed promises clearer guidance, better GPS reception, and even the integration of live data on traffic and weather conditions, amongst other propositions which range from voicecontrolled music players to restaurant recommendations. Most, in a prescient move, will also have smartphone integration.
Such systems are fast gaining a foothold in the navigation market, and will most likely become mainstream in the very near future. It has been predicted, for example, that Internet-connected vehicles will exceed 90 million in four years, driving a US$14.4 billion marketi.
Essentially, the PND is facing a ferocious market war on two fronts. On these two fronts, it looks like the in-car navigation system will most likely be the more direct threat that finally consigns the PND to the history book of old inventions.
Before we can confidently call winners and losers, however badly the tide may seem to be turning against the venerable PND, it might still be prudent to have a look at the current state
of the in-car navigation system, as well as that of the PND and how it might react to this very real war on two fronts for a share of the lucrative navigation market.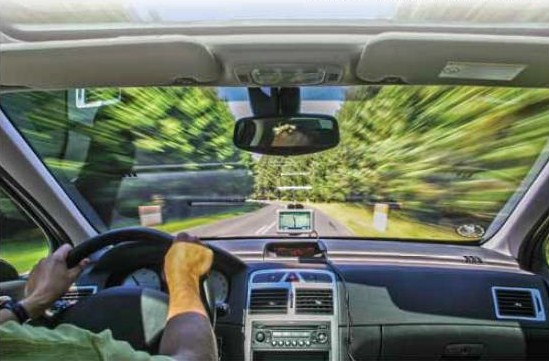 In-car navigation system– the final nail in the coffin for the PND?
Most observers have virtually taken it for granted that the in-car system will sooner than later eliminate the PND.
Yet, to be realistic, as of now most manufacturers are struggling to come out with an integrated system that can both withstand the extreme temperature fluctuations and vibrations in a vehicle, as well as provide reliable, accurate navigation with a passable in-built entertainment system. It is not an easy task, when all this has to be user-friendly as well have the mass market appeal automobile manufacturers are looking at.
For now, a quick Google search for 'proprietary in-car navigation systems' has as its top result, 'Why proprietary incar navigation systems need to die', in a tech review article published in June this year, which has since been re-circulated with some fanfare onlineii. The review cites that they are 'behind technologically' compared to the smartphone, and are bundled into an expensive package which add cost to the vehicle (a recent analysis puts this at 30-50 times the cost of a conventional PNDiii). Furthermore, they are not yet well-integrated with other functions and are rendered obsolete quickly compared to the average lifespan of a vehicle, or else painstaking and expensive to update. In other words, there is not yet any clear competitive advantage over traditional PNDs.
It is, however, as the ever-optimistic tech advocates say, just a matter of time. And this is true – for PND manufacturers, the question that will no doubt cause them some sleepless nights is likely to be, how quickly can the car manufacturers catch up?
In the current world of tech, it is probably just a short time. In four years (2016), for instance, it has been predicted that most cars will be 'connected cars' with smartphone integration, opening up 'a whole new market to telematics'iv.
During this time, however, traditional PND manufacturers will not be sitting still – the two giants, Garmin and TomTom, have effectively taken the battle to their competitors by offering their navigation platforms to automotive manufacturers struggling to master the navigation function in their complex in-car systems.
This strategy has met with some success due to the well-honed competitive edge in navigation platforms that PND manufacturers still possess vis-à-vis automobile or smartphone manufacturers.
Jack of all trades, master of none – is integration necessarily a good thing?
Smartphone and automobile manufacturers almost inevitably tout integration as the new tech buzzword, the 'next big thing', but is integration and building increasingly connected and complex systems necessarily a good thing?
A question still worth considering is that, on the point of navigation while driving, does the consumer simply want a simple, reliable device that gets him from Point A to B, effectively and safely? A recent US market study conducted by J.D. Power, which is a good bellwether for consumer sentiment in a developed and technologically-advanced market, indicates that consumers like familiarity, and prioritise functionality and ease of usev. Ironically, in-car systems that try to integrate navigation with audio and other features were singled out for dislike.
While manufacturers have rushed ahead in their enthusiasm to create more and more connected systems, the study finds that the cornerstone of in-car dash systems, namely navigation and routing itself, remains problematic and 'is obviously an issue and will continue to be'. Again, ironically, this fundamental shortcoming was noted to be more serious when manufacturers tried to integrate navigation with entertainment features.
Significantly, the 2011 J.D. Power US Navigation Usage and Satisfaction Study of in-car systems found that the Dodge Charger's factory-installed Garmin navigation system was best in owner satisfaction. It's winning points? It has a large 8.4 inch screen, was familiar-looking and easy to use – essentially it was a Garmin PND installed in-dash in the factory.
In other words, PND-based systems are simple, user-friendly and effective – traditional PND manufacturers in effect make a strong case for inclusion as the bedrock of any reliable in-car navigation system. In a move that foreshadows this possible future trend, Mazda and Fiat's sports car arm Abarth have recently also announced partnerships with TomTom to capitalize on its familiarity with consumers and expertise to provide the in-car navigation platform.
In short, the core propositions of traditional PND manufacturers – namely, reliable and functional navigation and routing are critical areas that form their key competitive advantage, and these need constant development and improvement, especially as the PND platform could potentially form the bedrock of any reliable in-car navigation system, if PND manufacturers play their cards right. Such a move will clearly help PND manufacturers not just survive, but indeed thrive in the navigation industry, and maybe even see off the persistent smartphone threat through a dedicated in-car platform.
Evolution and competitive advantage
Another direction that the PND is taking, other than making a strong proposition for integration into in-car systems, is toward the connected PND – a product area that is experiencing strong growth while traditional PND sales have fallenvi.
This trend can be seen in both the dominant PND manufacturers, namely Garmin and TomTom, which have invested much in the connected PND. In particular, Garmin's recent Smartphone Link app, linking the PND with the smartphone, thereby removing the need for any additional data subscriptions, presents a compelling vision of the future of the PND.
Perhaps some lessons can also be picked up from the All-in-One (AIO) personal computer (PC), an evolution of the traditional desktop which has seen its market growing strongly (by over 35% per year) even when the desktop faces market extinction from the combined threat of laptops, smartphones, and tabletsvii. The all-in-one PC essentially strikes a comfortable middle ground between desktops and laptops/tablets.
The connected PND could perhaps take a leaf from this strategy and position itself as a functional and very attractive alternative to both the smartphone (too small, issues with connectivity, difficult to use in-car) and the in-car navigation unit (not portable, less userfriendly and user-oriented, difficult to update and upgrade, too expensive).
The way forward
Going by the direction traditional PND manufacturers are taking, into both integration (into in-car systems) and evolution (into the connected PND) leveraging on their core competitive advantages, it is perhaps too early still to take the demise of the PND as a given – it may yet evolve or integrate into a 'new' product that could still prove to be competitive and relevant, especially given the clear flaws that are holding both the smartphone and the in-car unit back in the navigation market, where, after all, navigation and getting right, up-to-date, and easy-to-use directions is key.
_______________________________________________
i Juniper Research – http:// juniperresearch.com/ viewpressrelease.php?pr=292
ii ZDNet – http://www.zdnet.com/blog/ perlow/why-proprietary-in-carnavigation- systems-need-to-die/20650
iii MotorTrader.com – http://www. motortrader.com.my/news/demandfor- in-car-navi-systems-to-grow/
iv Juniper Research – http:// juniperresearch.com/ viewpressrelease.php?pr=311
v USA Today – http://content.usatoday. com/communities/driveon/ post/2011/11/study-motoristsblast- flaws-of-cars-navigationsystems/ 1#.UFmZcI3iYaw
vi HIS iSuppli Market Research – http:// www.isuppli.com/Automotive- Infotainment-and-Telematics/ MarketWatch/Pages/Garmin-Betson- New-Smartphone-App-for- Connected-PND-Market.aspx
vii ZDNet – http://www.zdnet.com/ blog/computers/the-all-in-onepc- is-alive-and-well/8099
| | | |
| --- | --- | --- |
| | | |
| | My Coordinates | |
| | Conference | |
| | Mark your calendar | |
| | News | |