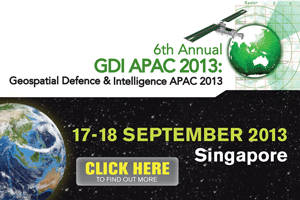 Geospatial Defence & Intelligence Asia-Pacific 2013 will bring together senior GEOINT top-level decision-makers, policy-makers, key influencers, and operational end-users to address best practice solutions for obtaining high-quality data and will discuss specifics on how large volumes of information can be transformed into action, integrating intelligence from multiple sources to form a real-time, reliable operating picture.
This event will let you:
MAP THE TOPOLOGY: Enhance your knowledge on how regional agencies are using GIS to support mission planning, command-and-control and tactical operations
IDENTIFY: How your geospatial processes can be cost-effectively improved and optimised
GEOREFERENCE: Learn more on the regional marketplace! We will introduce you to buyers and what they are looking for
COORDINATE: Discover new strategies for combining multiple data types and formats efficiently to create an accurate operating picture
DON'T REMOTE SENSE WHEN YOU DON'T HAVE TO – Meet fellow geospatial experts in-person and create meaningful business relationships!
15% discount for readers! Quote "Coord15" when you contact us at enquiry@iqpc.com.sg or at +65 6722 9388.