"We can't leave our security to any other country"
| | |
| --- | --- |
| | -S Jaipal Reddy, Union Minister for Science and Technology and Earth Sciences, India at NAVCOM 2012, Hyderabad |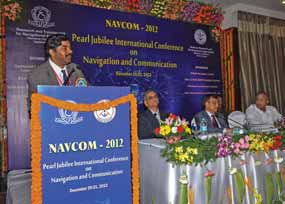 The International Conference on Navigation and Communication (NAVCOM-2012) was held during 20 -21 December, 2012 at Hyderabad.
The chief guest Dr V K Saraswat, DRDO Director Generalans SA to RM, inaugurated the conference on 20th December, 2012. Later Talking to reporters on the sidelines of a conference, he said the India's own Operating System (OS) aimed at effectively preventing cyber attacks and threats would be ready in three years. Around 150 scientists and engineers have been working on the project at different places for the past one and half years.
Dr VK Saraswat said that the Indian OS was being developed as part of efforts to provide robust cyber security. The country needed to develop its own hardware and software systems in a big way.
Earlier addressing the conference, Sri Avinash Chander, Programme Director AGNI-V & CC R&D (MSS) called for developing cost – effective navigation systems. He said the DRDO was looking for a new class of systems with wide applications for both military and civilian use. The DRDO was upgraded its foundries for developing MEMS-based systems.
Mr A S Ganeshan, Project director, Navigation Systems, ISRO Satellite Center, Banglore said the GPS-Aided Geo Augmented navigation (GAGAN) will be ready for the users by the third quarter of next calendar year. He added that the Indian Regional Navigation Satellite System (IRNSS) with a constellation of seven satellites is expected to ready by the end of year 2015.
Mr G Satheesh Reddy, Associate Director, Research Center Imarat (RCI), said India was on par with advanced nations in developing navigation systems for both short range and long range missions with high accuracy. Osmania University Vice-Chancellor Prof. S. Satyanarayana and Prof A D Sarma, Director NERTU also addressed the delegates.
More than 450 delegates were present at the conference, including those from Israel, France, Russia and Australia. The conference was jointly organized by NERTU, Osmania University with DRDO, convened by Sri Manjit Kumar, Smt A Supraja Reddy and Sri V Satya Srinivas under the Chairmanship of Sri G. Satheesh Reddy and Prof A D Sarma.
Mr S Jaipal Reddy, Union Minister for Science and Technology and Earth Sciences speaking at the valedictory session of an international conference on navigation and communication emphasized that the research institutions and universities to forecast technological challenges and develop state of the art navigation and communication systems indigenously for the safety and security of the country.
The Minister said that the India is an ideal country for harnessing engineering workforce for the myriad needs of defence and civilian industries and for value added services. The country should create its own technologies apart from understanding the ones borrowed. "We can't leave our security to any other country, even if they are most friendly," as mentioned by Mr S Jaipal Reddy