"We are successful because our customers are successful with our products"
Mr. Alexander Wiechert

Business Director, Microsoft Vexcel Imaging GmbH – a Microsoft Company in an interview with Coordinates
Please describe how the photogrammetry business is in an evergrowing stage?
Traditionally, photogrammetry required significant manual effort, which limited its utilization. Since digital photogrammetry was introduced, there has been a constant improvement of the camera systems and the processing workflow. More data can now be collected and processed. The software has much richer feature sets and more meta-data are generated with a higher degree of automatization. The IT industry helped a lot, storage became cheaper and processing power increased. All this supported the growth of photogrammetry which is on-going.
Tell us more about the new UltraCam Osprey oblique digital aerial sensor system.
The UltraCam Osprey is a new oblique camera with a unique design. Competing oblique camera systems consist of just a set of standard tiled camera heads. This design probably does not deliver the best possible quality and efficiency. The UltraCam Osprey integrates a photogrammetric nadir camera with additional oblique images. It builds on the 3rd generation UltraCam architecture also used for the UltraCam Eagle and UltraCam Falcon. It features the same thirdgeneration UltraCam camera electronics, storage system, housing concept, and has UltraNav as an option. The specifications of the UltraCam Osprey are quite impressive – the photogrammetric nadir part of the camera features an almost 12,000 PAN pixels across the flight strip , a RGB color cone and a NIR cone (pan-sharpen ratio 1:2). This makes the nadir subsystem a highperforming photogrammetric camera that delivers sub-pixel accuracy. Additionally, the UltraCam Osprey hosts RGB Bayer pattern cones that collect forward/backward and left/ right oblique images. The centerline of the wing images are tilted by 45 degrees. The footprints have been designed in a way that the full PAN footprint of almost 12,000 pixels can be used for the mission planning and such that the wing images overlap sufficiently between the flight strips. Additionally, the left and right wing images overlap with the nadir image. This allows a significant improvement of the orientation of the wing images by a tie-point collection between the wing images and the nadir image. So the Osprey user benefits from the experience and rich feature set of the UltraMap software and can add the Osprey to an existing sensor fleet with minimal to zero ramp-up effort.

What significance does the launch of UltraCam Osprey and its benefits hold for the industry?
The UltraCam Osprey's unique design makes 3D city mapping more efficient and helps build better models with a higher degree of automatization. The Osprey is also used for the current 3D mapping projects of Microsoft/BING maps, and we are building up a larger ecosystem of Osprey flyers around the globe that we can subcontract for our flying. Through these programs, the industry benefits from the business we are feeding back.
'The UltraCam Osprey is the ideal sensor system for projects such as urban mapping and 3D city modeling'. Please explain.
With respect to these projects, the current camera market splits into two. We have a) photogrammetric cameras for nadir mapping and generation of accurate 3D geometry, and b) Bayer pattern based oblique cameras for texturing images. Both deliver good quality in their domain of use and are less suitable outside it. Certainly one can use the output of wide-angle photogrammetric cameras to texture not only the ground but also facades, but the result would be sub-optimal thanks to lower image resolution on facades. Also, it is of course possible to use Bayer pattern based RGB cameras to derive geometry from it, but that would also produce lower quality results due to the missing highresolution PAN channel. Especially if production of the 3D models shall be as automated as possible, it is necessary to collect high quality data in both domains (nadir and oblique). This led to a typical scenario that two flights have been required, one flight with the photogrammetric camera to get the geometry in upmost quality and a second flight with the oblique system for façade textures of the best possible quality. This is mere waste of resources. UltraCam Osprey combines a photogrammetric camera (PAN, RGB, NIR) with additional Bayer pattern RGB wing images, and thus addresses both domains in one camera. One camera, one flight and a versatile dataset with upmost quality in both domains.
Having been 10 years in the market, how has the UltraCam continued to remain ahead of its competitors? Do you still maintain the lead in the frame-based cameras sold worldwide?
We are, in fact, celebrating 10 years of UltraCam this year. The UltraCamD was first announced in 2003 at ASPRS in Anchorage. A lot has happened since then and the UltraCam series has been established as the leading photogrammetric digital aerial camera system. The competition stopped disclosing sales figures already years ago, but from our market intelligence, we believe that we have an over-all market share of around 50% and growing to around 60% of all new cameras sold per year are UltraCams. This success is based on a set of winning factors, such as the unique, underlying UltraCam design with multiple smaller CCDs, all nadir oriented, and synpotic exposure triggering. The result of this concept is a camera system with well-balanced, best-in-class specifications. Key is the parallax-free large or even ultra-large PAN image with sub-pixel accuracy and stunning radiometric dynamic you get due to the patented UltraCam design. Competing camera designs fail in at least one of that criteria. The next winning fact is our strong innovation path, combined with the upgrade program. We consistently increased the image footprint size much more quickly than the competition as well as the frame rate so that UltraCam users could fly more efficiently than others. Pixel collection rate of UltraCam along track and across track is unmatched—a significant benefit for the UltraCam users. With the UltraCam Eagle we introduced a camera system that has three different focal lengths implemented in an exchangeable lens system. Another strength is the UltraCam camera family. We now have a broad offering which allows the user to pick the camera system that fits best to its project landscape and budget. The upgrade program ensures that with changing demand, one can grow the camera system within the camera family. The processing software UltraMap is also a key factor. We implemented a rich set of outstanding features such as automated and distributed processing, monolithic stitching, project-based color balancing, automated haze removal, sun angle corrections, etc. With UltraMap 3.0, we introduced a dense matcher module for automated point cloud, DSM and DTM generation, and extended the workflow through an OrthoPipeline module for automated DTMortho and DSMortho processing. Project turnaround time becomes a winning factor for our customers and we are addressing this by focusing on an intuitive and integrated processing workflow, automated processing and a rich feature set. Thanks to development efforts that are done in alignment an in cooperation with the Microsoft BING maps project, we have a big push here with investments that feed back into the commercial UltraCam product line. And, lastly, besides all hardware specs and software features, our support is also a key winning fact. If things go wrong, we have calibration labs in the three major time zones, and the customer has access to our photogrammetric experts.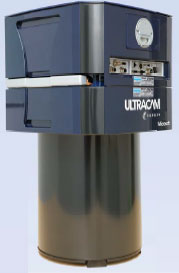 With your key customer, AEROmetrex collecting the 1,000,000th frames of UltraCam aerial imagery, what makes UltraCam digital systems so popular?
We are certainly proud to have customers like AEROmetrex and others who extensively used the UltraCam. The UltraCam is popular because it is a high-performing and unique camera system. The image quality is stunning with respect to geometry and radiometry. We believe that our innovation is unmatched. UltraMap is such an impressive workflow system for image processing with a rich and innovative feature set and breathtaking software technology such as Dragonfly. We are successful because our customers are successful with our products.
Is it possible for old customers to upgrade their existing UltraCam with the latest one?
We always offered and will continue to offer a competitive upgrade path. Depending on the UltraCam model you are moving up from, upgrade is possible either through refurbishment or through trade-in. This ensures that customers always stay at the forefront of technology for the benefit of their business and to retain the value of their investment. This fall, we released the UltraCam Hawk, a system that replaces the UltraCamLp, that features similar specifications as the UltraCamLp as far as image footprint and lens focal length but that takes advantage of the third generation UltraCam architecture of the Falcon and Eagle. This brings significant improvement to the entry level UltraCam, including the ability to be upgraded to either a Falcon or Eagle, and allows customers to select a system that meets their present business needs, budgets and upgradability through refurbishment as those needs and budgets evolve.
With technical advancements on the rise, do you think it invades the privacy of the public? Are there any legal conditions laid down to the civic use of your products?
Privacy is an important topic. Cameras can now collect really impressive resolutions from the air. Privacy requirements vary from region to region and we have everything from total restriction to complete freedom around the globe. Thus, it is upon the camera operator to address these local requirements.
How does Vexcel Imaging aid in the development of Microsoft's Bing Maps?
With substantial know-how of the UltraCam team in Graz, we play an essential role in the development of BING maps. Naming just a few, we developed the UltraCamG exclusively for the Bing Maps GlobalOrtho project which enabled Microsoft to map and publish online the entire USA and Europe at 30cm resolution in just two years. Additionally, we are responsible for a lot of software research and development for BING maps.
How do these two businesses (Bing Maps and UltraCam) support each other?
This is indeed a great combination that benefits both Microsoft and the UltraCam business as well as the community. We are a R&D center for BING maps and are helping Microsoft develop BING maps by developing specific camera systems and specific software for 3D modeling. We are also responsible for key research for 3D modeling algorithms which will help Microsoft generate the 3D models for the BING platform. Over time, the innovations we bring to Microsoft spin off into the commercial product line and the customers benefit. A current prominent example is the Dense Matcher technology that we developed for Microsoft which was released in January 2013 as a module in the commercial UltraMap software system. That makes this incredible feature now available to all UltraCam customers. Also, Microsoft acts as a customer to the community, contracting a lot of flying project work to the UltraCam customer base to acquire data for BING maps.

Which markets are you looking at expanding with UltraCam's products & services?
We are already globally present, either directly or through our network of partners. Since 2003, we have manufactured and shipped almost 300 cameras world-wide. This is an industry record and consequently there are UltraCam systems flying all over the world. Having said this, the markets are in different stages. Whilst Europe is somewhat saturated and more in an 'update' instead of an 'expanding' mode, other markets such as Asia, China or India and Africa are in a fast-growing mode or still in an infant stage.
How is Vexcel Imaging's experience helping in running projects such as the Global Ortho Project? Could you tell us more about this project?
This project was performed by Microsoft to collect a consistent dataset of Western Europe and USA at 30cm resolution for the BING maps platform. We developed a very specific camera system, the UltraCamG, for this project. High-altitude ortho mapping has very specific challenges due to the huge amount of atmosphere between the camera system and the ground, such as color shifts. As the UltraCam collects images in RAW format, we have all the potential to correct for that during post processing. These algorithms have also been implemented into UltraMap and now support the highaltitude mapping of the Eagle f210.
With the opening of the UltraCam Calibration and Service Center in Singapore last year, which countries does it cater to?
The lab in Singapore serves the broader Asian Pacific region. However, thanks to our setup with three calibration labs world-wide, we can nicely balance workload. If required, depending on the workload of the individual labs, we can direct cameras to labs with a currently lower workload to optimize on utilization to ensure quickest turn-around for the customer.