UGI 2011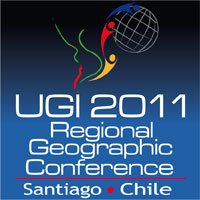 "United and integrated with the World": this is the slogan for the Regional Geographic Conference (UGI 2011) to take place in the city of Santiago, Chile, on the 14th to the 18th of November, 2011. UGI 2011 will gather geographers and professionals involved with the geo-sciences from all around the world.
The International Geographic Union (recognized by ICSU and UN) provides the identity under which UGI 2011 is being structured at world level, while the local organizing committee has its headquarters at the Military Geographic Institute (IGM), Chile's main geographic and cartographic state agency.
UGI 2011 presents a major opportunity for authors to present and publish their projects and research in papers, for geographers to network and coordinate, and for business organisations to promote their services involving the geo-sciences. The conference program includes presentations in session rooms, posters, a trade exhibition and IGU Commission meetings. Away from the venue, there will be both technical field trips and leisure tours. Chile offers a very wide range of natural environments along its extensive territory, also a variesty of cultures and human geography features in its cities, seaports and settlements. You are all cordially invited to Chile in 2011!!
Web site: www.ugi2011.cl
Contact e-mail: info@ugi2011.cl