The regional structure is vital
| | |
| --- | --- |
| | UN-GGIM: Arab States has excellent results from its inaugural meeting |
The inaugural meeting of the United Nations Committee of Experts on Global Geospatial Information Management Regional Committee for Arab States has been held in Riyadh, Saudi Arabia. Organised by the Secretariat of UNGGIM, in partnership with the Government of Saudi Arabia represented by the General Commission for Survey (GCS), the two day event attracted senior delegations from Algeria, Bahrain, Egypt, Jordan, the Kingdom of Saudi Arabia, Lebanon, Morocco, Oman, Qatar, Tunisia, United Arab Emirates and GCC-Stat.
The meeting, chaired by Dr Vanessa Lawrence CB, Co-Chair of UNGGIM, was successful in electing an Executive Bureau. They also agreed on a work plan that ensures there is an integrated working agenda in the Arab States region between the new regional entity and the global Committee of UNGGIM. The four main Working Groups decided by the regional Committee build on the issues already identified by the global Committee of Experts and will help shape the region's contribution to UNGGIM.
The meeting opened with a Welcoming speech by His Excellency Morayyea Hassan Al Sharani, President of the General Commission of Survey and Chairman of the National Committee of GIS, Saudi Arabia. This was followed by short speeches by Amor Laaribi from the UNGGIM Secretariat and Dr Awni Khaswanah, one of the members of the transitional bureau, whilst UNGGIM: Arab States was being established.
Following discussions it was decided that four Working Groups would be established. The inaugural meetings of the Committee and the Working Groups have been set for 8th-10th June 2015 in Algeria. The Working Groups are as follows:
WG1: Institutional Arrangements, Legal and Policy Issues, Awareness and Capacity Building
WG2: Fundamental Data and Geo-Standards
WG3: Geodetic Reference Frame
WG4: Integration of Geospatial & Statistical Information
Elections were held in the middle of the second day for the roles of Chair and ViceChairs of UNGGIM: Arab States to lead the Executive Bureau. The Region appointed Saudi Arabia to be elected as their Chair and Algeria and Jordan to be Vice-Chairs. The General Commission for Survey of Saudi Arabia has accepted the proposal to assure the Secretariat of the Committee. Following the elections, His Excellency Morayyea Hassan Al Sharani kindly took over the role of Chair for the remainder of the meeting.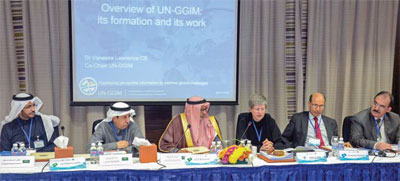 A further meeting of UNGGIM: Arab States is scheduled in New York during the Fifth Session of UNGGIM in August 2015 (3rd-7th August 2015).
Dr Vanessa Lawrence CB, Co-Chair of UNGGIM said on conclusion of the meeting: "Since UNGGIM was first convened in 2011 we have established firm foundations. The regional UNGGIM structure is now fully established in Asia Pacific, the Americas, Europe and now the Arab States region and is near to finalising its establishment in Africa. The regional structure is vital for decisionmakers globally to know where to turn to in each region for expert advice and thoughtleadership on matters related to geospatial information and place-based decisionmaking. It also will help to realise the vision of UNGGIM – "To make accurate, reliable and authoritative geospatial information readily available to support national, regional and global development."
His Excellency Morayyea Hassan Al Sharani, the inaugural Chair of UNGGIM: Arab States on behalf of Saudi Arabia said following the meeting: "Saudi Arabia is very honoured and proud to be elected as the first Chair of UNGGIM: Arab States and we will do our best to fulfil this role with the care and attention required, to ensure we liaise with colleagues throughout the region. We look forward to working with our colleagues in UNGGIM: Americas, UNGGIM: Asia Pacific, UNGGIM: Europe and the transitional team from Africa. Saudi Arabia truly believes that accurate, reliable, authoritative geospatial information is important to the region and to the globe. We know that accurate geospatial information already assists better decision-making in infrastructure and construction planning, water management, food supply, agricultural planning and sustainable energy. Finally, I should like to thank Dr Lawrence and Mr Laaribi for helping us organise this inaugural meeting" http://ggim.un.org/