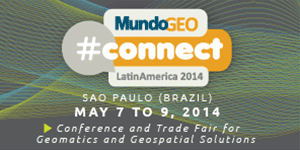 MundoGEO is a leading media and communication company in Latin America . It was founded in 1998 and nowadays it has multiple communication channels such as: magazines ( printed and digital ) , web portal, webinars and online courses . Everything in ​​Portuguese and Spanish.
Our database has over a hundred thousand registered professionals . We Also promote annually in São Paulo, the largest event for the sector of Geomatics in Latin merica , MundoGEO # Connect LatinAmerica . The last year event had over 3,500 participants from 25 countries , 120 speakers and 70 companies at the fair .
MundoGEO#Connect LatinAmerica 2014 will be held at the Frei Caneca Convention Center in Sao Paulo, Brazil, and will provide 36 courses, seminars, special events and professional meetings, which will take place during four days – including the pre-event on May 6. In 2014, the participant will be able to choose exactly which topics and days he wants to attend. By subscribing in two activities, the third one will be free. MundoGEO#Connect trade fair will have free access.
For further information check out www.mundogeoconnect.com/2014/en/ or by e-mail connect@mundogeo.com.