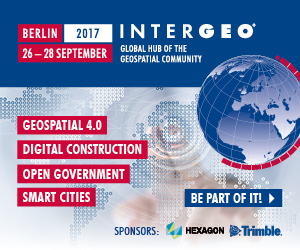 26 – 28 September, Berlin, Germany
INTERGEO is a meeting point for experts and decision-makers from the worlds of politics, science and industry on an international stage in Germany's vibrant capital.
Use the trade fair and conference to experience and discuss GEO IT's constantly evolving applications and future trends. Entirely in keeping with its long-standing motto "Knowledge and action for planet Earth", the event in Berlin will cover ground-breaking developments and applications with drones plus hot topics such as smart cities and digital planning/building projects (building information modelling), including virtual and augmented reality. With COPERNICUS as one of its headline topics, this year's conference acknowledges the growing importance of remote surveying from space. Very aptly given that Berlin is hosting the event this year, open data and open government are further key focal points:-
COPERNICUS – With the successful launch of Sentinel 2B and Germany's CODE-DE platform, which has now been activated, satellite data is increasingly becoming a focal point of numerous new applications. This applies equally to surveying and cartography. The conference sheds light on these developments, also emphasising European aspects.
BUILDING INFORMATION MODELLING – BIM – The big step the building industry is about to take towards digitalisation also directly affects the geospatial community. This development will be presented and discussed in great detail together with related disciplines at INTERGEO. The third dimension will take on a new, far-reaching significance, initially for surveying.
INTERGEO always reflects the industry's innovations and developments and 2017 is no exception. Two dynamic topics – SMART CITY SOLUTIONS and INTERAERIAL SOLUTIONS – will have dedicated areas at the trade fair and thus form part of the world's leading communication platform for geodesy, geoinformation and land management.
SMART CITY SOLUTIONS – Smart cities have a very promising message for administrations, businesses and residents. The future of cities as a single entity and of their residents lies in digitalisation. SMART CITY SOLUTIONS provides a picture of scenarios, projects and developments.
UAS AND DRONES – As Europe's number one industry event for commercial and civil drone applications, the INTERAERIAL SOLUTIONS part of INTERGEO provides a comprehensive overview of the latest market developments, integrated business models, manufacturers and suppliers.